Mechanisms
12th Tripartite Health Ministers' Meeting in Seoul, ROK
2019.12.14 ~ 2019.12.15
The 12th Tripartite Health Ministers' Meeting (THMM) was held in Seoul, the ROK on December 15, 2019. The Meeting was presided by Mr. PARK Neung Hoo, Minister of Health and Welfare of the Republic of Korea, with the participation of Mr. MA Xiaowei, Minister of National Health Commission of China and Mr. KATO Katsunobu, Minister of Health, Labour and Welfare of Japan. Dr. KASAI Takeshi, Regional Director of World Health Organization West Pacific Regional Office (WHO-WPRO) and Secretary-General MICHIGAMI Hisashi of the Trilateral Cooperation Secretariat (TCS) also participated in the meeting as observers.
At the Meeting, the three ministers engaged in an active discussion on the three main agendas including 1) Achieving Universal Health Coverage (UHC) through Information and Communication Technology (ICT), 2) Infectious disease preparedness and response, and 3) Active and healthy aging. Recognizing the health security threat and common challenges in the area of health, all the parties agreed to continue effective information sharing and discussion in response to these pressing issues. The Joint Statement of the 12th Tripartite Health Ministers Meeting was adopted at the Meeting, and the Joint Declaration on Active and Healthy Ageing Cooperation was approved by the three ministers to be submitted to the Trilateral Summit.
After the Meeting, the Signing Ceremony of Joint Action Plan on Preparedness and Response against Pandemic Influenza and Emerging/Re-emerging Infectious Diseases of Common Concern was held, and followed by Joint Press Conference.
Prior to the Meeting, the three ministers, WPRO Regional Director Kasai and TCS Secretary-General Michigami paid a visit to National Health Insurance Service (NHIS) of the ROK in Wonju on Dec. 14, 2019. The three ministers had vigorous exchange on the utilization of ICT in national health insurance system, and shared common concerns and relevant countermeasures.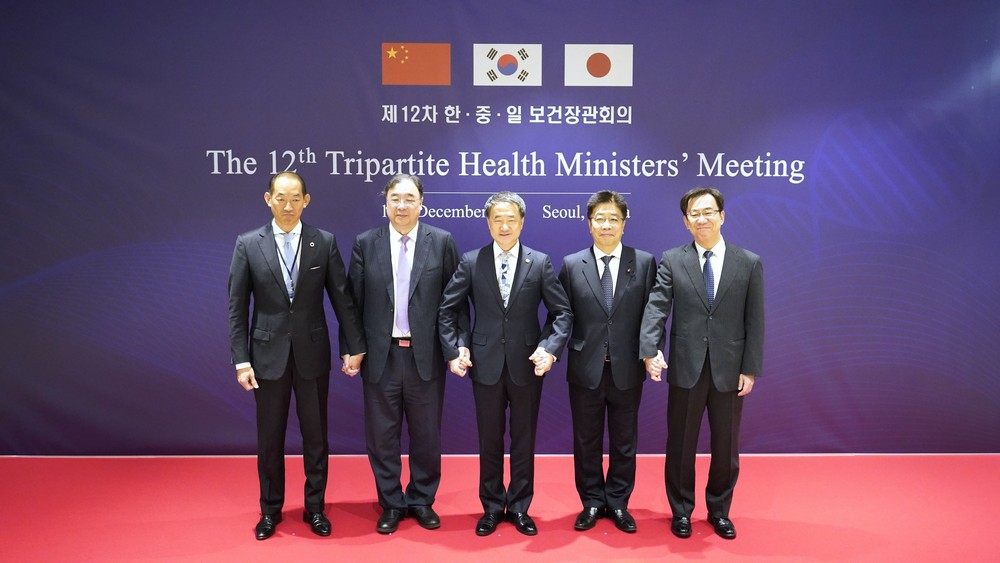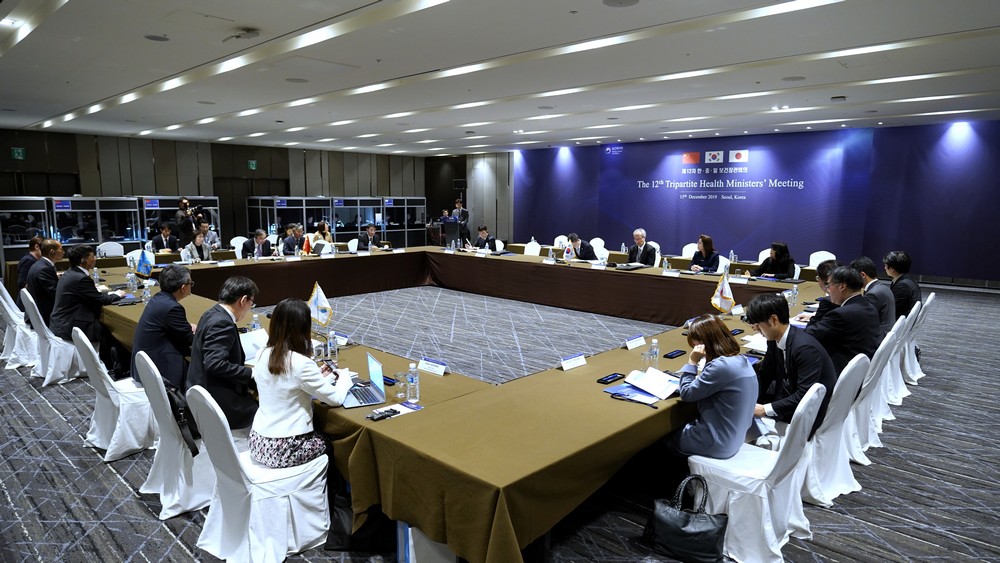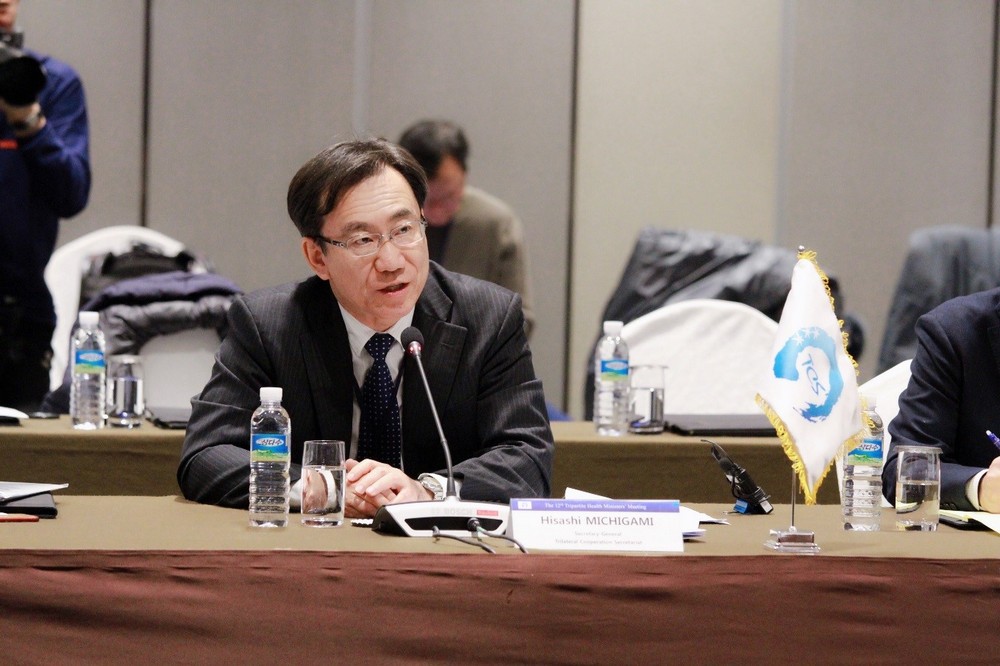 ▲Congratulatory remarks delivered by SG MICHIGAMI Hisashi of the TCS at Opening Ceremony of the Meeting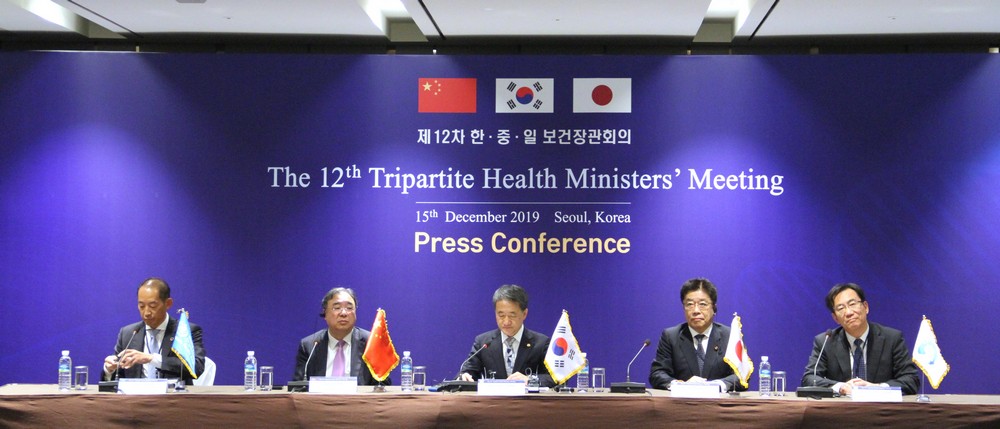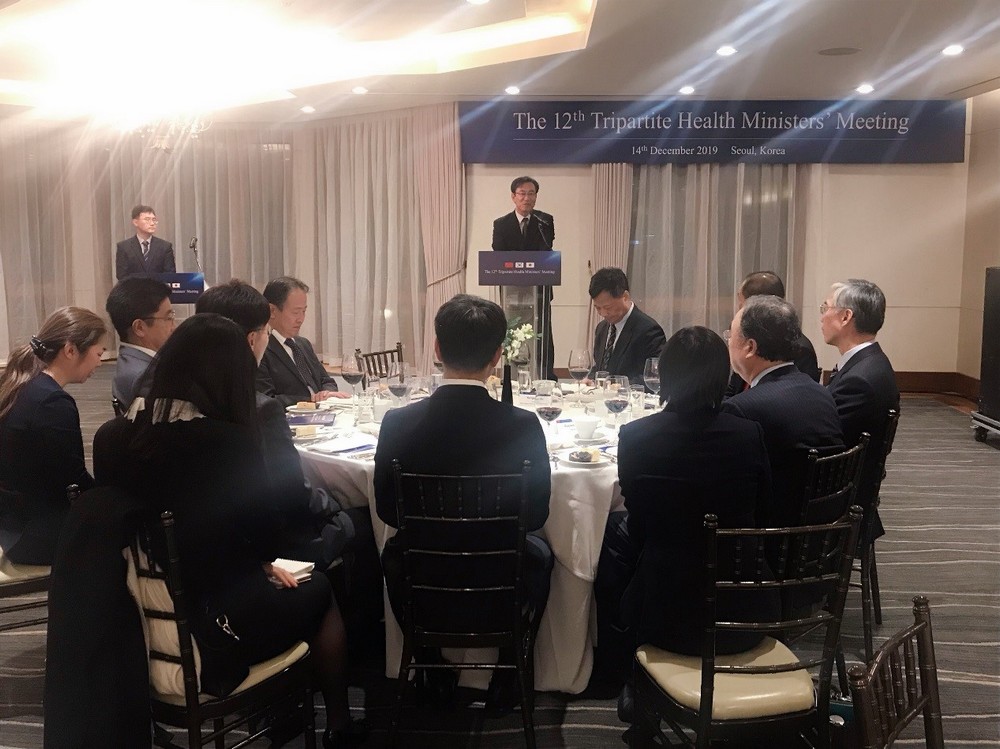 ▲Congratulatory remarks delivered by SG MICHIGAMI Hisashi of the TCS at Welcome Dinner