Mechanisms
11th Tripartite Health Ministers' Meeting in Kumamoto, Japan
2018.11.25
​The 11th Tripartite Health Ministers' Meeting (THMM) was held in Kumamoto, Japan on November 25, 2018. The Meeting was presided by Mr. NEMOTO Takumi, Minister of Health, Labour and Welfare of Japan with the participation of Mr. PARK Neung Hoo, Minister of Health and Welfare of the Republic of Korea, and Mr. MA Xiaowei, Minister of National Health Commission of China. Dr. SHIN Young-soo, Regional Director of World Health Organization West Pacific Regional Office (WHO-WPRO) and Deputy Secretary-General YAMAMOTO Yasushi of the Trilateral Cooperation Secretariat (TCS) also participated in the meeting as observers.
Ushering in a new decade of tripartite health cooperation, the three Ministers reviewed the achievement made in the past 10 years under the THMM and exchanged the views towards the future cooperation. At the meeting, an active discussion was conducted surrounding the three main agendas including 1) Infectious Disease Preparedness and Response, 2) Healthy Aging and Non-Communicable Diseases (NCDs), and 3) Universal Health Coverage (UHC) and Disaster Health Risk Management.
On behalf of the TCS, DSG Yamamoto delivered a congratulatory remarks by congratulating that the THMM opened a new chapter of cooperation. He highlighted the significance of strengthening health cooperation in jointly tackling the common challenges such as infectious disease, NCDs and aging society. In this regard, he noted that the TCS would committed itself to making meaningful contribution and support for following up the meeting.
The meeting adopted the Joint Statement of the 11th THMM and was followed by the press conference.
On November 24, 2018, the three Ministers, WPRO Regional Director Shin and TCS DSG Yamamoto also visited Kumamoto City Hospital where was suffered from Kumamoto earthquakes occurred in 2016. The participants received the briefing on the damage situation, disaster health response and disaster reconstruction.
The 12th Tripartite Health Ministers' Meeting will be held in the ROK in 2019.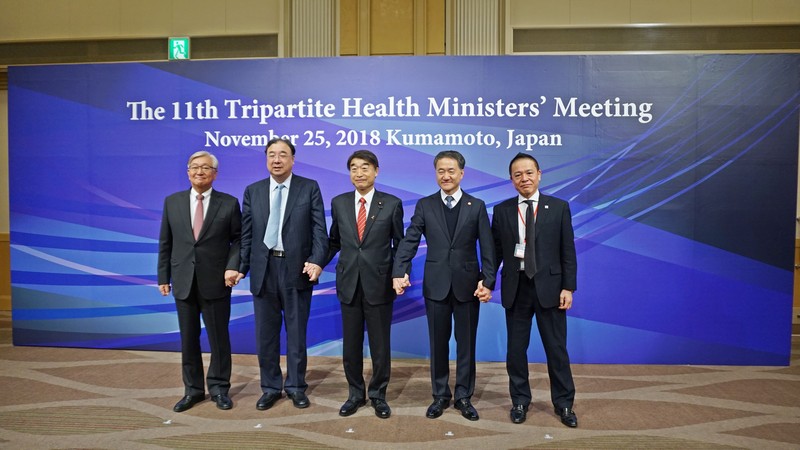 ▲Group Photo at the 11th Tripartite Health Ministers' Meeting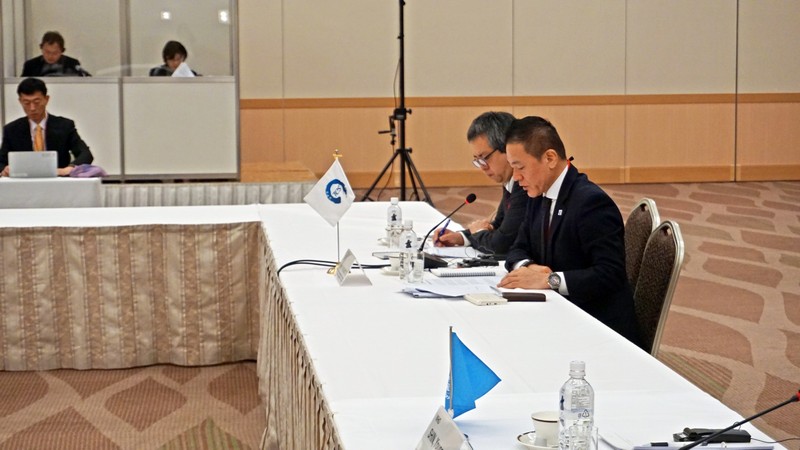 ▲Congratulatory Remarks delivered by TCS DSG YAMAMOTO Yasushi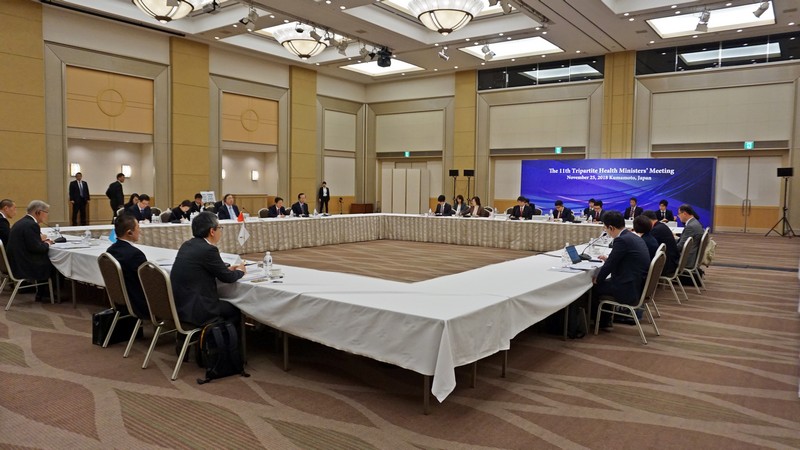 ▲11th Tripartite Health Ministers' Meeting in progress