Mechanisms
Participation in TEMM21 and relevant meetings in Kitakyushu, Japan
2019.11.22 ~ 2019.11.24
On 24 November 2019, the 21st Tripartite Environment Ministers Meeting (TEMM21) was held in Kitakyushu, Japan. Minister KOIZUMI Shinjiro, Ministry of the Environment of Japan, Minister CHO Myungrae, Ministry of Environment of the Republic of Korea, and Minister LI Ganjie, Ministry of Ecology and Environment of China attended the meeting. TCS delegation led by Secretary-General MICHIGAMI Hisashi also attended as an observer.
At the meeting, the three Environment Ministers exchanged information on latest environmental policies of each country, reviewed the progress of tripartite environmental cooperation in the past five years, and discussed the priority areas of Tripartite Joint Action Plans (TJAP) 2020-2024. Following the discussion, Joint Communique was adopted and the three Ministers committed to further enhance cooperative activities to lead the environmental protection initiatives of the region. The Ministers also recognized with appreciation the role of TCS in advancing trilateral cooperation, including the holding of the 2nd Tripartite Environmental Teacher's Exchange Program, and expected its continuous participation in the TEMM mechanism.
Prior to the TEMM meeting, working-level meeting and TEMM20 Youth Forum were held on 22 and w23 November, respectively. At the working-level meeting, arrangements for TEMM21 were discussed and Joint Communique was finalized. Director QIAO Wen attended the meeting and actively explored TCS' roles in the mechanism. At the Youth Forum themed "Imagine, Create, and Action! – Transforming our World to Sustainable for Everyone", 15 representatives from the three countries learned about various SDGs-related initiatives in Kitakyushu and exchanged ideas to accelerate sustainable development.
TEMM, which was established in 1999, is one of the oldest and well-established mechanisms among the 21 trilateral ministerial mechanisms. TCS has attended the meeting since 2014 and continues to support the mechanism, especially under the area of raising general public awareness in environmental protection.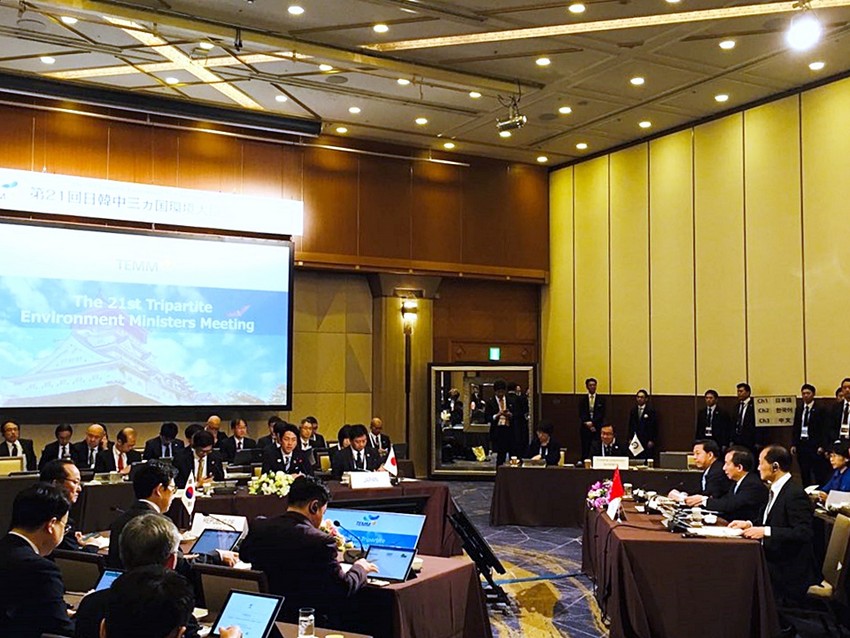 ▲Ministers Meeting in progress