Trilateral Symposium on Environmental Education and Public Awareness

August 19, 2022
On August 19, 2022, the Trilateral Cooperation Secretariat (TCS) successfully held the "Trilateral Symposium on Environmental Education and Public Awareness" online. The symposium was supported by the Ministry of the Environment of Japan, Center for Environmental Education Communication (CEEC) of the Ministry of Ecology and Environment of China (MEE), and the Korea Environmental Preservation Association (KEPA). The symposium served as a platform to raise public awareness of trilateral environmental policies and cooperation, and to enhance communications and mutual learning among environmental teachers and educators.
Secretary-General OU Boqian addressed at the opening remarks that environmental cooperation is one of the key cooperative areas among the three countries, with Tripartite Environment Minister's Meeting (TEMM) as its core. "Environmental education, public awareness and engagement" stands as an important pillar in TEMM and TCS has supported this endeavor by holding two Trilateral Environmental Teacher's Exchange Program in addition to today's symposium. She stated that the pandemic has brought new challenges and opportunities to environmental education (EE), and as we gradually go back to normality from the pandemic, it is the time to build on past years' experience and improve EE for the future.
The first session on trilateral environmental policy focuses against the backdrop of COVID-19 was moderated by Ms. ZHANG Shixia from the Department of Communications and Education of MEE. Ms. HAO Chunxu from the Chinese Academy of Environmental Planning of MEE introduced China's policies on medical waste management and carbon neutrality. Mr. MIZUTANI Yoshihiro from the Ministry of the Environment of Japan stressed Japan's policies on climate change, marine plastic litter management, and biodiversity. Mr. OH Seokju and Ms. NOH Eul from the Ministry of Environment of the ROK shed light on ROK's policies and local practices on carbon neutrality. Recognizing climate change and carbon neutrality being the shared interests among the three countries, speakers agreed that closer cooperation should be conducted in the framework of TEMM through various platforms as well as multilateral andmulti-industrial stakeholders.
Prior to Session 2 which focused on effective EE pedagogies, a special presentation was conducted by Ms. BYUN Won Jung, Program Specialist of the Section of Education for Sustainable Development (ESD) from UNESCO Headquarters, introducing global endeavor as well as available resources to make ESD a key curriculum by 2030. Session 2 speakers who have conducted extensive research on EE in elementary and secondary school system introduced the development and current status of EE and ESD in CJK countries and ASEAN. They shared their opinions on the effective pedagogies including incorporating EE in formal education, involving multi-stakeholder to conduct EE through formal curriculum and extracurriculum, and educating by letting children to experience, etc. Online education and communication has also been emphasized as an important tool in the post COVID-19 era.
Deputy Secretary-General BEK Bum Hym closed the symposium by appreciating the speakers' participation. In the fast changing world where climate crisis has been an urgent issue to address, he appreciated and emphasized teacher's role in this endeavor.
At the closed-door session in the afternoon, teachers from the three countries introduced exemplary teaching cases, which included water protection, biodiversity, resource and renewable energy, climate action, carbon neutrality, food waste management and so on. Suggested ideas for trilateral environmental teachers' collaboration included building trilateral friendship school alliance, feedback sharing after conducting curriculum under the same subject, information exchange about themed activities, and mid to long-term teacher communication and capacity building by utilizing online platforms.
Over 180 participants from ministries, local governments, elementary and secondary school teachers, environment NGOs and public sectors, research institute and international organizations participated in the event. TCS stands ready to work with stakeholders to keep promoting cooperation, awareness and actions of environmental protection to the citizens of China, Japan, and the ROK.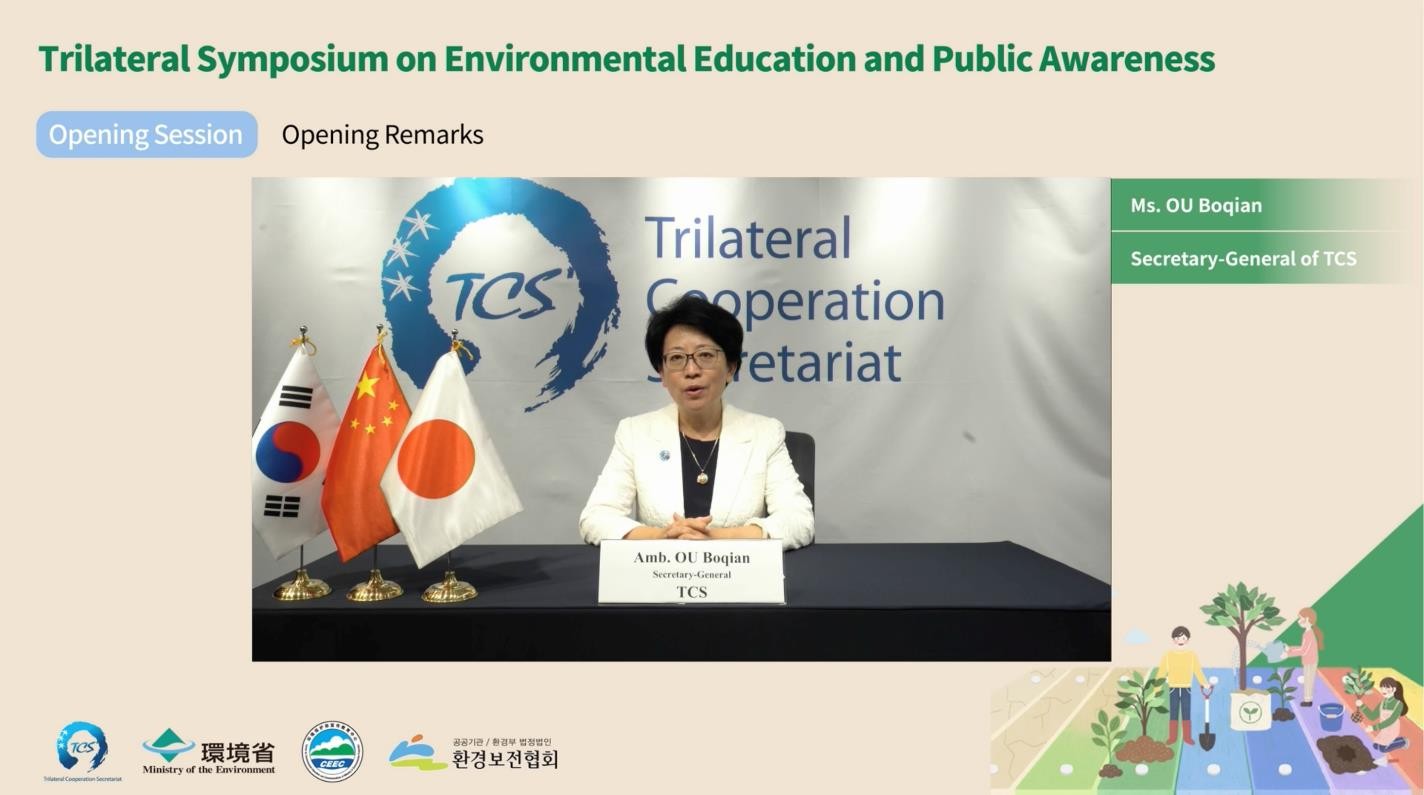 ▲SG OU Boqian Delivering Opening Remarks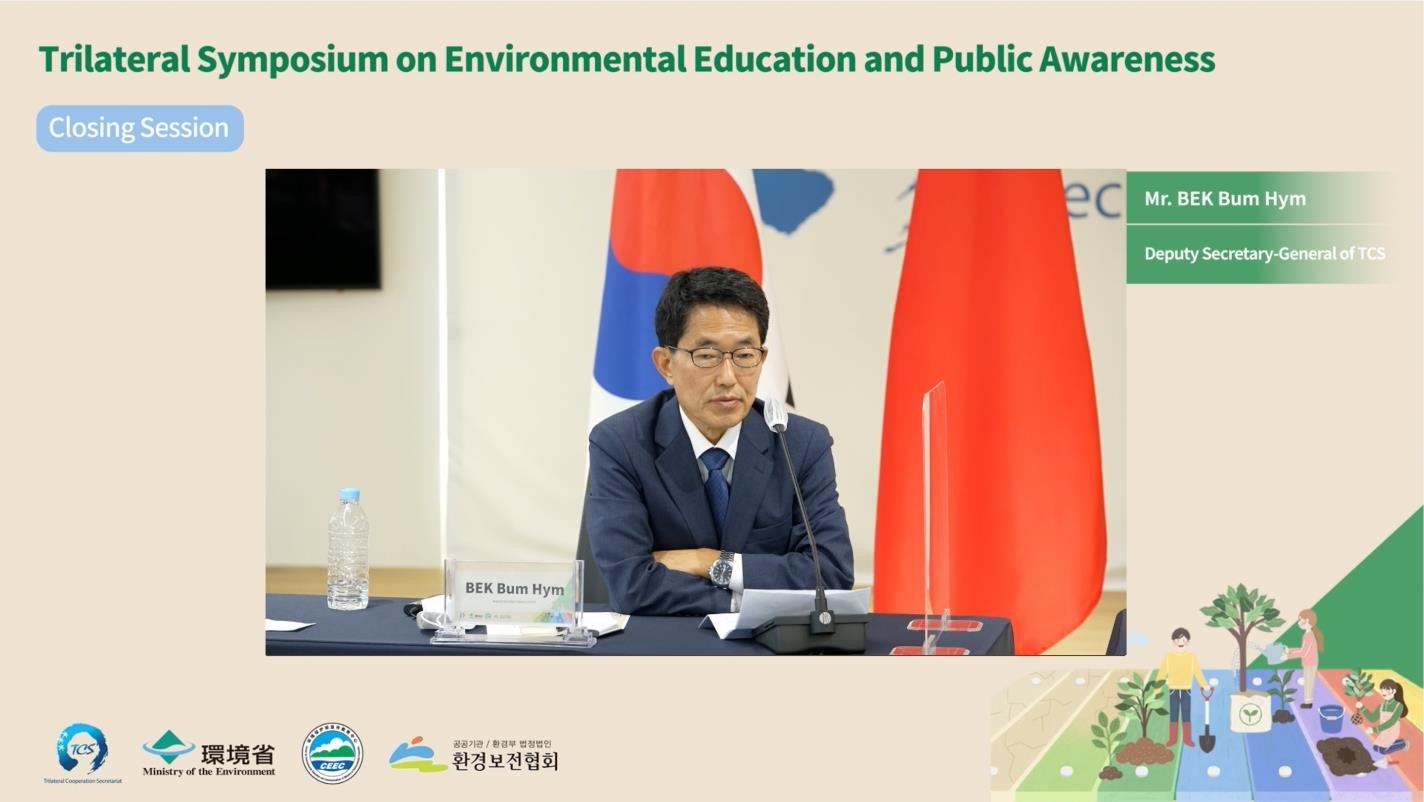 ▲
DSG BEK Bum Hym Delivering Closing Remarks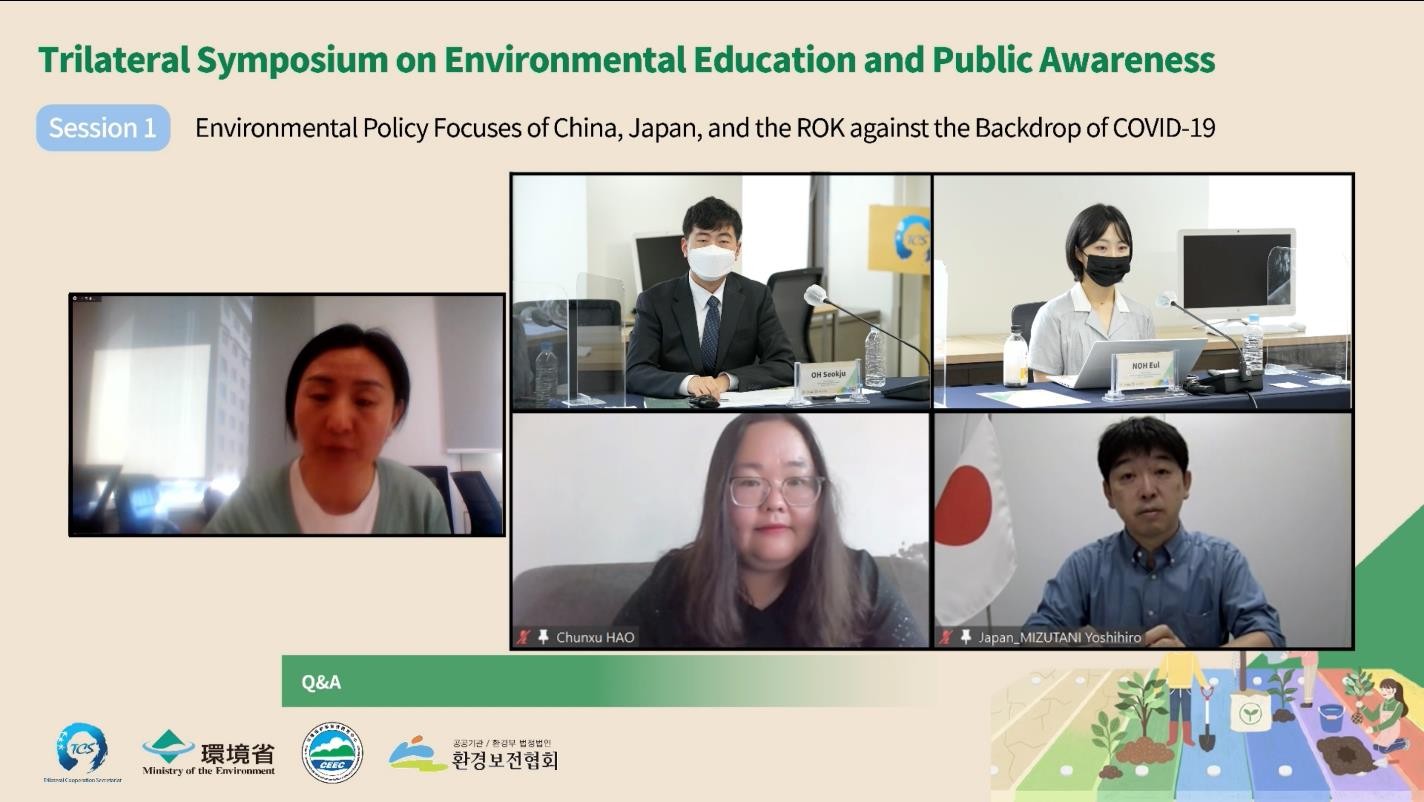 ▲
Open Symposium Session 1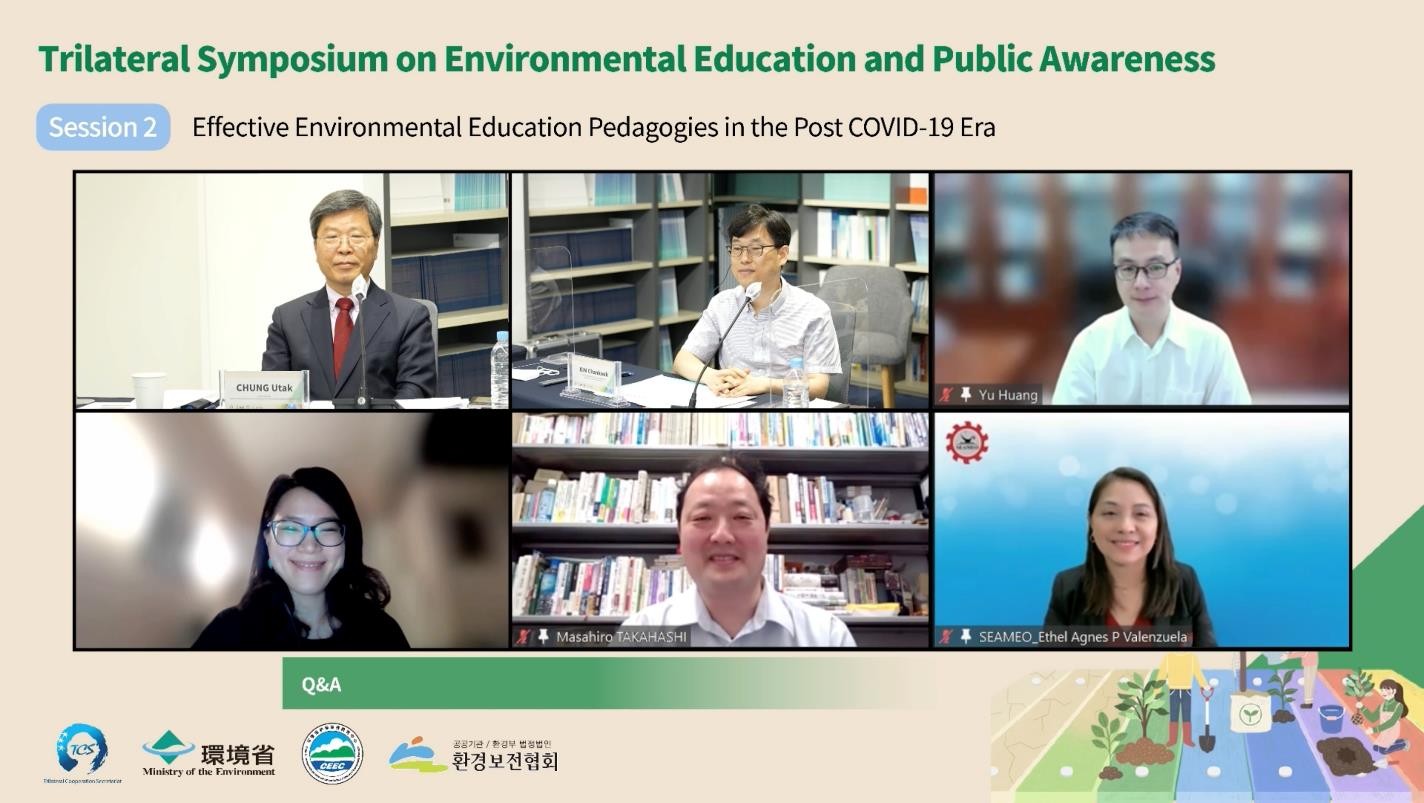 ▲
Open Symposium Session 2