Others
Secretary-General OU Boqian Attended Global Youth Climate Challenges (GYCC) 2022/23
2022.07.14
On July 14 and 16, 2022, the Global Youth Challenges (GYCC) 2022/23 was held at the Peace Museum of the 8th UN Secretary General Ban Ki-moon in Eumseong, and Dongdaemun Design Plaza (DDP) in Seoul respectively, hosted by the 2050 Carbon Neutrality and Green Growth Commission and the Ministry of Foreign Affairs of Republic of Korea. At the event, SG OU delivered congratulatory remarks and had a Q&A dialogue session with the youth participants.
In her congratulatory remarks on the 14th, SG OU firstly stressed the importance of international cooperation in countering climate change. She explained that TCS is taking part in environment protection through its trilateral ministerial meetings and relevant follow-up actions. In addition, she emphasized that TCS is a strong advocate for youth empowerment by introducing several youth projects carried out by the Secretariat.
In the following Q&A session, SG OU exchanged views with the youth participants on climate change and international affairs. As a response to a question about TCS' climate action examples, SG OU introduced several TCS projects and programs dedicated to environmental protection, such as the Trilateral Teacher's Exchange Program on environmental education and Carbon Neutrality Forum. In addition, SG OU shared her knowledge in international relations and pointed out that while international climate agreements may not be legally binding, youth have the power the push these agendas forward. Along with SG OU, former UN Secretary General Mr. BAN Ki-moon and former UN Ambassador Mr. KIM Sook participated in the Q&A session to share their insights.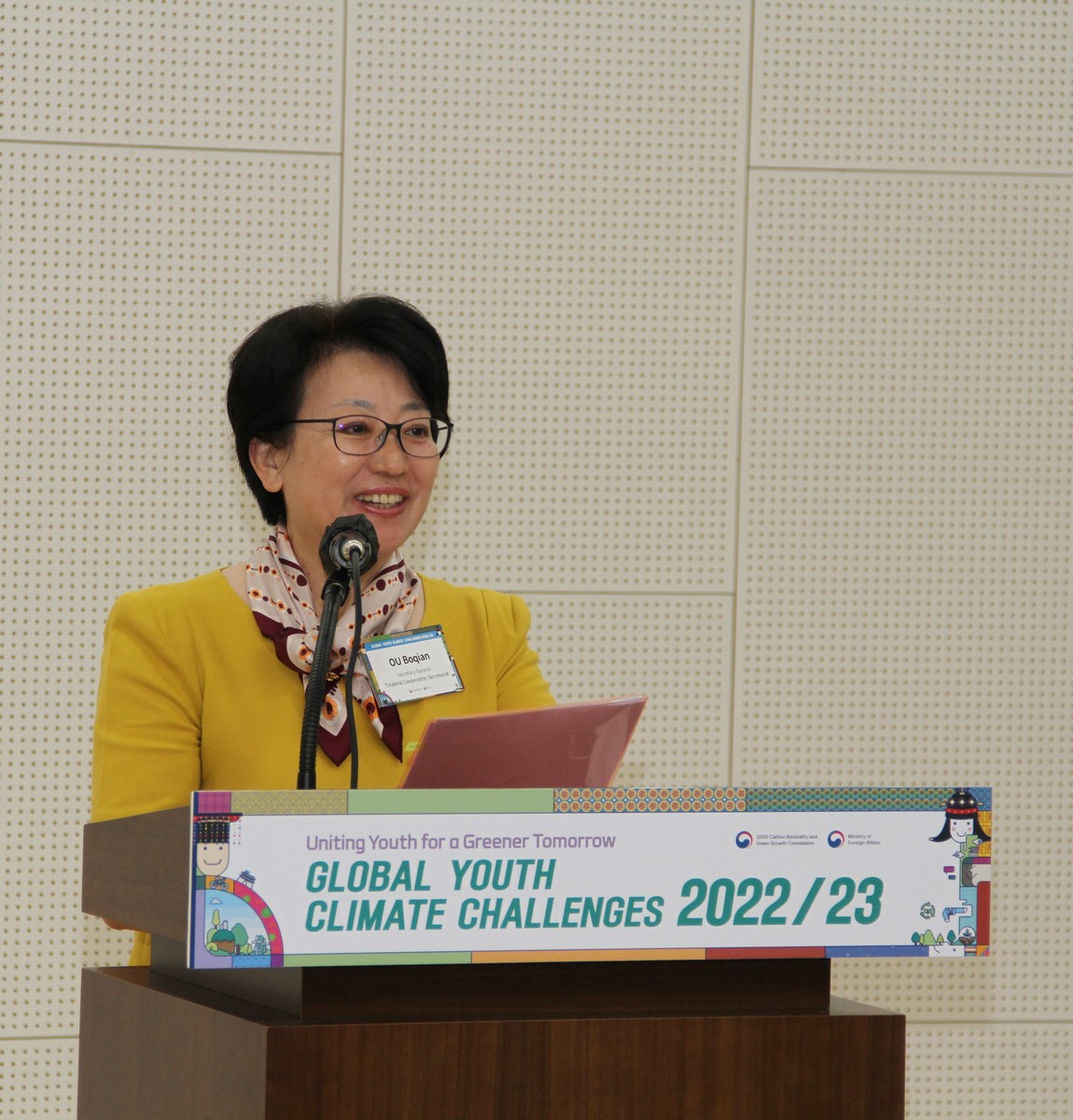 ▲SG OU giving congratulatory remarks at GYCC Townhall Meeting at the Peace Museum of the 8th UN Secretary General Ban Ki-moon in Enmseong
▲SG OU at the Q&A session with Mr. BAN Ki-moon
The final Townhall Meeting of GYCC was held in DDP, Seoul on July 16th, which SG OU congratulated the participants for their hard work and enthusiasm. In addition, she asserted that TCS will continue to support the youth for their active climate action.
The event was attended by Ms. KIM Hyoeun, Ambassador and Deputy Minister for Climate Change of MOFA ROK, Mr. NAM Sung hyun, Minister of the Korea Forest Service, and Mr. Juan Carlos Caiza Rosero, Ambassador of Colombia to Republic of Korea.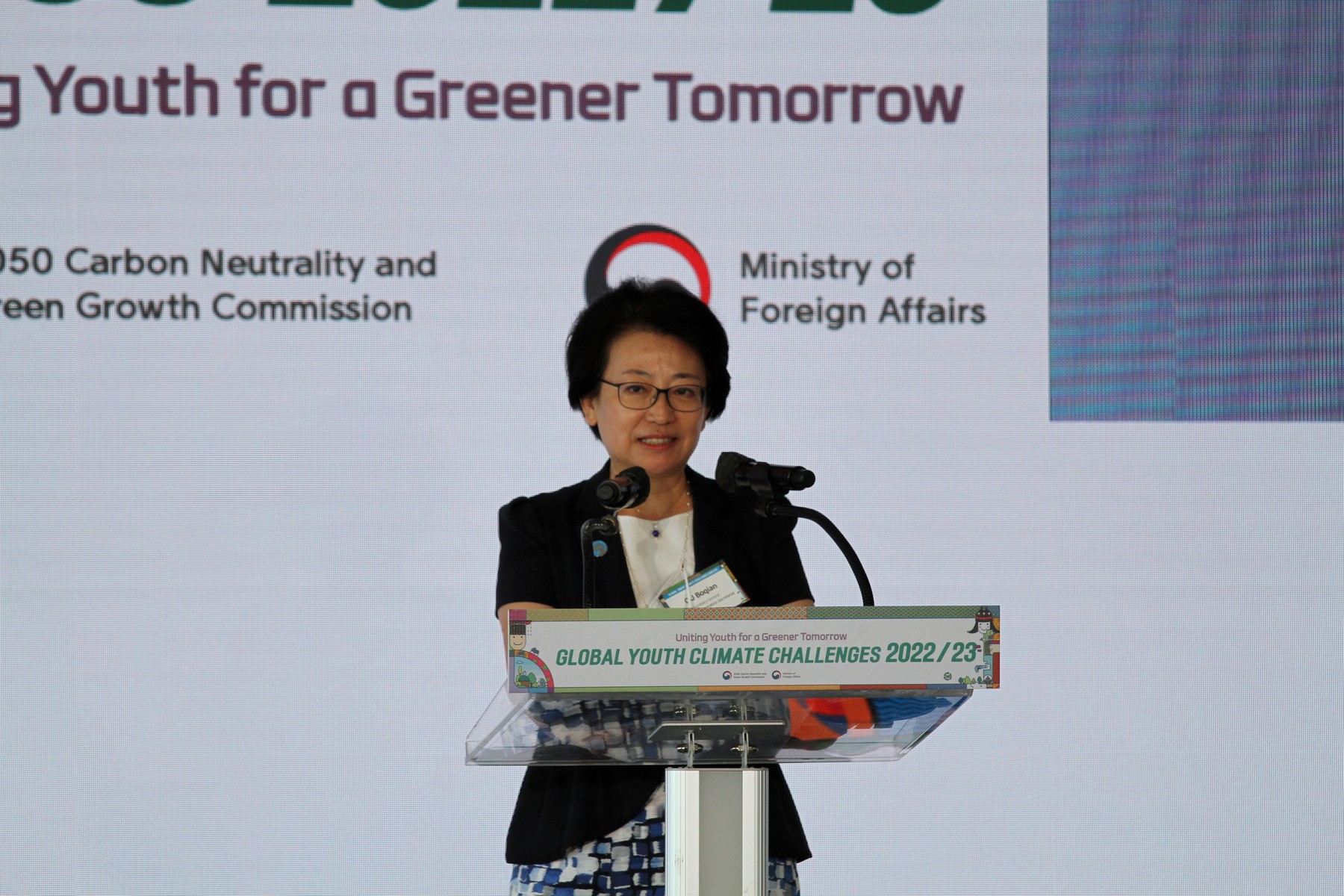 ▲SG OU delivering congratulatory remarks at the final GYCC Townhall meeting at DDP in Seoul
GYCC is a four-day global youth program, accommodating more than 50 youth climate activists from the world. The policy proposals drafted by youth are to be delivered to world leaders at the COP 27 UN Climate Change Conference and the P4G Summit in 2023.