Mechanisms
TCS Attended the 8th Consultative Meeting on Consumer Policy in Shanghai, China
2019.12.12 ~ 2019.12.13
Deputy Secretary-General CAO Jing attended the 8th Consultative Meeting on Consumer Policy among China, Japan and ROK, which was held in Shanghai, China, on December 12-13, 2019. The delegations from State Administration for Market Regulation (SAMR) of China, the Korea Fair Trade Commission (KFTC) and Consumer Affairs Agency (CAA) of Japan attended the Meeting.
DSG CAO delivered remarks at the meeting. She acknowledged the important role that the consumer policy mechanism plays in trilateral cooperation, and expressed sincere congratulations and appreciation to the consumer policy administrations of the three countries in bringing well-being to consumers. She emphasized that the new business model had brought new challenges and opportunities and hoped that the three countries could expand consumer policy exchanges to inject new momentum for cooperation.
DSG CAO introduced TCS and achievements of trilateral cooperation. She mentioned that TCS would work closely with all relevant stakeholders in order to promote consumer policy exchanges and raise public awareness of healthy consumption.
The three countries introduced and shared laws, cases and mechanism related to consumer policy, and all agreed on further strengthening the cooperation of protecting consumers' right in cross-border e-commerce area.
The Consultative Meeting on Consumer Policy was initiated in 2004 and is an important part of trilateral cooperation. Over the years, the meeting has covered various consumer related topics in order to provide sound consumption environment for the people of China, Japan, and ROK.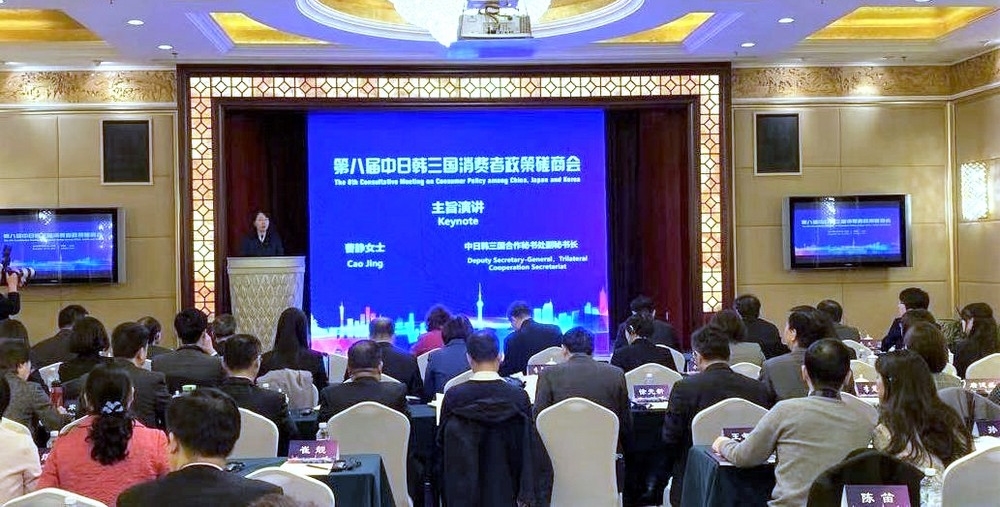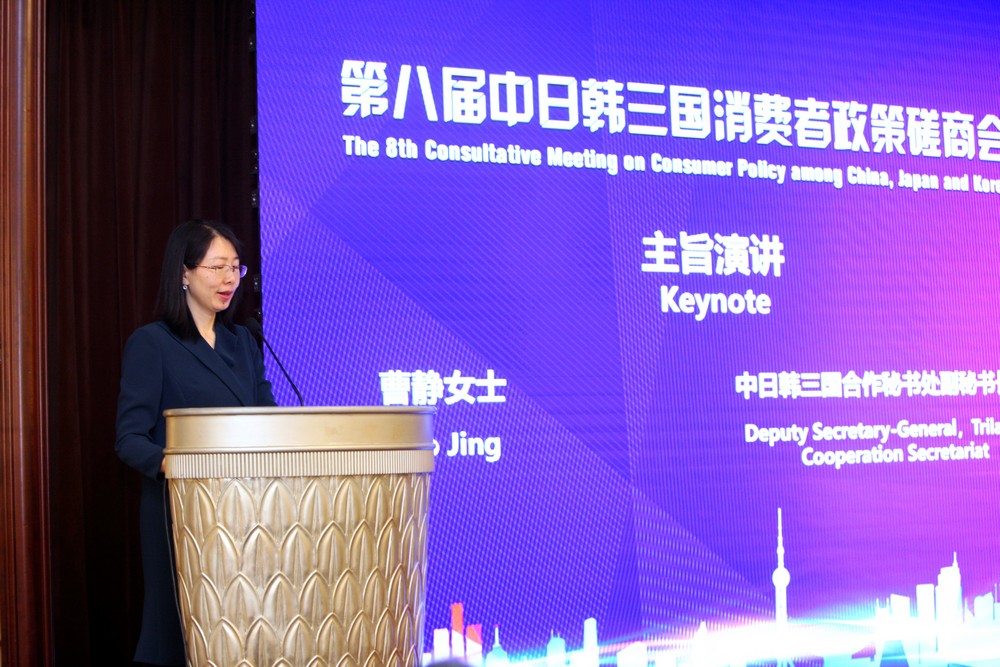 ▲DSG CAO Jing Delivering Remarks at the 8th Consultative Meeting on Consumer Policy among China, Japan and ROK