Mechanisms
22nd ASEAN Plus Three Summit in Bangkok, Thailand
2019.11.04
The 22nd ASEAN Plus Three (APT) Summit was held in Bangkok, Thailand, on 4 November 2019. All Heads of State/Government of ASEAN Member States, the People's Republic of China, the Republic of Korea (ROK), and Japan attended the Meeting. The Meeting was also attended by the TCS Secretary-General MICHIGAMI Hisashi and the ASEAN Secretary-General.
The Leaders exchanged their views on the progress and future direction of APT cooperation. They positively noted the steady progress in the implementation of the 'APT Cooperation Work Plan 2018-2022' in terms of political-security cooperation, economic cooperation, and socio-cultural cooperation. It was also underlined that the APT countries need to strengthen the APT functional cooperation in areas such as disaster management, trade and finance, and sustainable development, particularly in the aspect of capacity-building through knowledge and technical transfers from CJK to the ASEAN Member States.
On regional and international issues, the Leaders stressed the importance of continued dialogue and efforts amongst all parties concerned in order to realize lasting peace, security, and stability in a denuclearized Korean Peninsula, and called for full and expeditious implementation of the Singapore Joint Statement by the U.S. and the DPRK Leaders, the Panmunjom Declaration, and Pyongyang Declaration. They also welcomed the ASEAN's readiness to play a constructive role in contributing to peace and stability in the Korean Peninsula.
This year, under the chairmanship of Thailand, the Leaders adopted the 'APT Leaders' Statement on Connecting the Connectivities Initiatives,' with a view to developing links and synergies between the 'Master Plan on ASEAN Connectivity (MPAC) 2025' and other key connectivity initiatives in East Asia. In addition, the ASEAN Plus Three website was unveiled at the Meeting, which is expected to provide comprehensive and valuable information on the progress of the APT framework.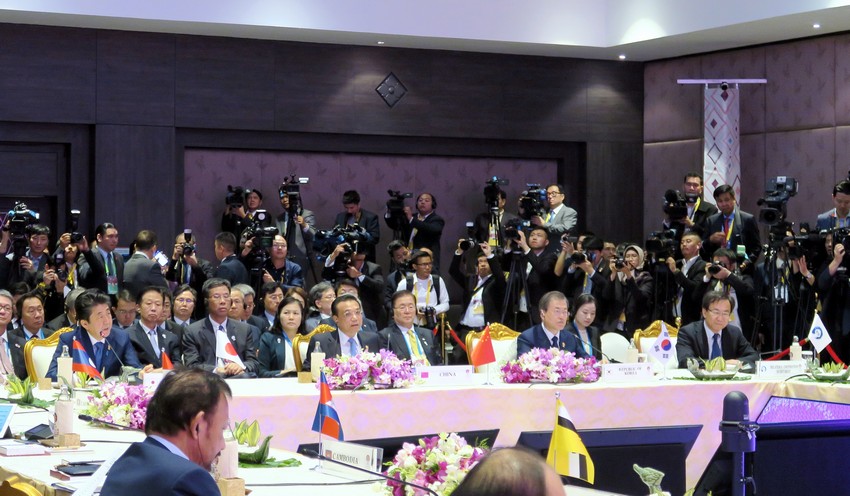 ▲The 22nd APT Summit attended by Prime Minister of Japan ABE Shinzo, Premier of the People's Republic of China LI Keqiang, President of the ROK MOON Jae-In, and TCS Secretary-General MICHIGAMI Hisashi (from the left).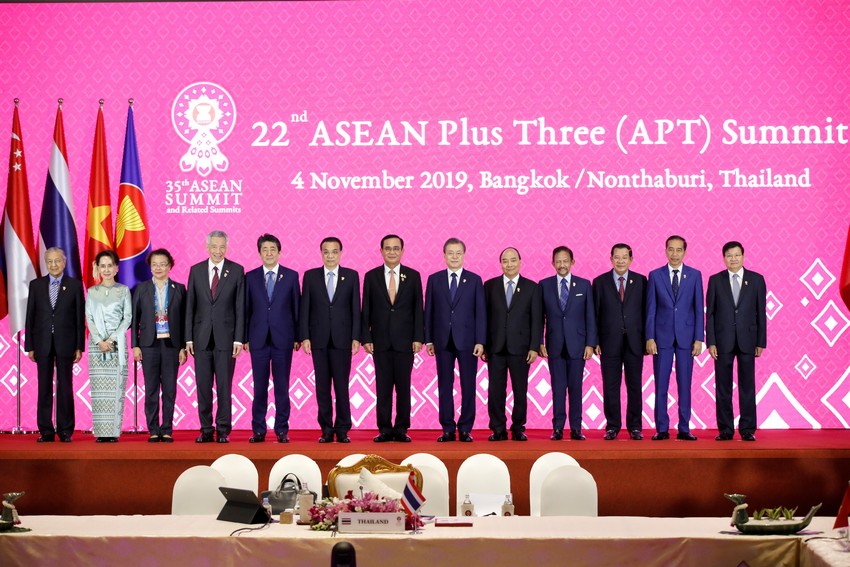 ▲The Heads of State/Government of ASEAN Member States, the People's Republic of China, the ROK, and Japan