Seminar & Forum
Deputy Secretary-General BEK Bumhym Attended Cheongju Cultural Exchange Activation Forum
2022.11.18
On November 18, 2022, Trilateral Cooperation Secretariat (TCS) Deputy Secretary-General BEK Bumhym attended the Cheongju Cultural Exchange Activation Forum held in Cheongju, Republic of Korea. DSG BEK delivered a keynote speech on CCEA project and its significant role for promoting Trilateral Cooperation.
In his keynote speech, DSG BEK introduced a brief history of TCS and CCEA project, followed by various endeavors of the cities of China, Japan, and ROK to utilize online platforms to maintain and promote active cultural exchange among them under the pandemic situation, which posed a challenge for the cities that mainly have conducted offline events in the previous years.
Under the theme of "Coexistence and cooperation for CJK cultural exchange in the post Covid-19 era," the forum was hosted by Cheongju City and organized by Cheongju Cultural Industry Promotion Foundation as one of their CCEA programs of the year 2022. The forum also had other experts discuss specific perspectives on trilateral culture exchanges and suggest constructive opinions for further strengthening cooperation among the three countries to encourage more active people-to-people and cultural exchanges in the future.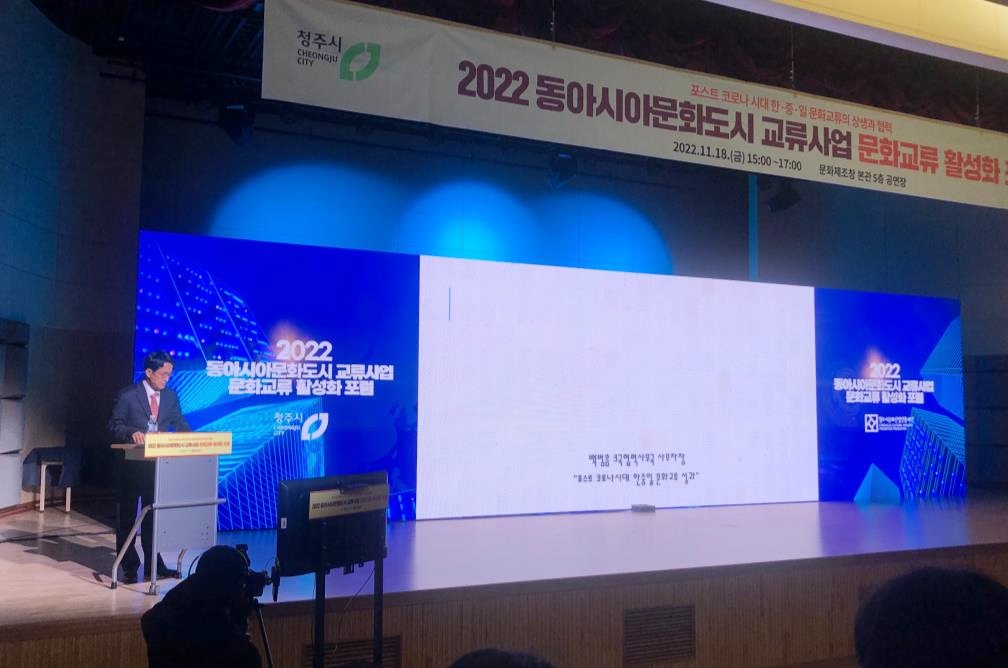 ▲ DSG BEK delivering a speech at the forum