Seminar & Forum
Secretary-General OU Boqian Attended the RCEP Think Tank Network Launching Meeting
2022.09.23
On 23 September 2022, TCS Secretary-General OU Boqian attended the RCEP Think Tank Network Launching Meeting online as a special guest and delivered congratulatory remarks. The Meeting was hosted by the China Institute for Reform and Development (CIRD). Representatives of think tank parties and media participated in the Meeting and shared insights on the expected roles of the Network in process of facilitating the high-quality implementation of the RCEP Agreement.
SG OU, in her remarks, spoke highly of the RCEP in boosting trade and economic exchanges among China, Japan and the ROK as it is the first-ever free trade agreement binding the three countries together. She underlined that the role of the think tank is not only to build a platform for academic exchange and share research outcomes, but also to advise the public and serve enterprises. She suggested the Network focus on the research in the areas that are of high concern to the government, enterprise, market and public such as how to promote the high-quality implementation of the RCEP, capacity building of low-income member states, how to tackle the disruptions of global and regional supply chains, etc. She put emphasis on the role of the Network in providing policy recommendations to the government, bringing more confidence to enterprises and market, and helping answer public concerns. In this regard, she added that it is crucial for the think tank to provide authoritative information to underpin such efforts.
The RCEP Think Tank Network was initiated by the China Institute for Reform and Development (CIRD) and the East Asian Institute of National University of Singapore with the participation of 13 think tanks in total from 9 RCEP member states. With the aim of creating an open and shared academic cooperation network and offering intellectual support for advancing the RCEP process, the Network will promote multi-layered exchanges and collaboration among RCEP members through carrying out forums, capacity-building training programs, and joint research, etc.
News article of gist of SG OU's remarks at the Meeting: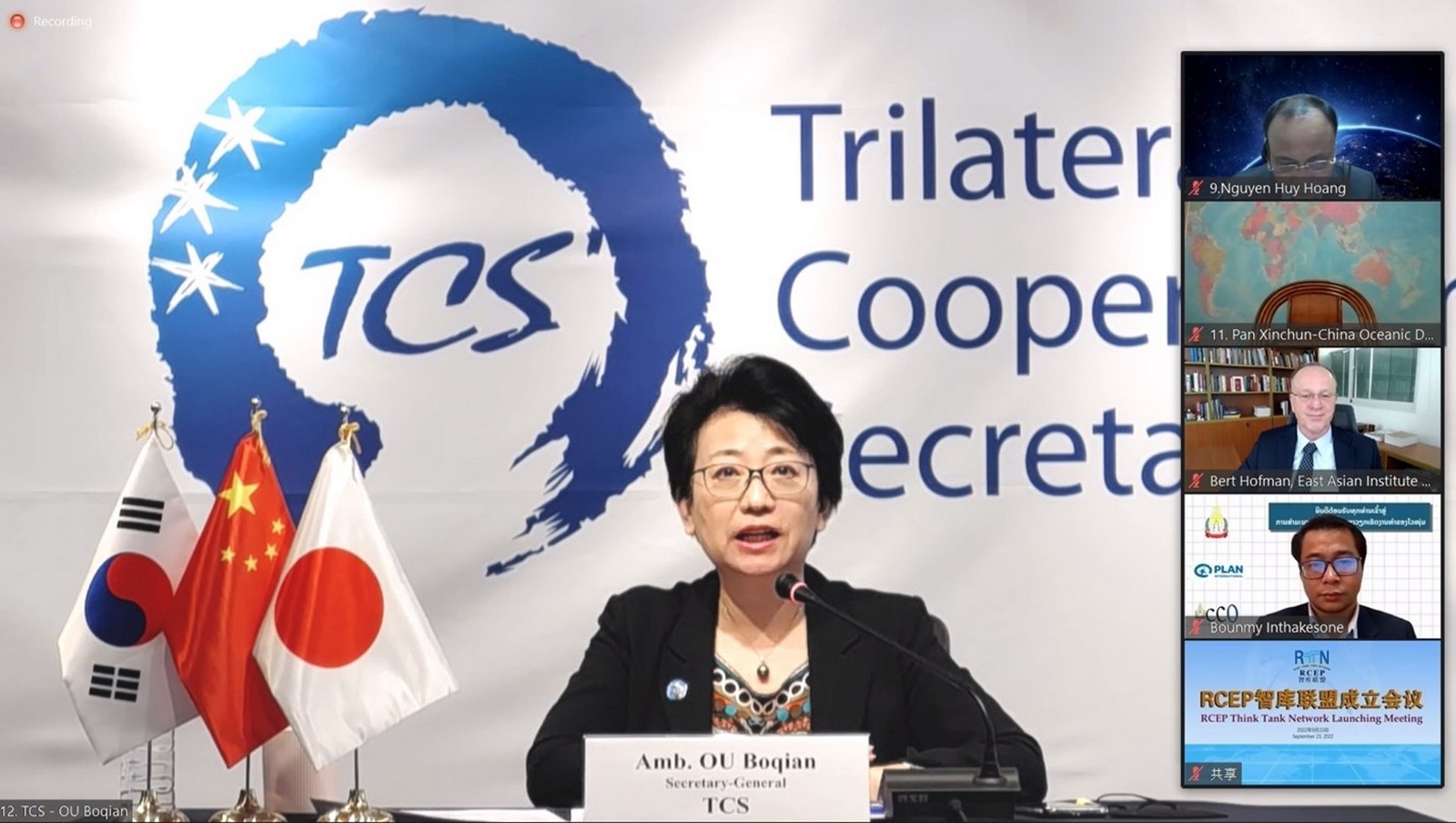 ▲TCS Secretary-General Amb. Ou Boqian delivering remarks