Seminar & Forum
Symposium on "Trilateral Cooperation for Smart and Inclusive Solutions Towards Age-Friendly Society" held Successfully at Jeju Forum 2022
2022.09.14
In the afternoon of September 14, 2022, after the inauguration of new platform "Trilateral Youth Exchange Network" and a youth dialogue, Trilateral Cooperation Secretariat (TCS) hosted a symposium themed "Trilateral Cooperation for Smart and Inclusive Solutions Towards Age-Friendly Society" at Jeju Forum for Peace and Prosperity in partnership with World Smart Sustainable Cities Organization (WeGO) and UN Human Settlements Programme (UN-Habitat). Garnering an online-offline audience of over 150 persons worldwide, the symposium was a first of its kind to bring experts from China, Japan and the Republic of Korea (ROK) to share the best practices of the three countries in building up age-friendly societies via smart approaches and shed light on future directions of smart urbanization with emphasis on age-inclusiveness.
In her opening remarks, TCS Secretary-General Ambassador OU Boqian pointed out the common challenge of digital divide amidst the growing aged populations and rapid urbanization and digitalization in the three leading economies. Underscoring that China, Japan and ROK account for world's largest aged population, she called for an easy, equal and universal access to digital economy by aged group, so as to develop a shared community with inclusiveness and equity. Refering to the sheer fact that the three countries are undergoing most rapid population decline, WeGO Secretary-General Ms. PARK Jung Sook strongly advocated an incorporation of empowerment for digital access, improvement of public policies and reduction of social conflicts in the smart city solutions to address the aging society issue. UN-Habitat Executive Director Ms. Maimunah Mohd SHARIF in her video speech stressed out cities' pivotal role in addressing socio-economic issues, adding that the adoption of people-centered smart solutions and digital technologies at local level would be critical to ensure a strengthened participation and inclusion.
Moderated by TCS Deputy Secretary-General Ms. SAKATA Natsuko, Professor REN Yuan from Fudan University elaborated China's efforts in pursuit of a smart aged society by carrying out an comprehensive action plan "Intelligent HelopAge" since 2017, which involves the concept of Internet Plus and other smart technologies. He added that the demographic problem could be averted with progress and reforms in our technologies. Professor LEE Suk-won from Seoul National University made an introduction on ROK's elderly health care policies embeded in the smart city masterplan. He cited cases on the digitalization of healthcare by adpoting smart technologies including Internet of Things (IoT) and emergency video treatment instruction. In recognition of Japan's demographic shift toward super-aged society, Professor Emeritus HIROKO Akiyama from the University of Tokyo advocated a perceptional transmission from "life expectancy" to "healthy life expectancy", and then "engaged life expectancy". She called for the redesign of communities for aged society by concerted efforts of both public and private stakeholders.
Apart from the symposium, TCS Secretary-General Ambassador OU Boqian, Deputy Secretaries-General BEK Bumhym and SAKATA Natsuko were invited to the opening ceremony of Jeju Forum 2022 in the morning of September 15. On September 14, at the invitation of Mr. OH Young-hun, Governor of Jeju Special Self-Governing Province, TCS Secretary-General Ambassador OU Boqian attended the Jeju Forum 2022 welcoming dinner. She was invited to a VIP dinner hosted by H.E. PARK Jin, Minister of Foreign Affairs of the ROK on September 15.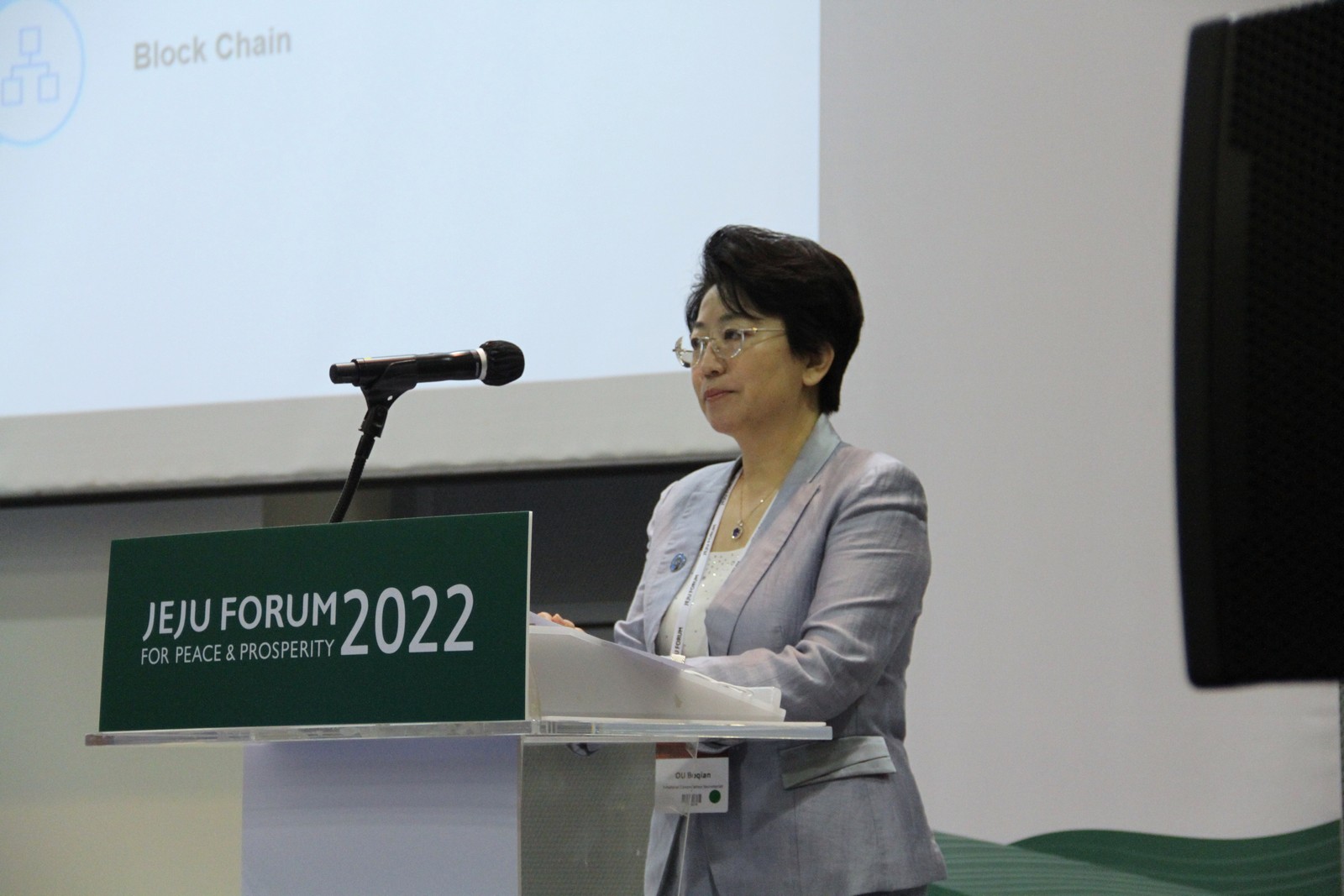 ▲ TCS Secretary-General Ambassador OU Boqian delivering opening remarks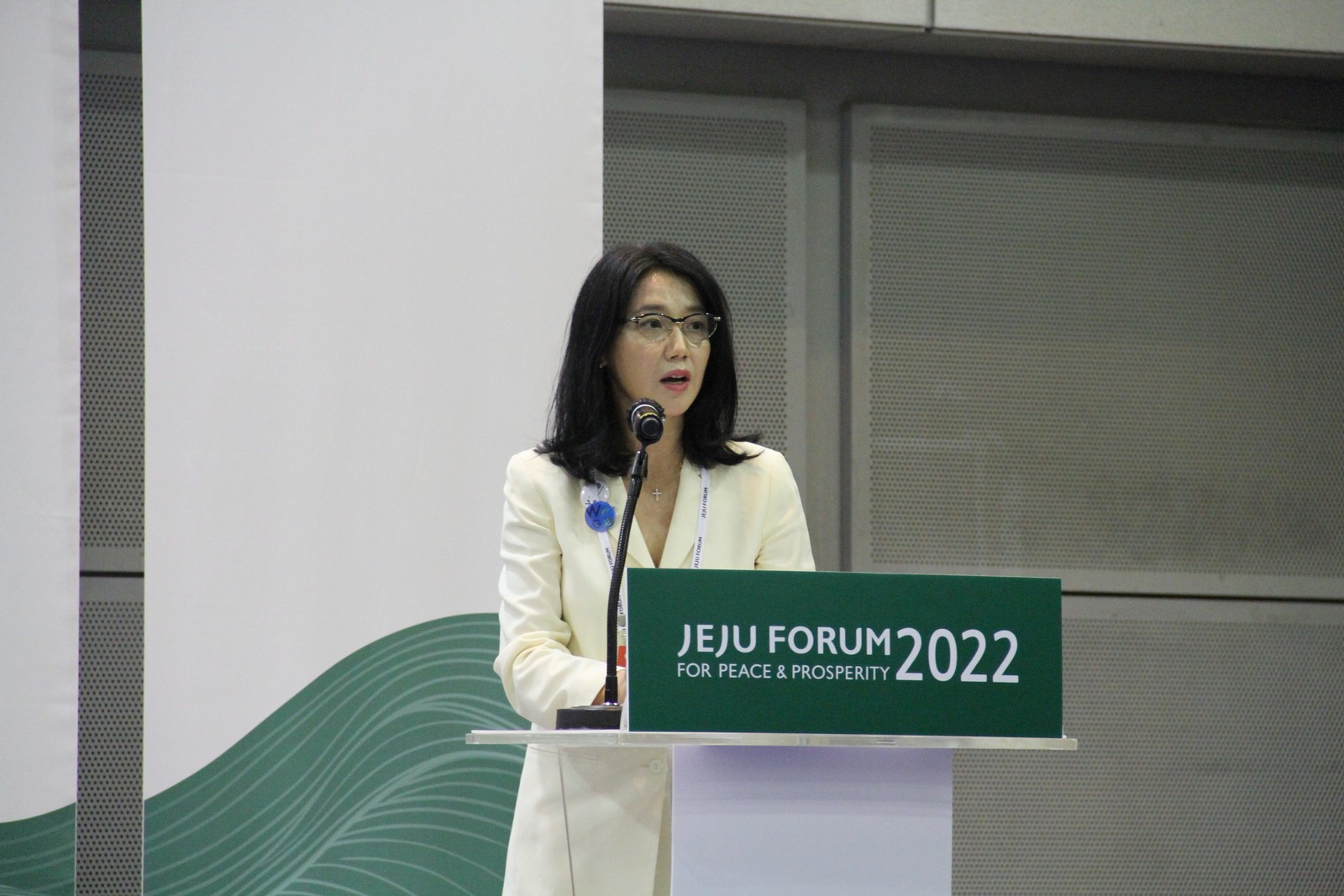 ▲ WeGO Secretary-General Ms. PARK Jung Sook delivering opening remarks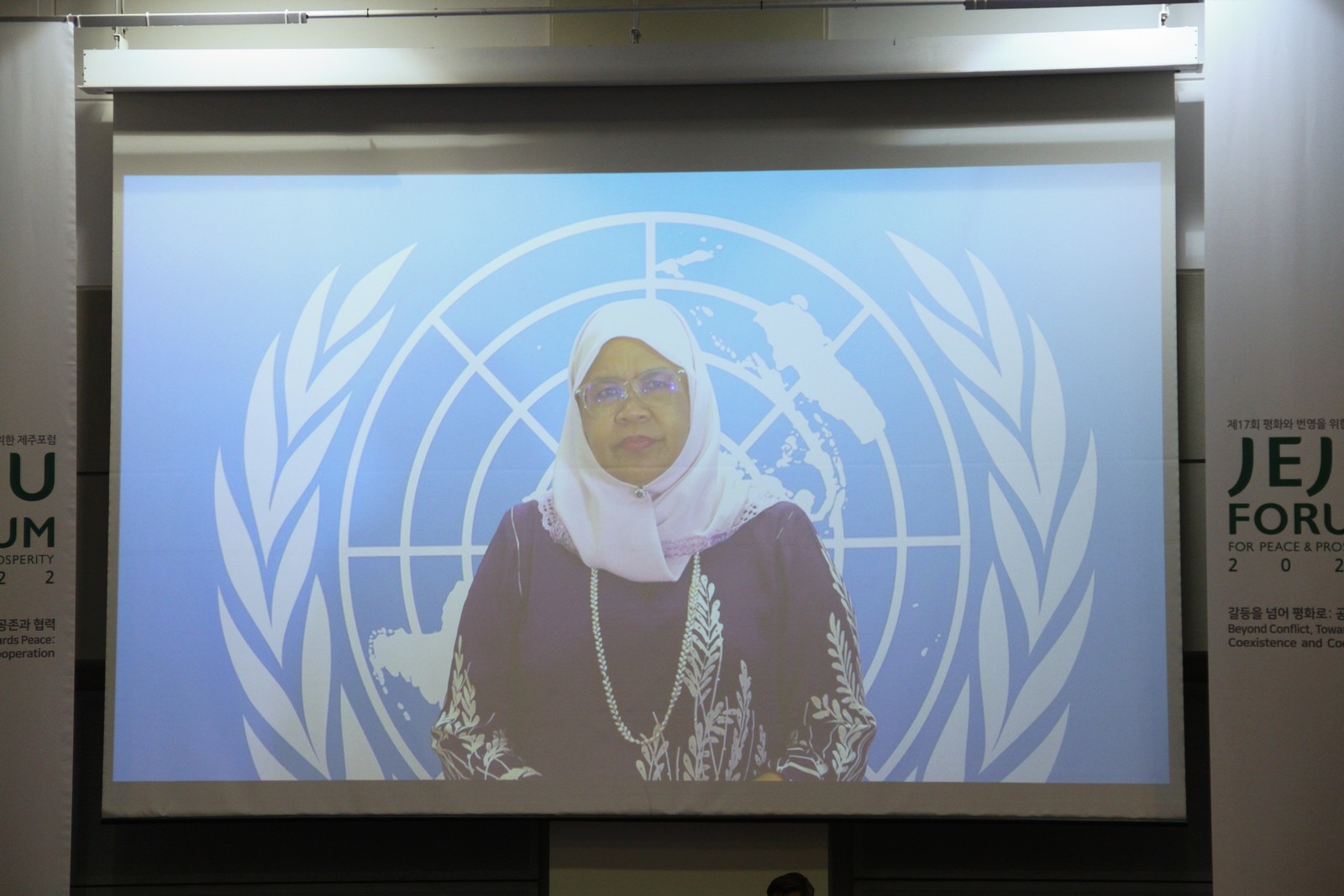 ▲ UN-Habitat Executive Director Ms. Maimunah Mohd SHARIF delivering video remarks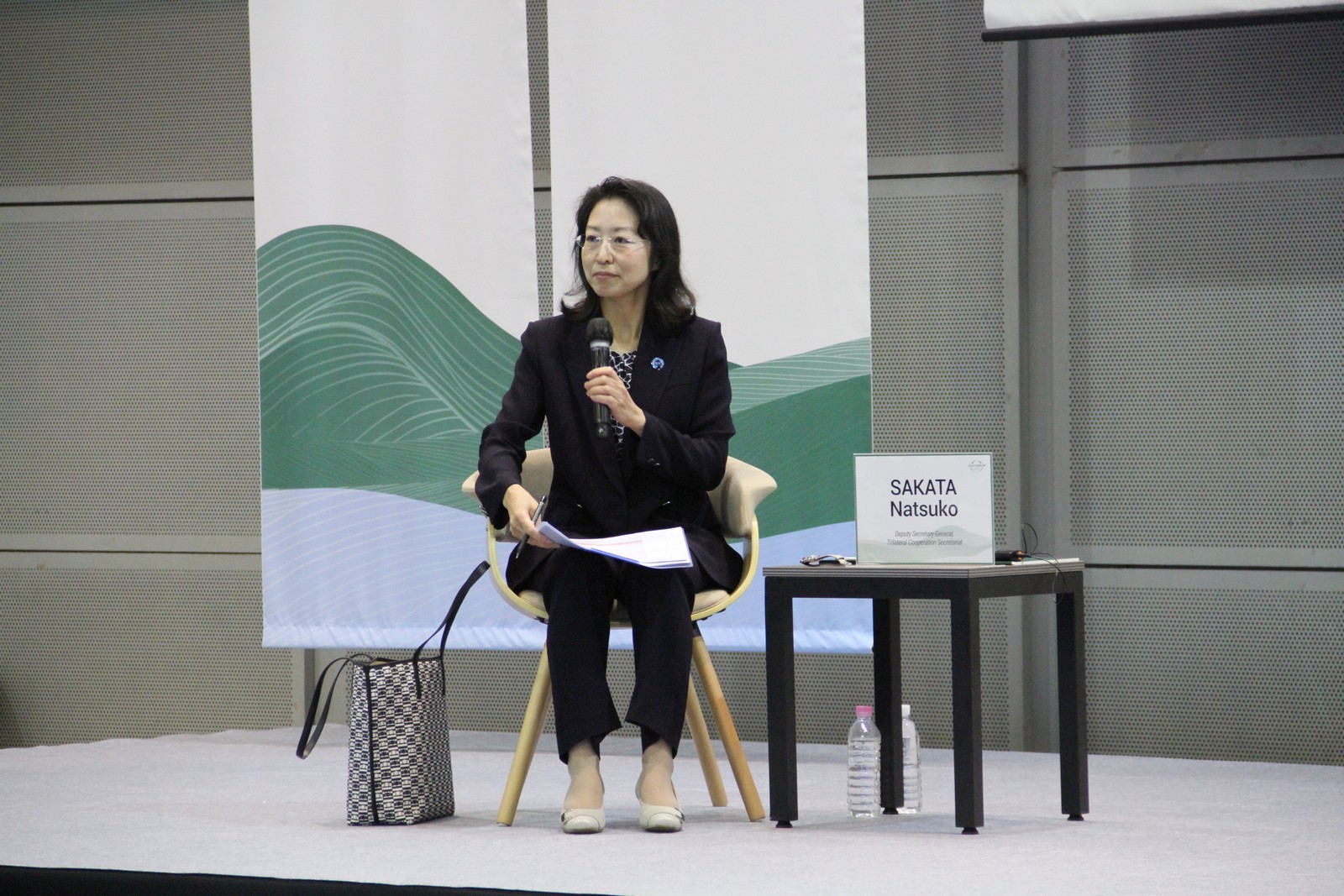 ▲ TCS Deputy Secretary-General Ms. SAKATA Natsuko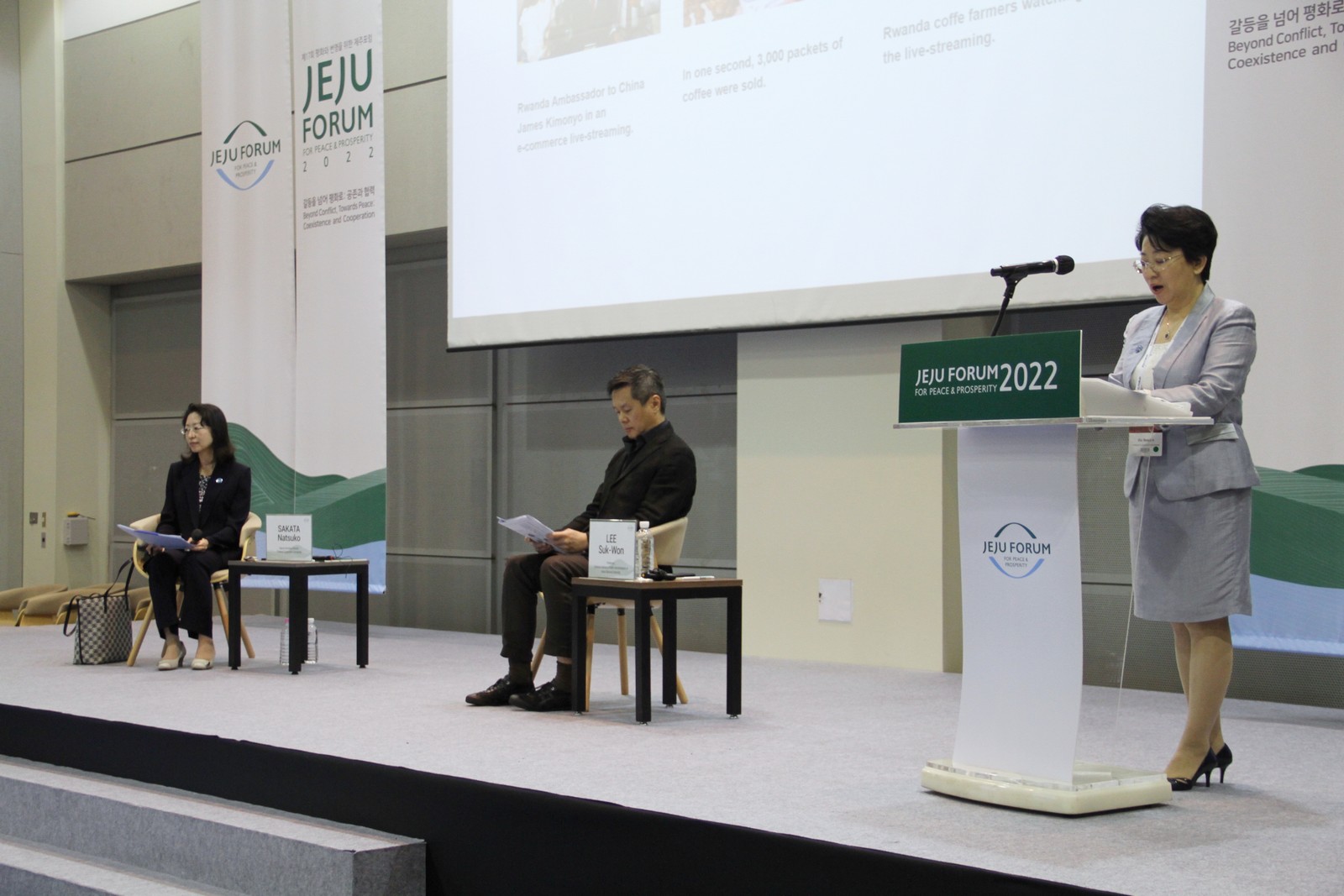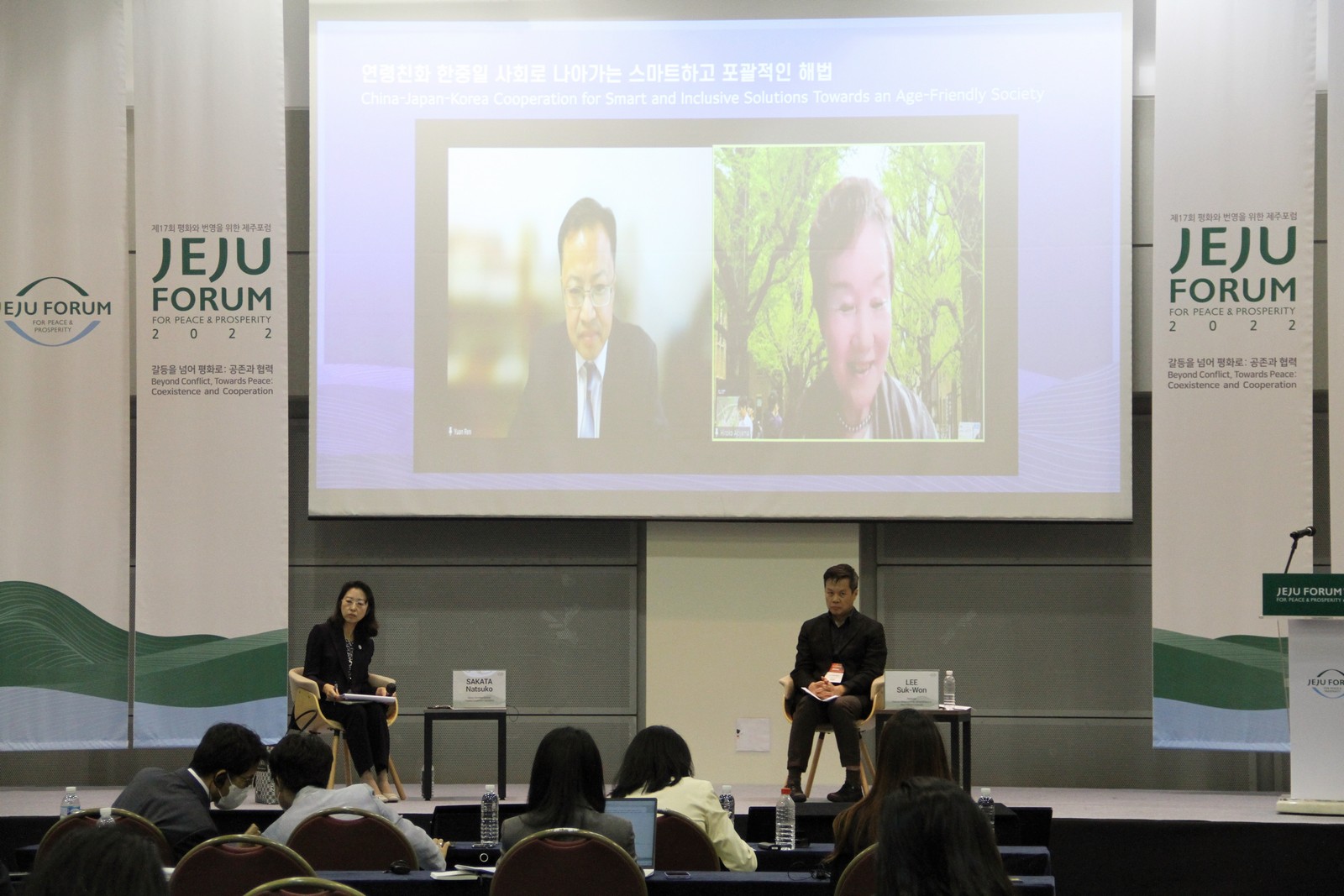 ▲ Jeju Forum 2022 Venue Overview