Seminar & Forum
International Forum for Trilateral Cooperation 2022
2022.06.13 ~ 2022.06.14
International Forum for Trilateral Cooperation 2022
27 Opinion leaders gather to discuss pathways for future-oriented Trilateral Cooperation
among China, Japan, and the Republic of Korea

Trilateral Cooperation Secretariat (Referred to as TCS hereafter; Secretary-General: OU Boqian) hosted the

International Forum for Trilateral Cooperation (IFTC) 2022

on Tuesday, June 14, 2022, under the theme

"Future-Oriented Trilateral Cooperation: Lasting Peace, Common Prosperity, Shared Culture".

The year 2022 kicks off the second decade of TCS. Against the backdrop of the profound economic, social and humanitarian challenges brought by the pandemic, IFTC 2022 is an opportunity to make constructive policy recommendations for future Trilateral Cooperation among China, Japan, and the Republic of Korea (ROK) and deliberate on TCS' role in advancing Trilateral Cooperation.
H.E. WANG Yi, State Councilor and Foreign Minister of China, H.E. HAYASHI Yoshimasa, Minister of Foreign Affairs of Japan, and H.E. PARK Jin, Minister of Foreign Affairs of ROK delivered congratulatory messages on the opening of IFTC 2022. They highlighted the significance of forging cooperation in a fast-changing international landscape and reaffirmed continuous support for the expansion of TCS' activities.
In the opening session, congratulatory remarks were delivered consecutively by H.E. AIBOSHI Koichi, Ambassador of Japan to the ROK, H.E. XING Haiming, Ambassador of China to the ROK, and H.E. CHO Hyun-dong, 1st Vice Minister of Foreign Affairs of the ROK, followed by keynote speeches from Mr. HIROSE Katsusada, Governor of Oita Prefecture (Culture City of East Asia 2022), Japan, Mr. ZHANG Ping, Former Vice Chairman, Standing Committee of the National People's Congress of China, and Mr. KIM Hwang Sik, Former Prime Minister of the ROK and Chairman of Ho-Am Foundation.
In the three sessions that followed, veteran politicians and diplomats, prominent scholars, and representatives of leading economic and cultural organizations shared insights on institutionalization of Trilateral Cooperation, inclusive economic growth, and cultural exchange. Session 1 "Engage to Embrace: Institutionalization of Cooperation as a Key to Human Security and Peace" assessed the role played by the trilateral cooperative scheme in times of crisis and discussed its future evolution to cope with potential non-traditional security challenges. Session 2 "A New Chapter: Driving Inclusive Growth for Regional Common Prosperity" examined how the three countries can harness emerging growth opportunities of regional trade frameworks, digitalization, and green transition to drive inclusive recovery in the post-pandemic era. Session 3 "From the Past to the Future: Embracing Shared Culture towards the Sense of Community" shed light on the shaping of shared cultural memories through a long history of exchanges among the three countries and explored how cultural exchange can enhance mutual understanding and trust.
Currently, Trilateral Cooperation scheme consists of the Trilateral Summit Meeting, 21 Ministerial meetings, more than 70 government consultative meetings, and over 100 other cooperative projects covering a wide range of areas closely related to the life of the people in the three countries, such as economy, environment, health, disaster management, education, and youth. Since its establishment in September 2011, TCS has joined this endeavor to pursue peace and prosperity in the region and beyond. Entering its second chapter, TCS will "spare no efforts in carrying out the mandates of the three Governments for a more advanced Trilateral Cooperation, and will strive to fulfill our mission to further promote Lasting Peace, Common Prosperity and Shared Culture in this region", stated Secretary-General OU Boqian in her opening remarks.
Prior to the Forum, TCS also hosted the Trilateral Cooperation Secretariat in the New Decade- Publication and Project Launch Event on Monday, June 13, 2022, to showcase its efforts to foster Trilateral Cooperation. Two (2) new publications, An Evolving Trilateral Cooperation: Reality and Outlook, and Trilateral Economic Report 2011-2020 were launched. Projects introduced include the newly-established Trilateral Statistics Hub, a comprehensive one-stop trilateral data platform of more than 600 indicators, as well as plans of Trilateral Youth Exchange Network to integrate eight (8) existing and upcoming youth exchange-related projects, a key task through which TCS hopes to cultivate a positive understanding of Trilateral Cooperation.
An Evolving Trilateral Cooperation: Reality and Outlook
The report contains two parts. The main body, "Decade of Progress on Trilateral Cooperation: 2010-2020", extends a comprehensive review on the progress of 41 specific objectives in five major areas set forth in the Trilateral Cooperation Vision 2020 adopted at the 3rd Trilateral Summit Meeting in 2010; the other part, "In Dialogue with China-Japan-ROK Citizens", six (6) eminent scholars, economists, editors and young professionals from the three countries shared their experiences as well as expectations with Trilateral Cooperation. The TCS wishes to offer a gateway for the public to grasp a full picture of the Trilateral Cooperation in parallel with a better understanding of its significance.
(English) link: tcs-asia.org/data/etcData/PUB_1654742376.pdf
(Chinese) link: tcs-asia.org/data/etcData/PUB_ch_1654650255.pdf
(Japanese) link: tcs-asia.org/data/etcData/PUB_jp_1654650301.pdf
(Korean) link: tcs-asia.org/data/etcData/PUB_kr_1654650147.pdf
Trilateral Economic Report 2011-2020
Joined by six (6) prominent think-tanks in China, Japan, and the Republic of Korea, the Trilateral Economic Report 2011-2020 reviews economic cooperation among the three countries in the past 10 years and showcases the joint efforts the three countries made at national, regional, and global levels. It also provides insights into the cooperation in the next 10 years, with a view to spurring the efforts of our region to achieve common prosperity.
(English) link: tcs-asia.org/data/etcData/PUB_1655080950.pdf
Trilateral Statistics Hub
"Trilateral Statistics Hub" is a digital portal for the public to acquire concrete data on each Trilateral Cooperation mechanism and project, so as to provide a comprehensive understanding on the development trend of the three countries individually as well as to understand the importance of Trilateral Cooperation by analyzing the integrated statistics.
(English) link: data.tcs-asia.org/
Trilateral Youth Exchange Network
"Trilateral Youth Exchange Network (TYEN)" is a new initiative by TCS that integrates eight (8) signature youth related projects carried out by TCS. These include the Young Ambassador Program, Trilateral Youth Speech Contest, Trilateral Youth Summit, Trilateral Young Entrepreneurs Forum, to name just a few. It is expected that TYEN would strengthen the co-relations among different youth projects, and amplify its positive influences on the younger generations of the three countries.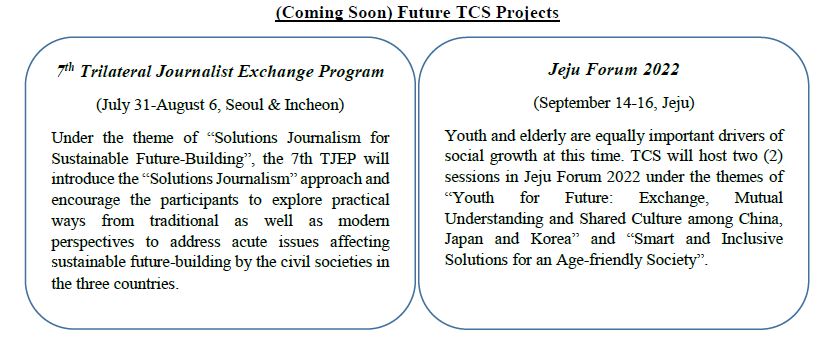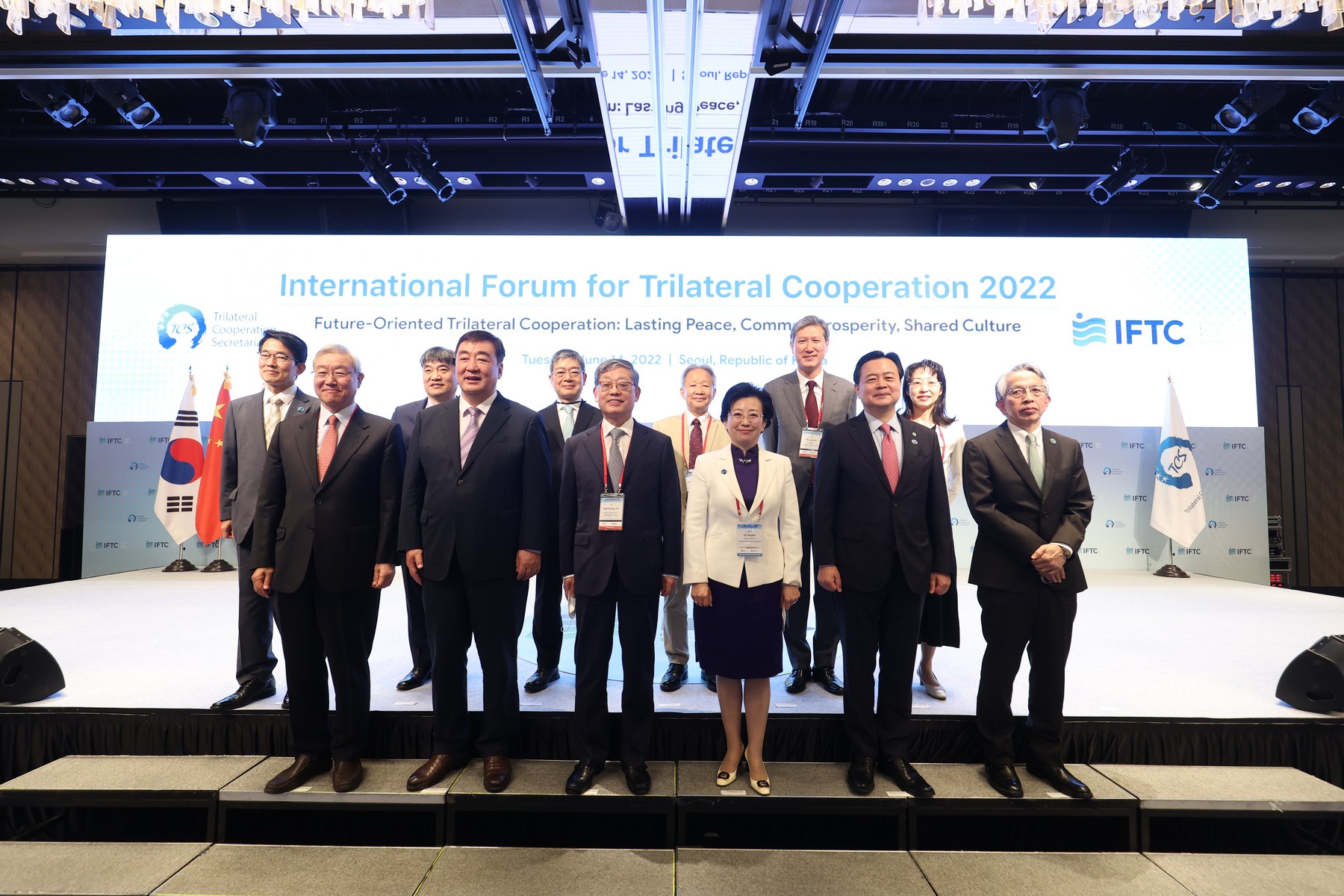 ▲
Group Photo of dignitaries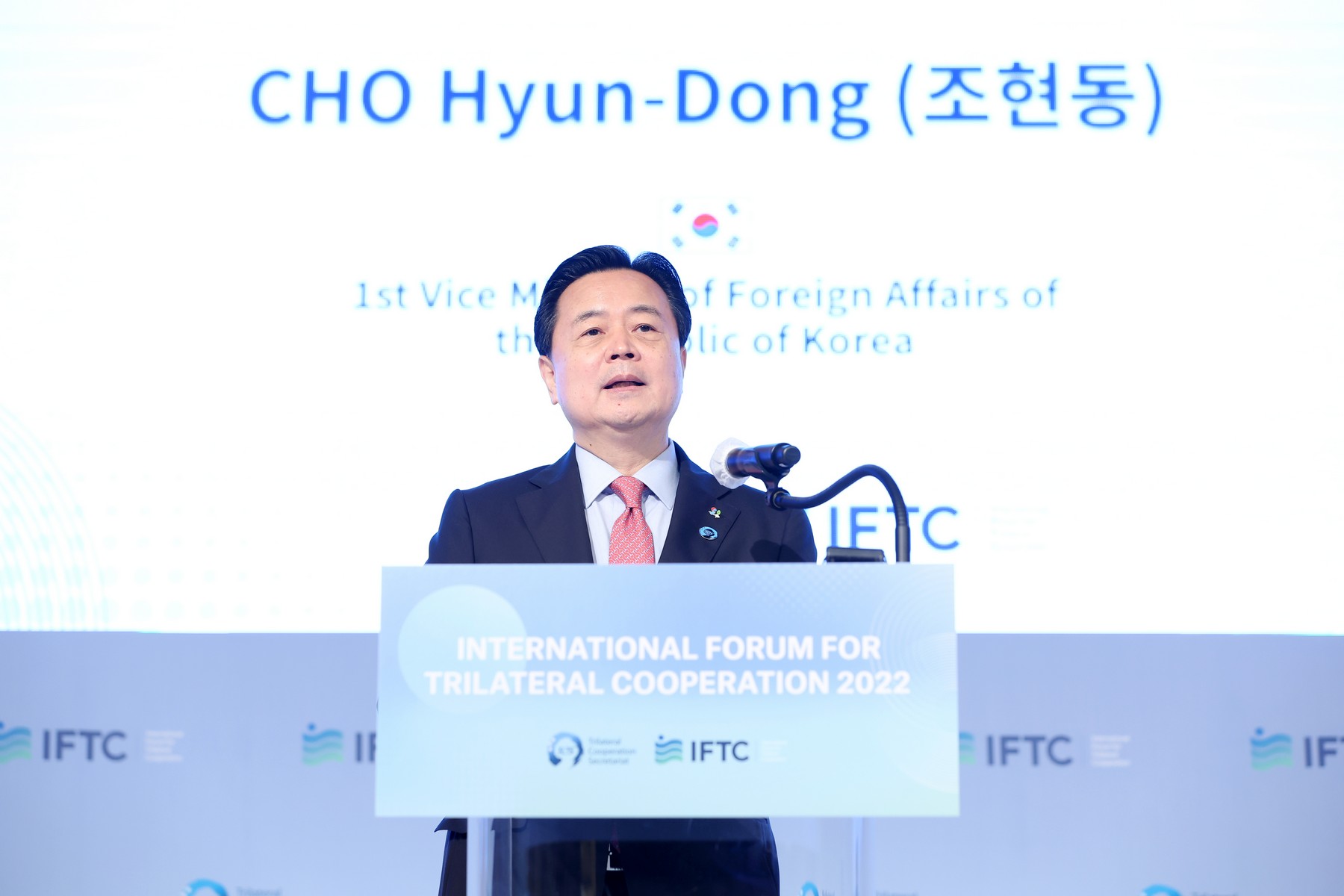 ▲
Congratulatory Remarks from H.E. CHO Hyun-Dong, 1st Vice Minister of Foreign Affairs of the Republic of Korea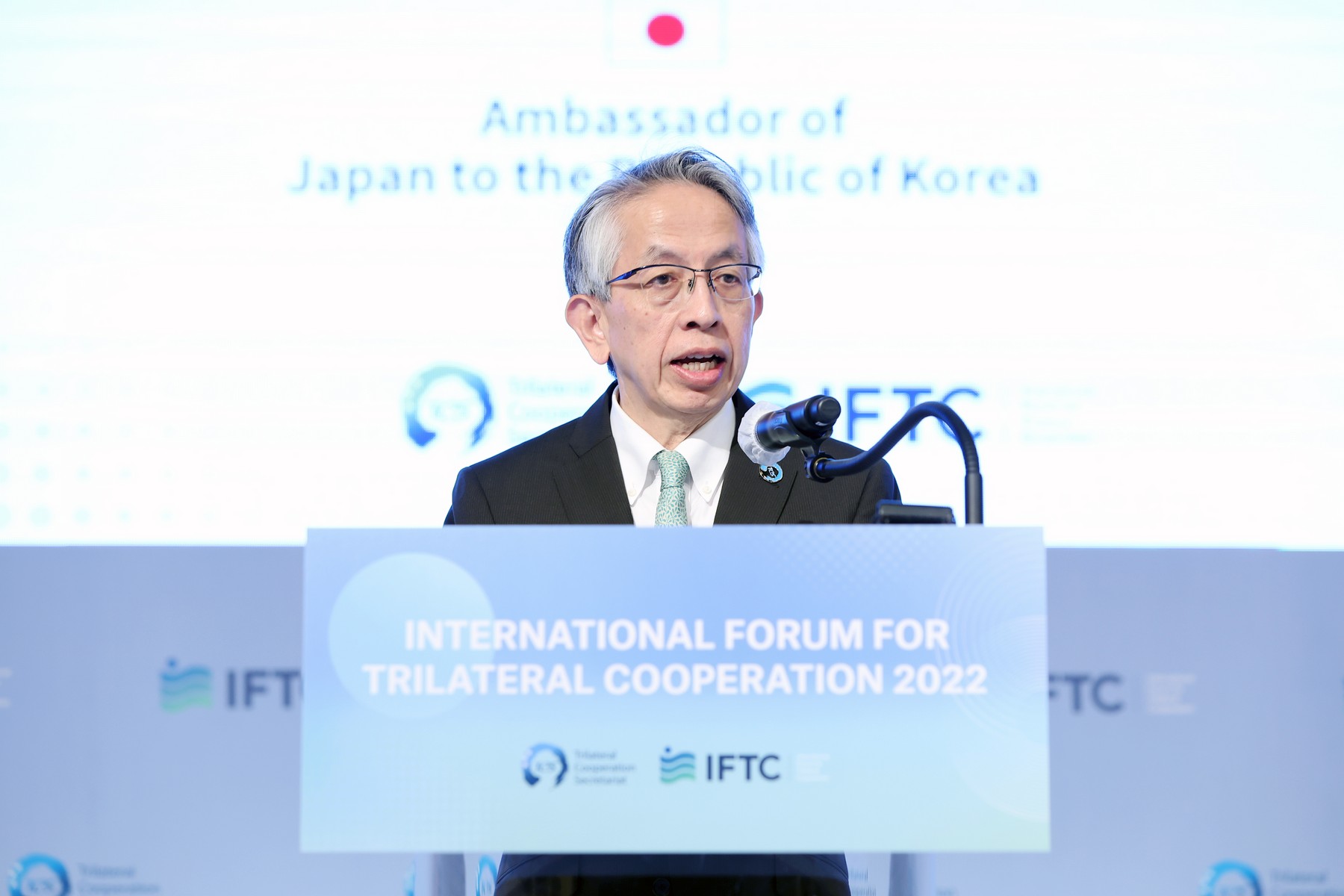 ▲
Congratulatory Remarks from H.E. AIBOSHI Koichi, Ambassador of Japan to the Republic of Korea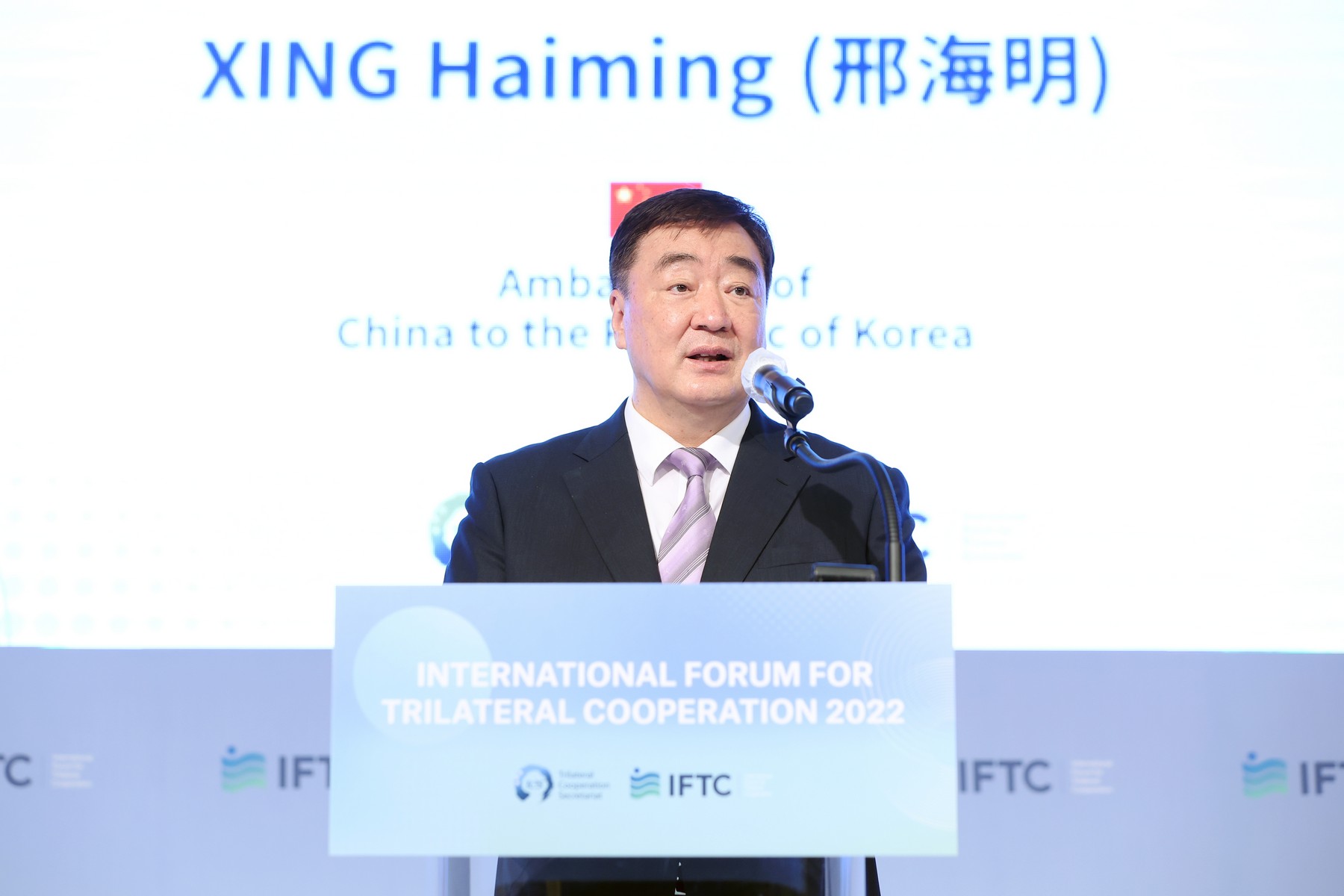 ▲
Congratulatory Remarks from H.E. XING Haiming, Ambassador of China to the Republic of Korea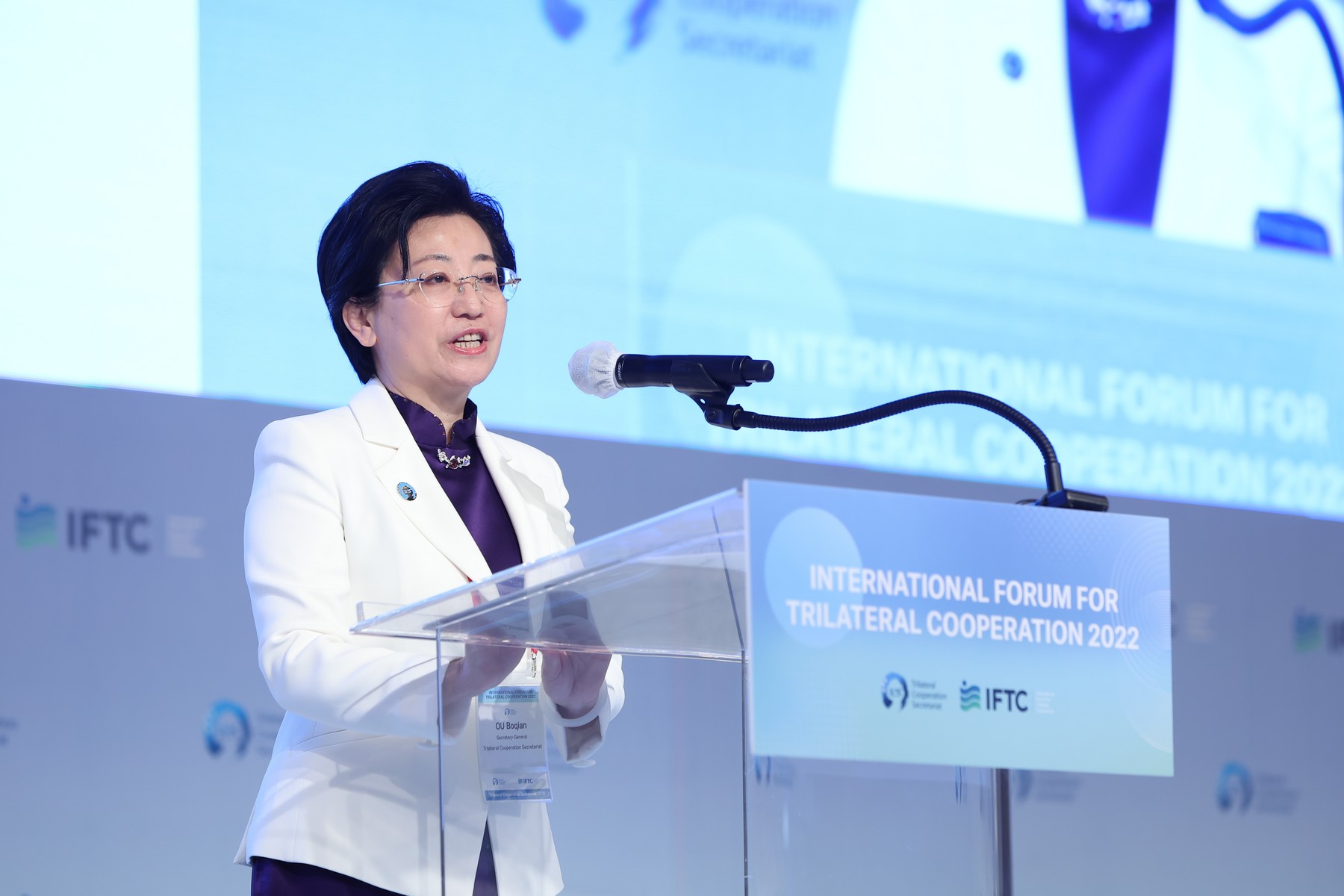 ▲
Opening Remarks from TCS Secretary-General OU Boqian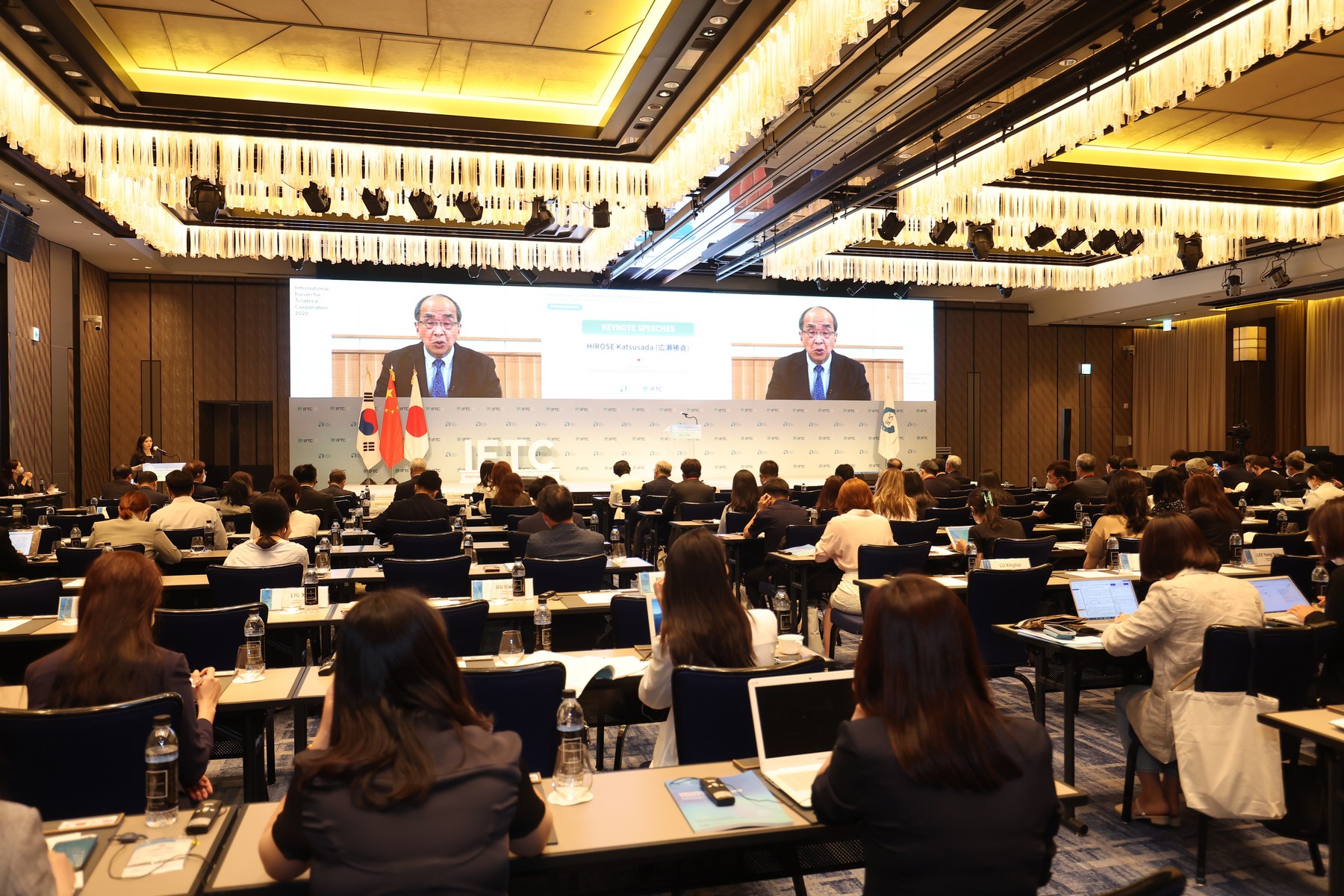 ▲
Keynote Speech by H.E. HIROSE Katsusada, Governor, Oita Prefecture (Culture City of East Asia 2022) of Japan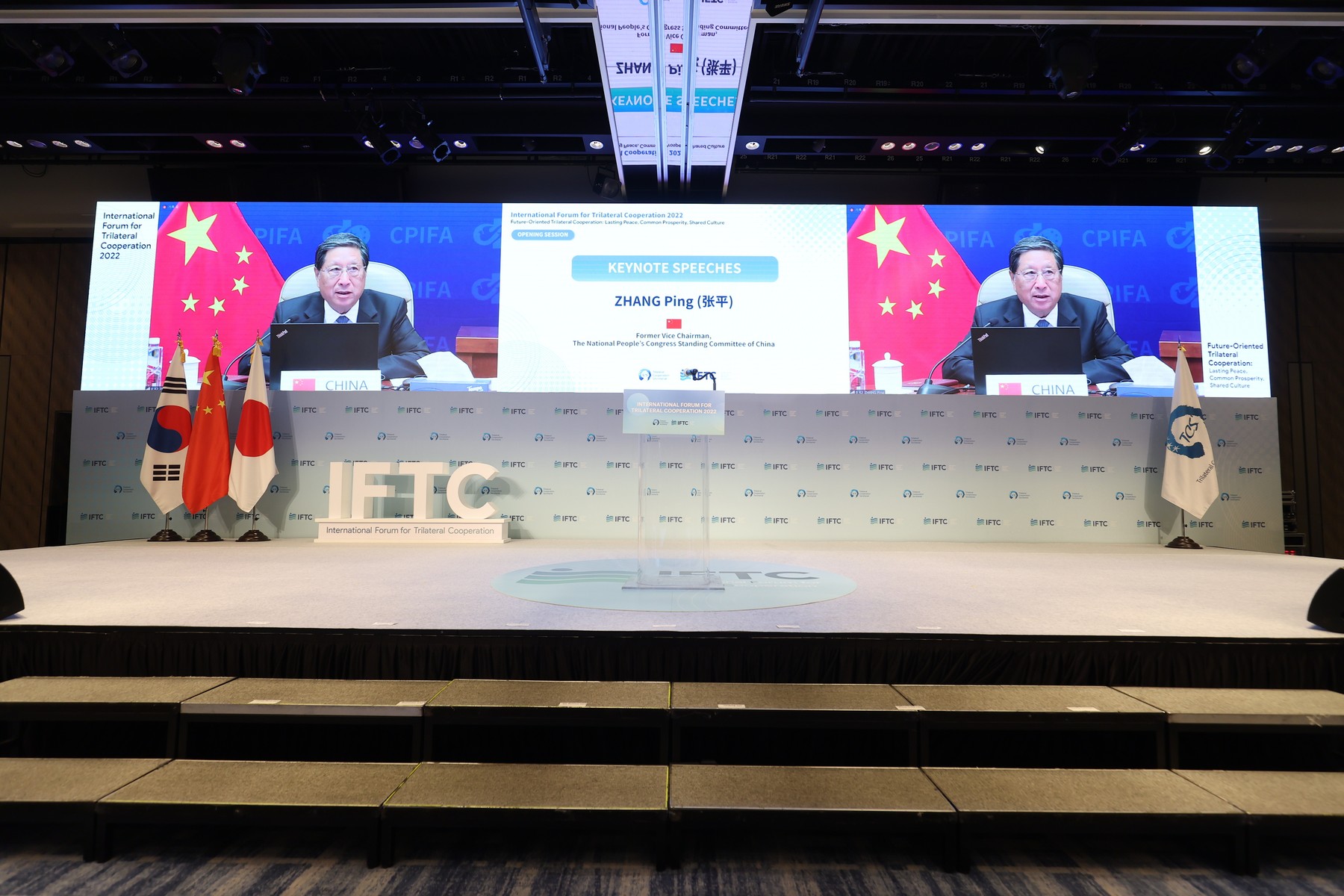 ▲
Keynote Speech by H.E. ZHANG Ping, Former Vice Chairman, The National People's Congress Standing Committee of China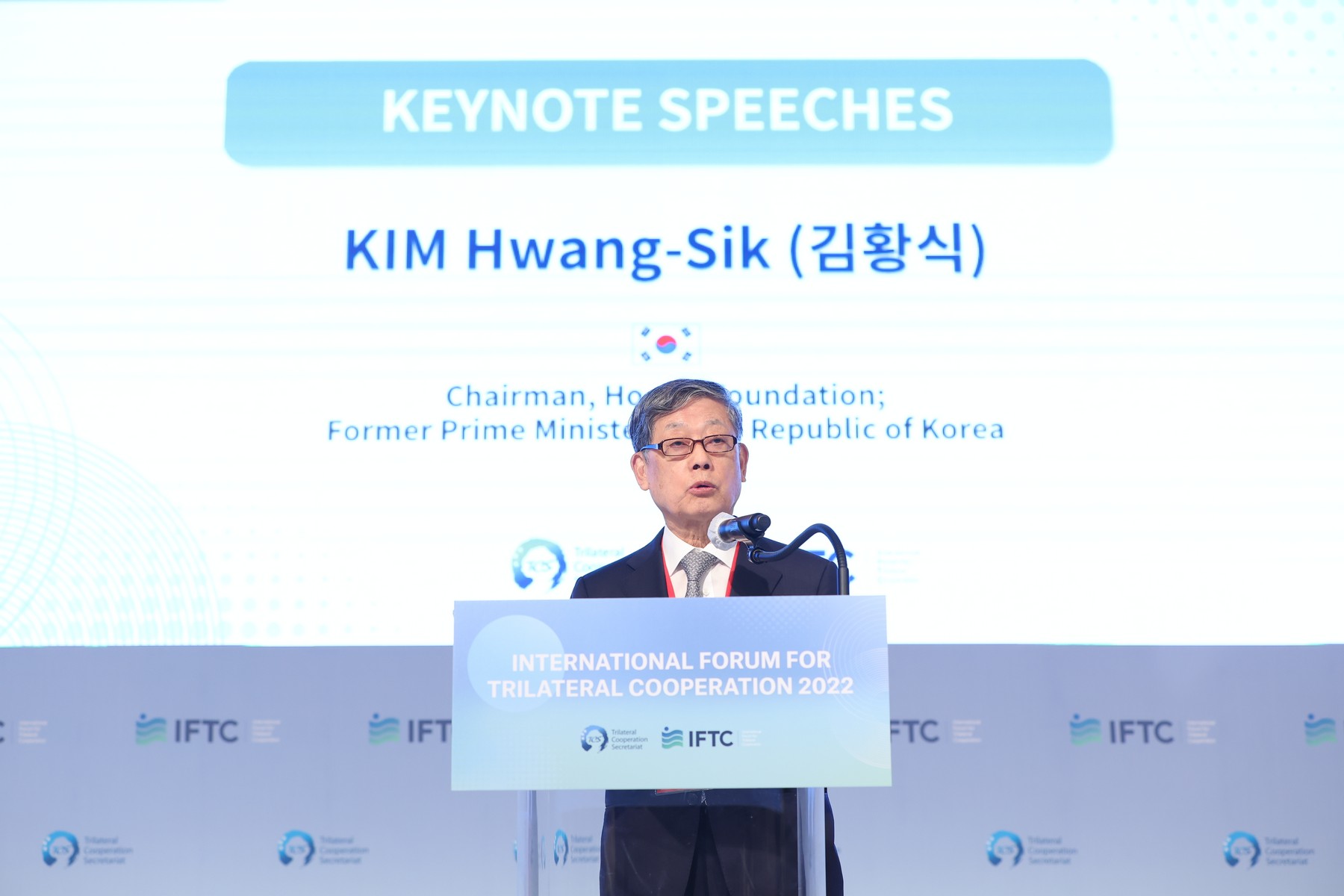 ▲
Keynote Speech by H.E. KIM Hwang-Sik, Former Prime Minister of the Republic of Korea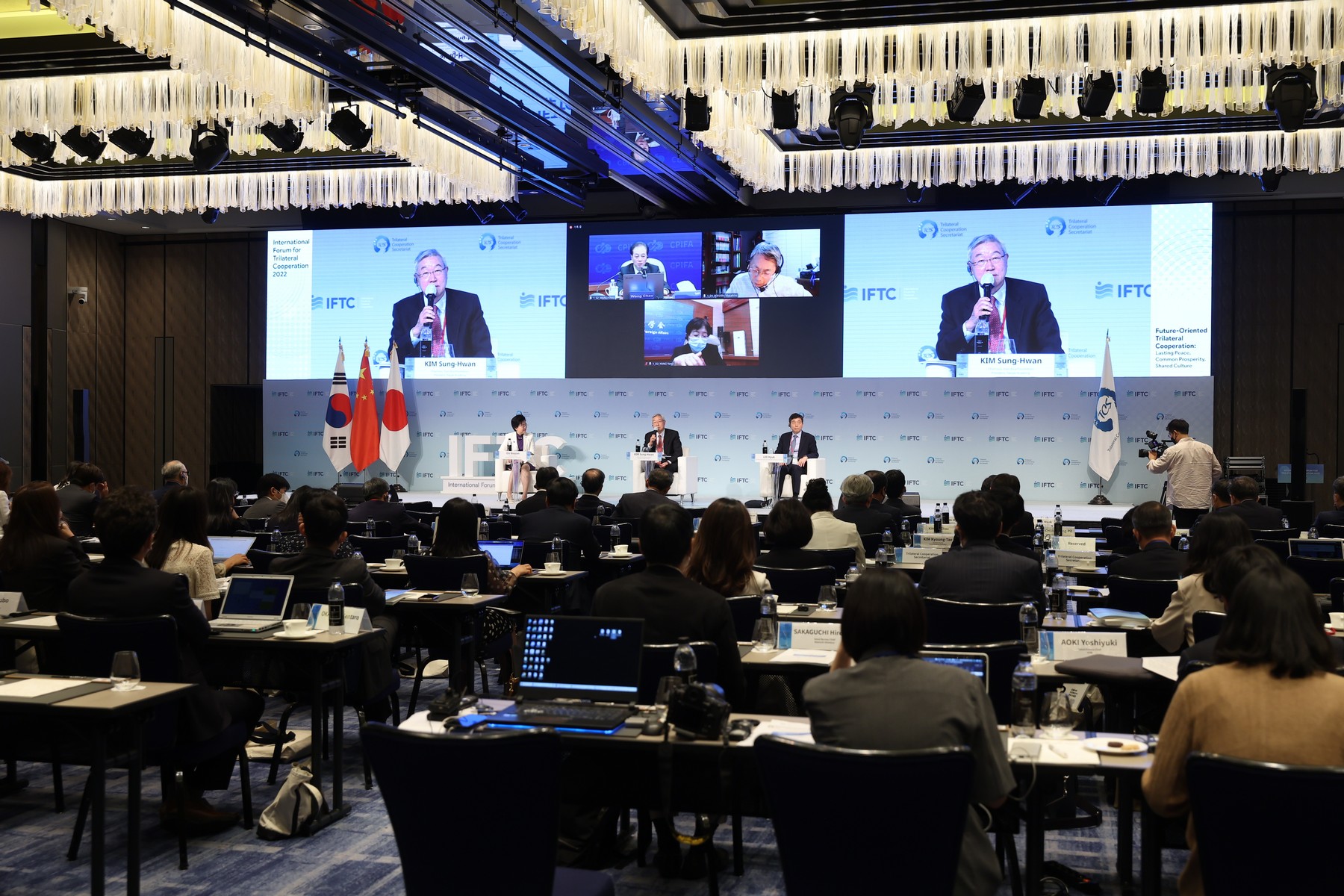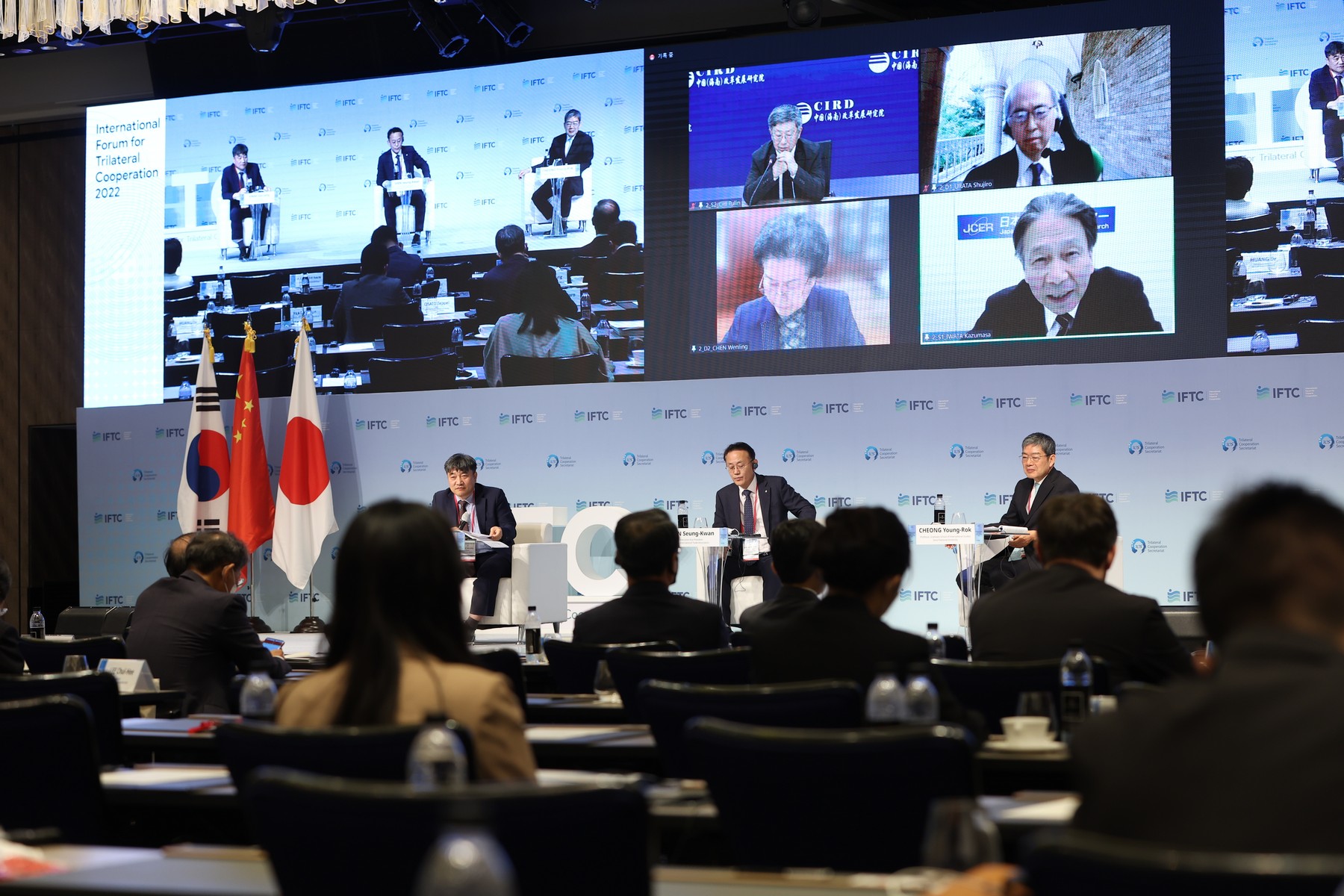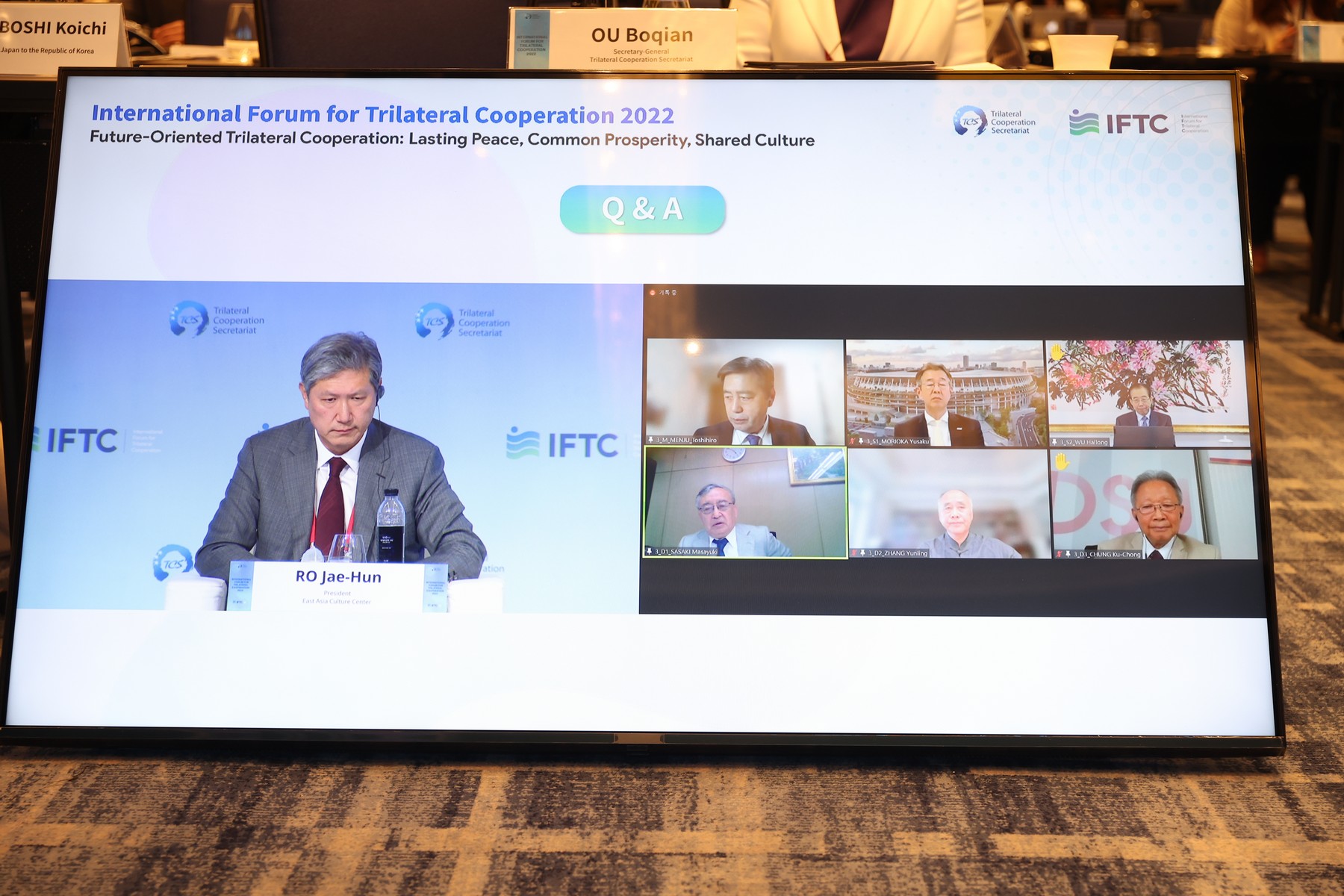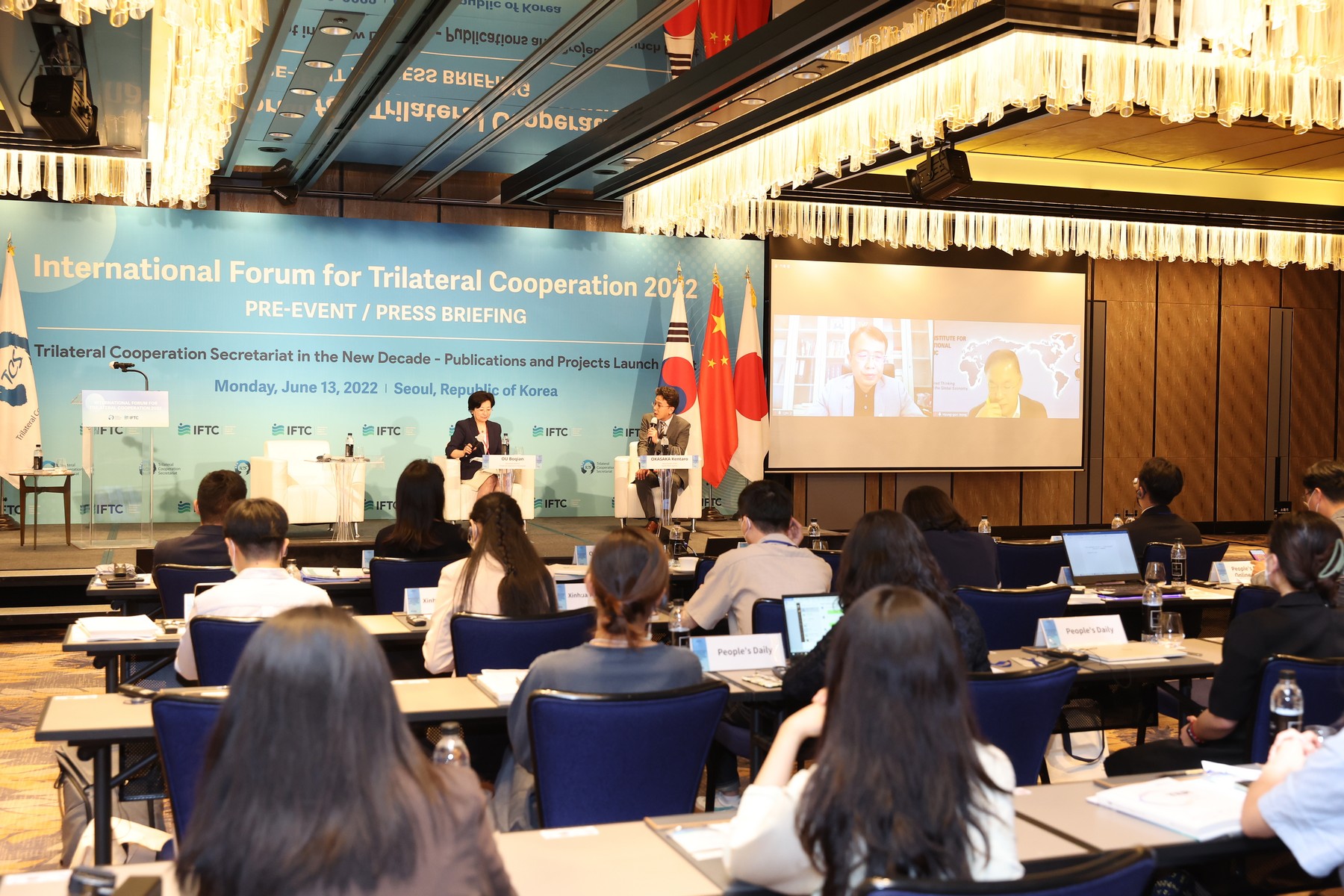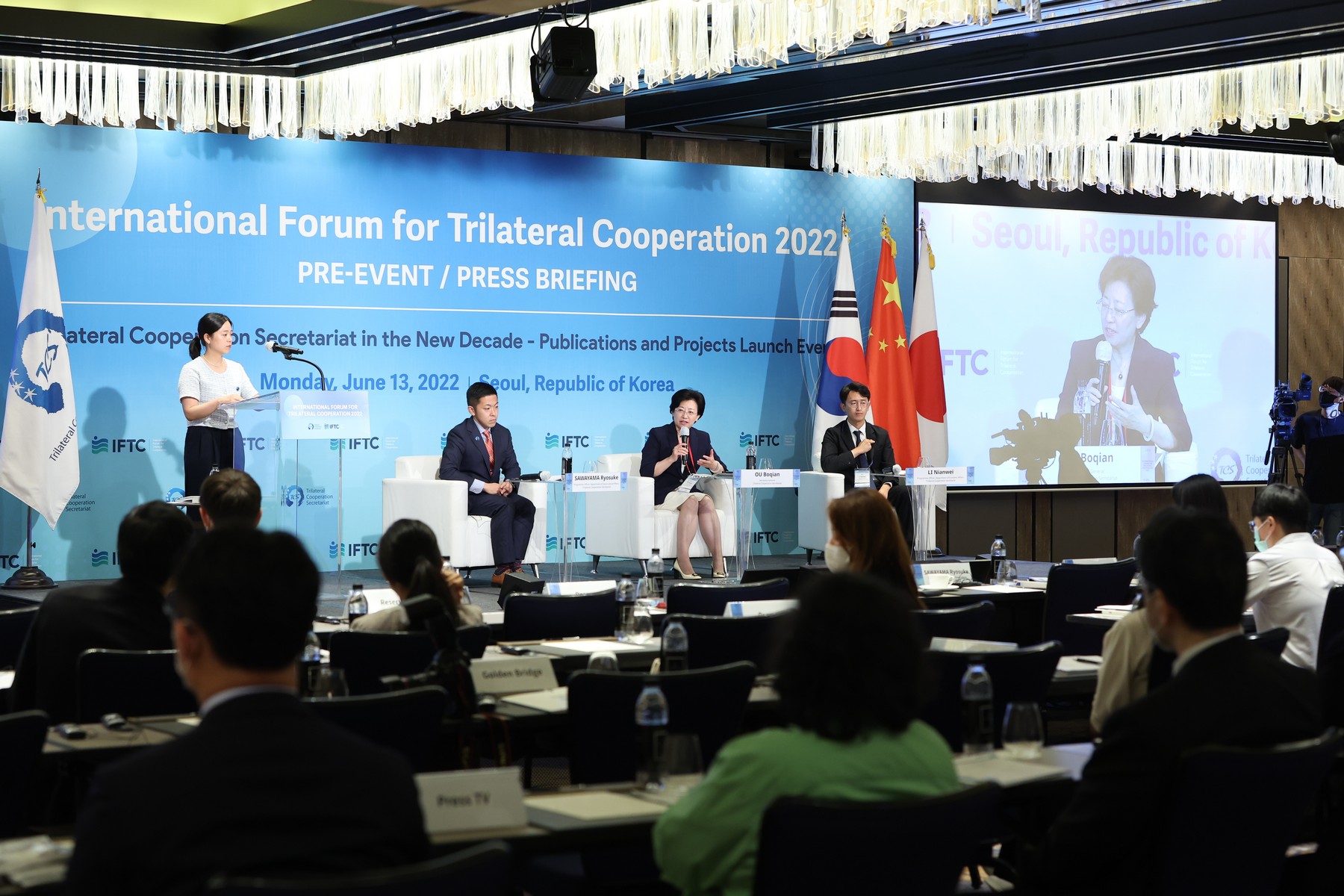 ▲
Pre-event/ Press Briefing held on 13 June