Others
Secretary-General Amb. OU Boqian Received Interview by People's Daily Online
2021.11.15
On November 15, 2021, TCS Secretary-General Amb. OU Boqian received an exclusive interview by People's Daily Online.
Highlighting that the TCS represents the only intergovernmental cooperative mechanism in Northeast Asia, SG OU said that the Trilateral Cooperation among China, Japan and the ROK has nowadays evolved into a pivotal mechanism in this region with widest coverage of areas, highest degree of institutionalization, richest outcomes and strongest endogenous dynamics. She spoke highly of the progress of the Trilateral Cooperation over the past 20 years as well as the achievements of the TCS in its first decade, and extended an optimistic outlook on that the Trilateral Cooperation will better serve as a pillar for common prosperity, a platform for shared cultures, and a cornerstone for peace and stability under the direction of the Trilateral Cooperation Vision for the Next Decade adopted in the 8th Trilateral Summit in Chengdu, China in 2019.
She gave high remarks on the spirit of "harmony in diversity" which features the essence of the East Asian culture values and commonly shared by the three neighboring countries, telling that it is an invaluable culture heritage that we shall cherish and harness. Identifying that the fundamental change of the information spreading modality by cyber and the restrictions on face-to-face exchanges by the pandemic exaggerate negative recognitions and perceptions among peoples of the three countries especially the younger generations nowadays, she encouraged all communities, including the mass media, to make joint efforts to improve such situation. To this end, she told that the TCS would spare no efforts to promote the spirit of common prosperity and shared culture by carrying out a series of events in the near future, such as the International Forum for Trilateral Cooperation, TCS Statistic Hub and other projects in cultural and economic areas.
She also shared her experiences as a professional diplomat in different positions, and encouraged the youngsters of the three countries to strengthen understandings and knowledges to each other, and therefore make joint efforts for amicable and future-oriented relations among the three countries.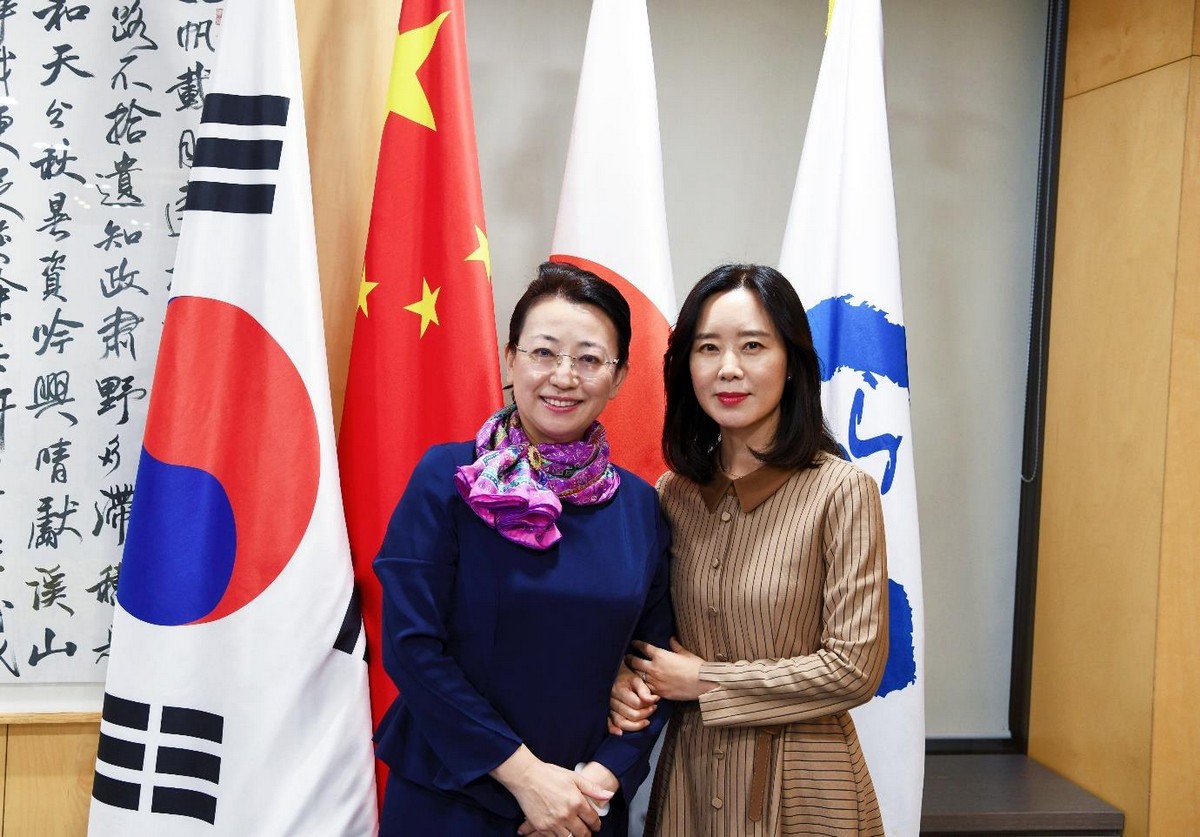 ▲Secretary-General Amb. OU Boqian with Ms. ZHOU Yubo, CEO of People's Daily Online Korea after the interview