Mechanisms
Transport and Logistics Ad Hoc China-Japan-ROK Directorial Video Meeting (Teleconference)
2020.06.05
Transport and Logistics Ad Hoc China-Japan-ROK Directorial Video Meeting was held on 5 June 2020. The delegations from Ministry of Transport of China, Ministry of Land, Infrastructure, Transport and Tourism of Japan, Ministry of Oceans and Fisheries of ROK, and the TCS participated the meeting. The TCS delegation was headed by QIAO Wen, Director of Economic Affairs.
Director QIAO made opening remarks stressing the fruitful results of the trilateral transport and logistics cooperation achieved so far. She highlighted that the three countries have taken swift measures to fight against the pandemic and to facilitate economic recovery in a timely manner. She stated that the TCS will continue to follow-up closely to support their efforts.
During the Meeting, the three parties discussed future steps to strengthen cooperative actions in the logistics service area. The three delegations and the TCS reaffirmed their commitments to further enhance communication and collaboration among the three countries.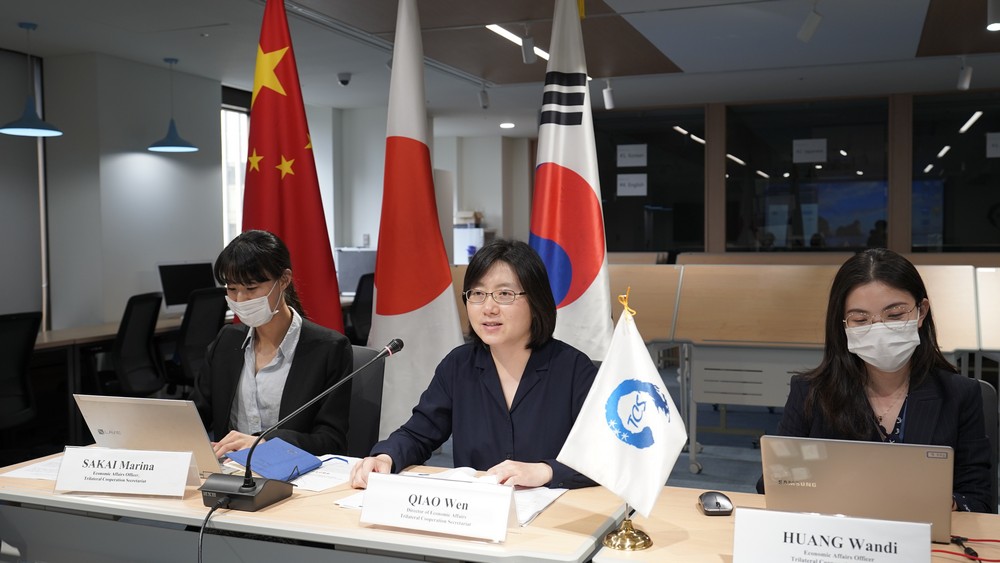 ▲Director Qiao making remarks