Others
TCS Board Had a Meeting with Deputy Minister of the ROK MOFA
2020.06.03
The TCS board members (SG MICHIGAMI Hisahi, DSG CAO Jing, DSG KANG Do ho) had a meeting with Deputy Minister KIM Gun of the ROK MOFA and exchanged views on the current status and the future direction of trilateral cooperation. In particular, they spoke highly of the three countries' continuous efforts in overcoming the COVID 19 crisis, and reaffirmed that they would continue to play an important role in revitalizing trilateral cooperation.
On a related note, SG MICHIGAMI highlighted that the TCS has sought possible ways to maintain the momentum of trilateral cooperation in the face of COVID 19 pandemic, by serving as a platform connecting public and private sector through webinar, joint research and publication.
Deputy Minister KIM highly assessed the past 20 years of development in trilateral cooperation and expected the TCS to play more active role in promoting trilateral cooperation that can bring actual benefits to the lives of the people. He also expressed his willingness to maintain close communication with the three governments and the TCS to prepare for this year's Summit .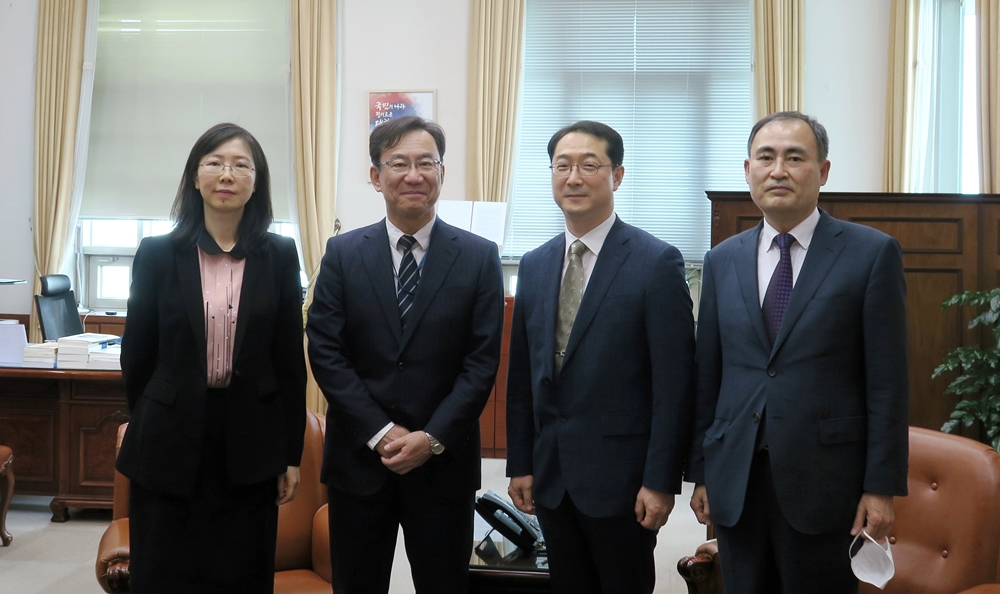 ▲TCS Board and Deputy Minister KIM (From left, DSG CAO Jing, SG MICHIGAMI Hisashi, Deputy Minister KIM Gun, DSG KANG Do ho)