Others
TCS Delegation paid courtesy call to Ministry of Foreign Affairs of Japan
2020.01.16
On January 16, 2020, the new board members of the TCS, headed by Secretary-General MICHIGAMI Hisashi paid a courtesy call to Ministry of Foreign Affairs of Japan and met with Mr. WAKAMIYA Kenji, State Minister for Foreign Affairs. TCS Deputy Secretaries-Generals Ms. CAO Jing and Mr. KANG Doho attended the meeting.
At the Meeting, State Minister Wakamiya highly spoke of the 8th Trilateral Summit held in Chengdu, China at the end of 2019 and encouraged to promote the three 'E's of Environment, Exchange and Elderly society as pillars of trilateral cooperation in the next decade. In addition, Mr. Wakamiya fully recognized the achievement made by the TCS for advancing trilateral cooperation and expressed his willingness to support TCS's continuous capacity building.
TCS Secretary-General Michigami extended appreciation to Ministry of Foreign Affairs of Japan for its great support and cooperation to the TCS. He briefed the trilateral ministerial meetings held recently and underscored the TCS's substantial and practical contribution to trilateral cooperation mechanisms in the past years. SG Michigami expected continuous support and guidance from Ministry of Foreign Affairs of Japan for further developing trilateral cooperation and the TCS.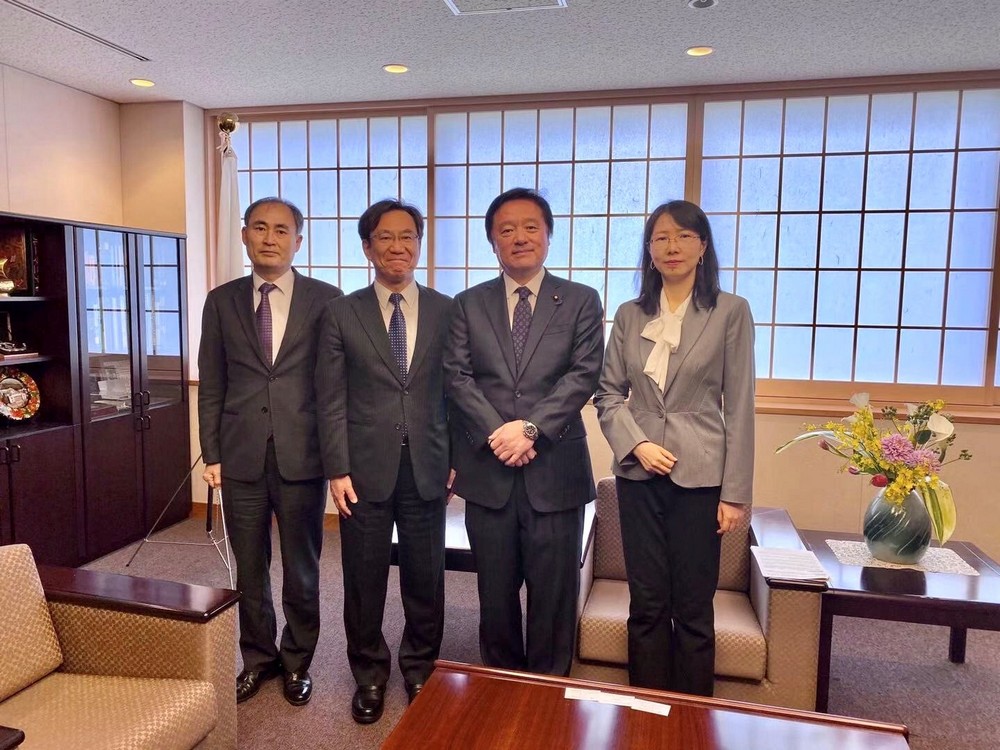 ▲Group Photo of the new board members of TCS and State Minister for Foreign Affairs Mr. WAKAMIYA Kenji