Mechanisms
TCS Attended the 18th Yellow Sea Rim China, Japan and Korea Economic and Technology Exchange Conference
2019.11.20 ~ 2019.11.22
On November 20-22, 2019, the 18th Yellow Sea Rim China, Japan and Korea Economic and Technology Exchange Conference (the Conference) was held in Jining Qufu, China. TCS Deputy Secretary-General CAO Jing headed the TCS delegation to attend the Conference. DSG CAO delivered a remark at the plenary meeting of the Conference.
In her remark, DSG CAO spoke highly of the Conference as a valuable platform to encourage practical cooperation among local governments and enterprises of China, Japan and the Republic of Korea (ROK). She emphasized the significance of trilateral economic cooperation in contributing to world stability and prosperity. For the future development of yellow sea rim, DSG CAO indicated that the member cities need to continuously strengthen current cooperation, explore collaboration in new areas such as technology, big data, AI, 5G, make joint efforts to advocate "CJK+X", and enlarge network to establish synergies with other sub-regional economic cooperation mechanisms.
DSG CAO introduced the footprint and current status of trilateral cooperation and contributions that TCS made to support the cooperation in economic and trade area. She affirmed that TCS would work closely with all relevant stakeholders to keep enhancing practical collaboration among the three countries for a more strengthened economic tie.
Yellow Sea Rim China, Japan and Korea Economic and Technology Exchange Conference is a trilateral local government cooperation mechanism launched in 2001. The Conference is sponsored by the Ministry of Commerce of China, Kyushu Bureau of Economy, Trade and Industry of Japan, Kyushu Economy International of Japan, and Ministry of Trade, Industry and Energy of the ROK.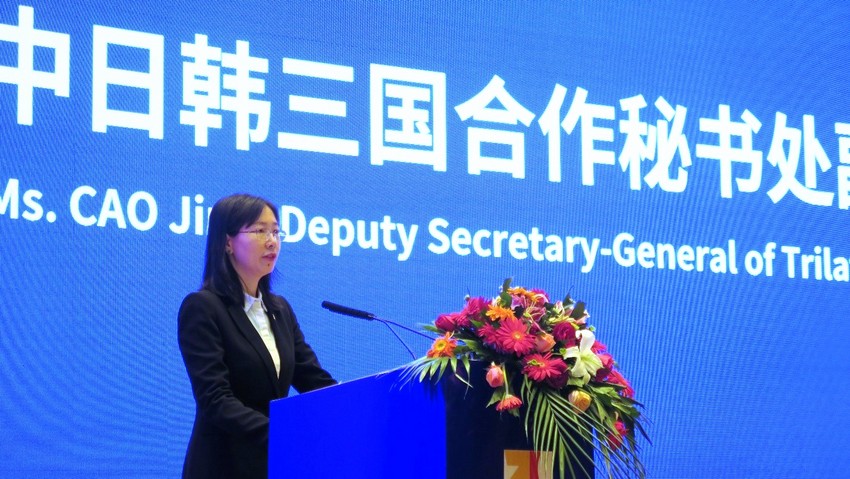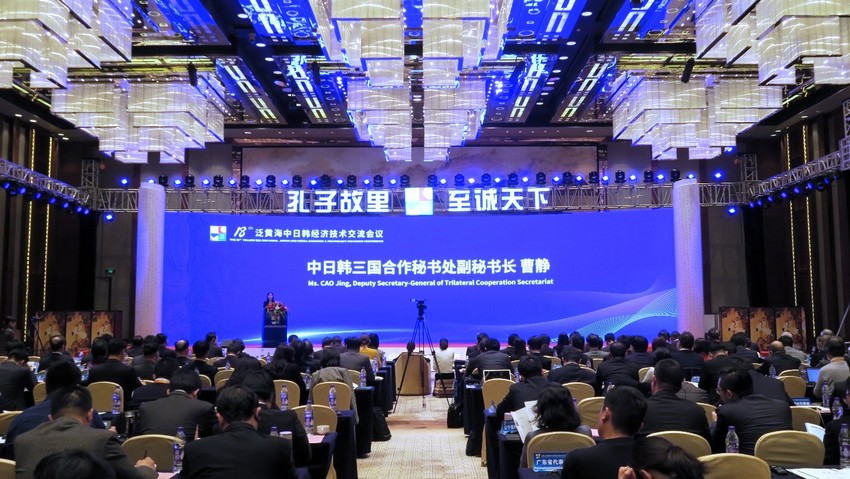 ▲DSG CAO Jing Delivering Remark at the Plenary Meeting of the 18th Yellow Sea Rim China, Japan and Korea Economic and Technology Exchange Conference