Mechanisms
12th Trilateral Cultural Content Industry Forum
2019.11.15 ~ 2019.11.16
The 12th Trilateral Cultural Content Industry Forum was held on November 15, 2019 in Busan, ROK. The Symposium was organized by the Ministry of Culture, Sports and Tourism (ROK), Ministry of Culture and Tourism (China), and Ministry of Economy, Trade and Industry (Japan). The participants included the following: [ROK] Korea e-Sports Association, Korea Contents Creative Agency, Busan Metropolitan City and Busan IT Industry Promotion Agency, [Japan] Visual Industry Promotion Organization and Japan eSports Union (JeSU), [China] China Cultural Center in Seoul, China Arts and Entertainment Group Ltd., China Culture & Entertainment Industry Association (CCEA), Tencent Interactive Entertainment Group. The TCS participated in the Forum as an observer.
The forum consisted of 1) inter-governmental meeting headed by Mr. KIM Hyunhwan, Director General, Content Policy Bureau (ROK), Mr. OGASAWARA Yoichi, Deputy Director-General for IT Strategy (Japan), and Mr. MA Feng, General Deputy Director Department of Cultural and Tourism Industries (China), 2) Expert's Forum, 3) Cultural Industry Networking Reception, and was jointly held with the Global Game Exhibition (G-Star).
The three representatives at the inter-governmental meeting signed a joint declaration regarding future cooperation. The joint declaration indicates the agreement to encourage the expansion, exchange, and cooperation among the three countries' culture and content industry, and the activation of the Trilateral Content Industry Cooperation and Development Cooperative, to promote cooperating operations. The three representatives of the CJK eSports industries, Mr. KONG Ming, Secretary General of CCEA (China), Mr. OKAMURA Hideki, Chairman of JeSU (Japan), and Mr. KIM Young-man, Chairman of KeSPA (ROK) signed an MOU for future cooperation to conduct China-Korea-Japan Trilateral eSports Competition in the ROK in 2020.
The forum was a platform for not only inter-governmental trilateral networking but also an opportunity for engagement for public and private sectors in the three countries as well. The next Culture Content Industry Forum will be held in Japan, in 2020.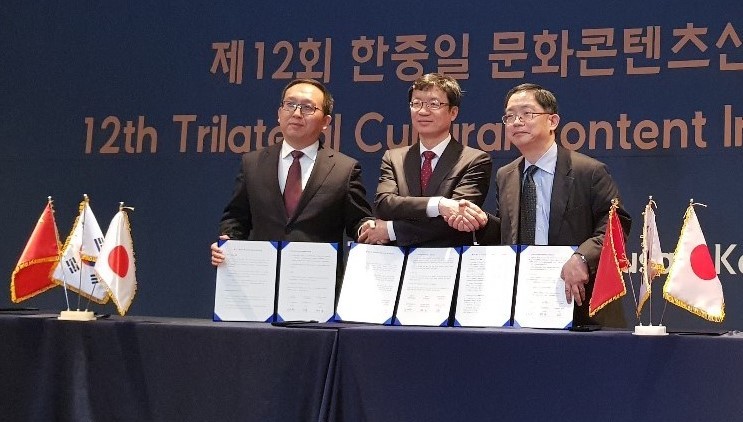 ▲Signing of the Joint Statement: from left, Mr. MA Feng, General Deputy Director Department of Cultural and Tourism Industries (China), Mr. KIM Hyunhwan, Director General, Content Policy Bureau (ROK), and Mr. OGASAWARA Yoichi, Deputy Director-General for IT Strategy (Japan)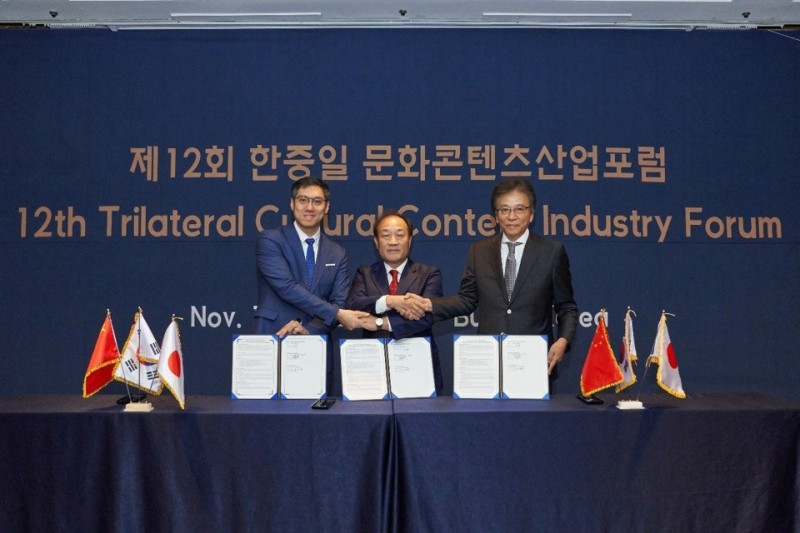 ▲Signing of the MOU: from left, Mr. KONG Ming, Secretary General of CCEA (China), Mr. KIM Young-man, Chairman of KeSPA (ROK), and Mr. OKAMURA Hideki, Chairman of JeSU (Japan)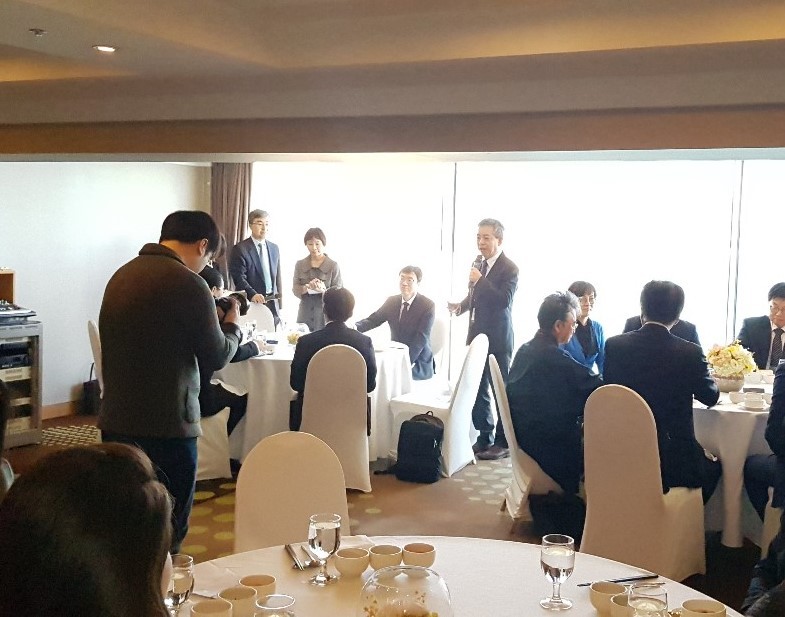 ▲TCS Socio-Cultural Director, NAGAFUCHI Kenji delivering a toast before luncheon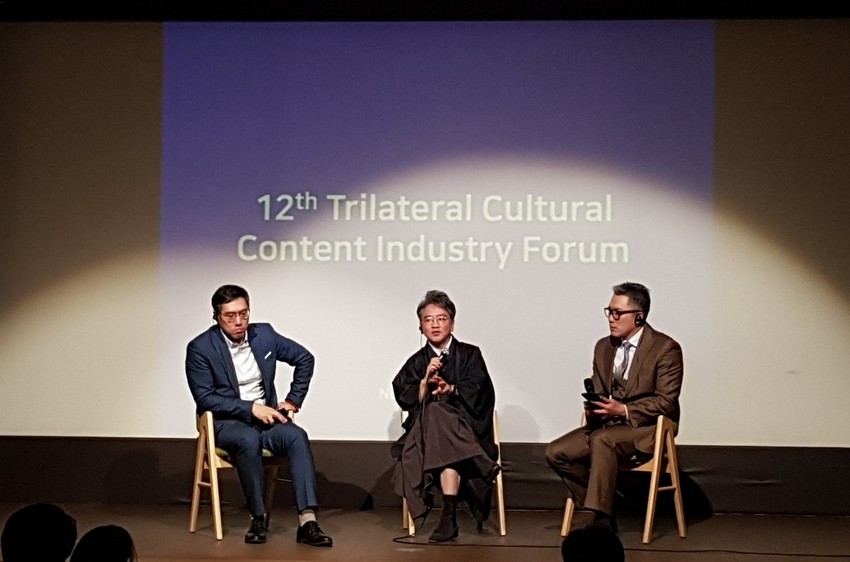 ▲Experts' Forum: from left, Mr. KONG Ming, Secretary General of CCEA (China), Mr. Nakamura Ichiya, Professor, Keio University Graduate School (Japan), Mr. Park Seong Hee, Professor, Hankuk University of Foreign Studies