Seminar & Forum
6th Ulaanbaatar Dialogue on Northeast Asian Security
2019.06.05 ~ 2019.06.06
6th Ulaanbaatar Dialogue on Northeast Asian Security was convened in Ulaanbaatar, Mongolia, on June 5-6, 2019. This Track 1.5 Dialogue was organized by the Ministry of Foreign Affairs and Institute for Strategic Studies of Mongolia, bringing together not only the Northeast Asian regional players but also country representatives outside the region such as Canada, UK, Germany, Norway, and multi-national partners, UN DPPA, UN-ESCAP and the EU. The TCS has also been invited to participate in the Dialogue for the first time.
Secretary-General LEE Jong-heon gave remarks at the panel discussion on "Cooperation and Competition Dynamics in Northeast Asia" where he noted that competition and cooperation exist not only between individuals but also between communities, and that goodwill competition may be desirable because it can help each other develop, but excessive competition will bring the worst consequences of making everyone lose. He also introduced the historic starting point, achievements and momentous developments of trilateral cooperation including the establishment of TCS.
He then highlighted the essence of trilateral cooperation which aims to stabilize not only the unstable bilateral relations among the three countries but also to promote the vision for peace and prosperity of the region at large. In this regard, he drew attention to the importance of TCS as a unique and unprecedented permanent organization which plays the role as a facilitator for regional cooperation. He stressed that the region should maintain "realistic optimist views" to address challenges and promote common goals together. The panel discussion has ended just before the dinner time as Q&As were actively exchanged among the panelists and with the audience.
Three parallel sessions have followed on the second day of the conference where the participants had in-depth discussions on energy cooperation, humanitarian issues in emergency situation, and youth, peace and security agenda led by the UN.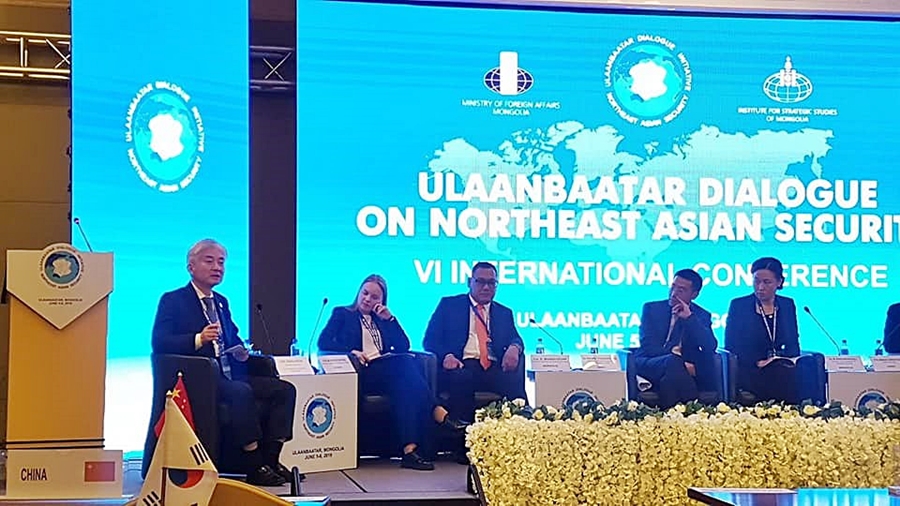 ▲SG Lee's Remarks at Session 2 'Cooperation and Competition Dynamics in Northeast Asia'