TCS 10th Anniversary Photo Exhibition

April 19, 2021 ~ April 28, 2021
As part of the series of 10th Anniversary events, the Trilateral Cooperation Secretariat (TCS) organized the 10th Anniversary Photo Exhibition in Jeongdong 1928 Art Center to further promote public awareness of trilateral cooperation and the TCS.
The opening ceremony of the photo exhibition took place on April 19, 2021 and was hosted by the Consultative Board of the TCS. ROK Deputy Foreign Minister KIM Gunn Ambassador of China XING Haiming, and Ambassador of Japan AIBOSHI Koichi participated in the event to congratulate the 10 year anniversary of the TCS.
In his opening remarks, TCS Secretary General MICHIGAMI Hisashi expressed his gratitude to the governments of the three countries as well as stakeholders and supporters of the TCS. He underlined t he consistent progress of trilateral cooperation despite bilateral difficulties and emphasized the organizational development of the TCS.
Deputy Minister KIM Ambassador XING, and Ambassador AIBOSHI each delivered congratulatory remarks and appreciated TCS efforts to promote trilateral cooperation over the past decade. In particular, they acknowledged the difficulties faced by trilateral cooperation in the midst of COVID-19 pandemic and expressed hope for the further development of TCS activities.
The opening ceremony was followed by a short tour of the photo exhibition that showcased TCS support for trilateral mechanisms and flagship projects. The exhibition also includes an interactive site where participants can take home hand crafted fans and custom engraved lacquer chopsticks.
The TCS 10th Anniversary Photo Exhibition will be open to the public free of charge from 10:00 to 18:00 at Jeongdong 1928 Art Center Gallery until April 28, 2021.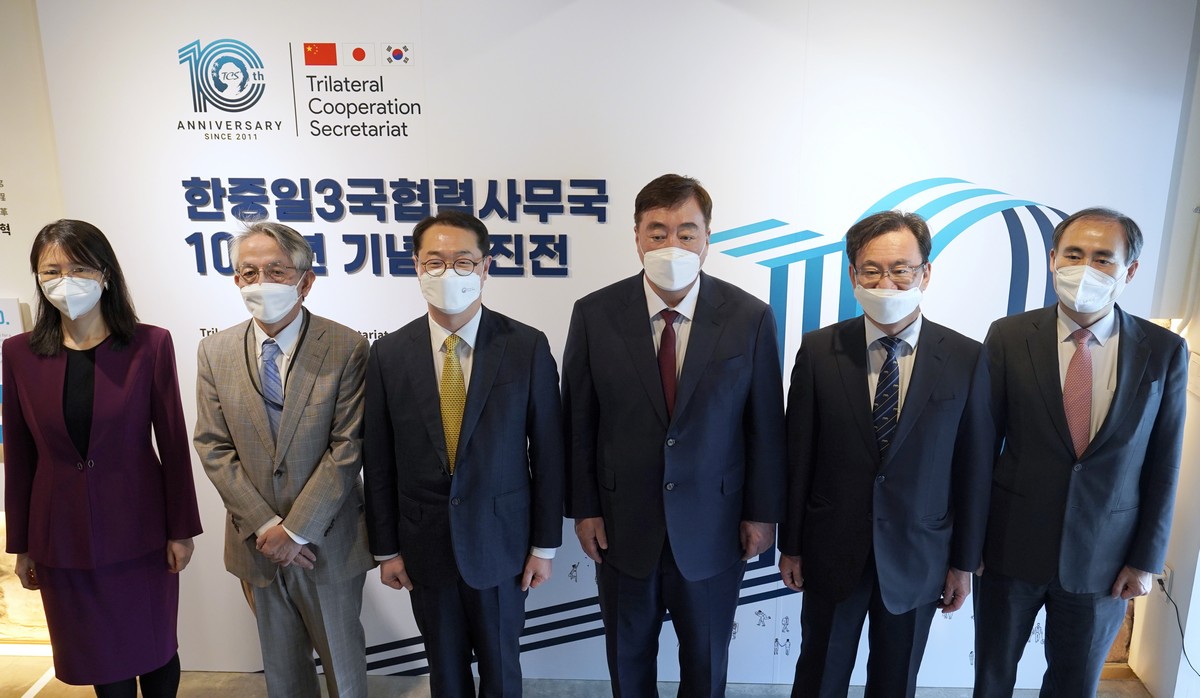 ▲(From left to right) TCS Deputy Secretary General CAO Jing, Ambassador of Japan AIBOSHI Koichi, ROK Deputy Foreign Minister KIM Gunn, Ambassador of China XING Haiming, TCS Secretary General MICHIGAMI Hisashi, TCS Deputy Secretary General KANG Doho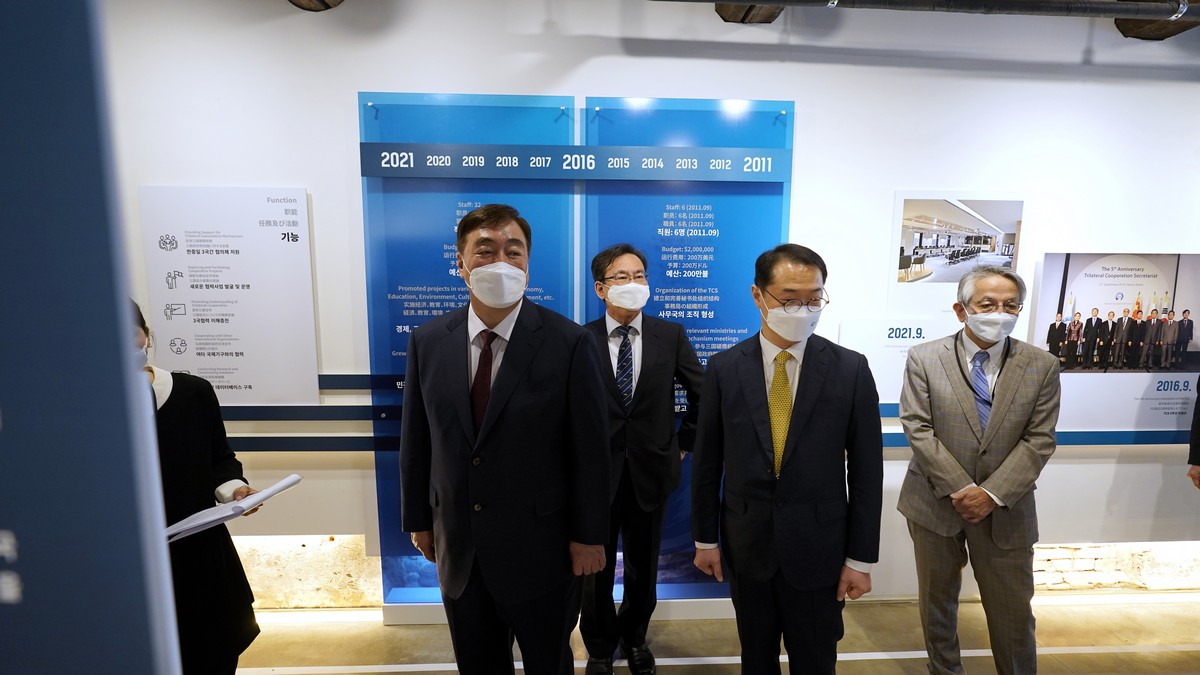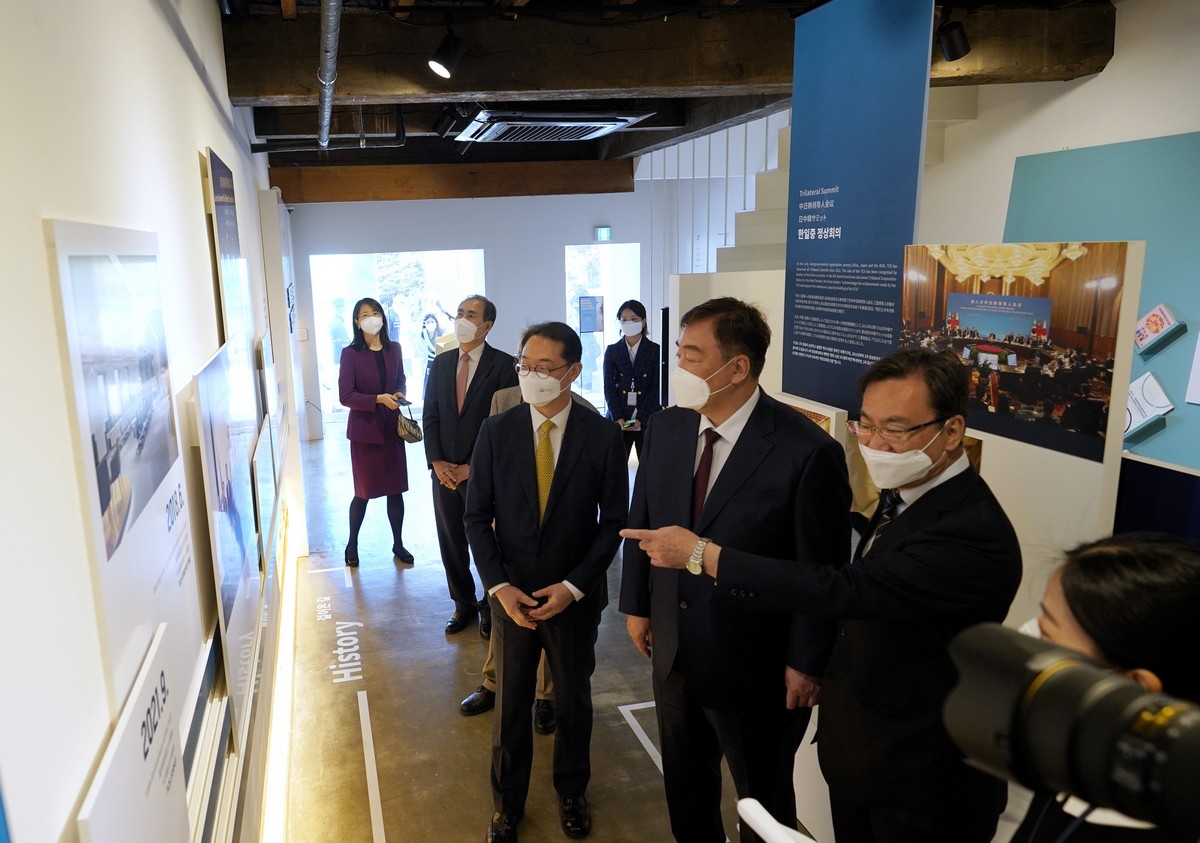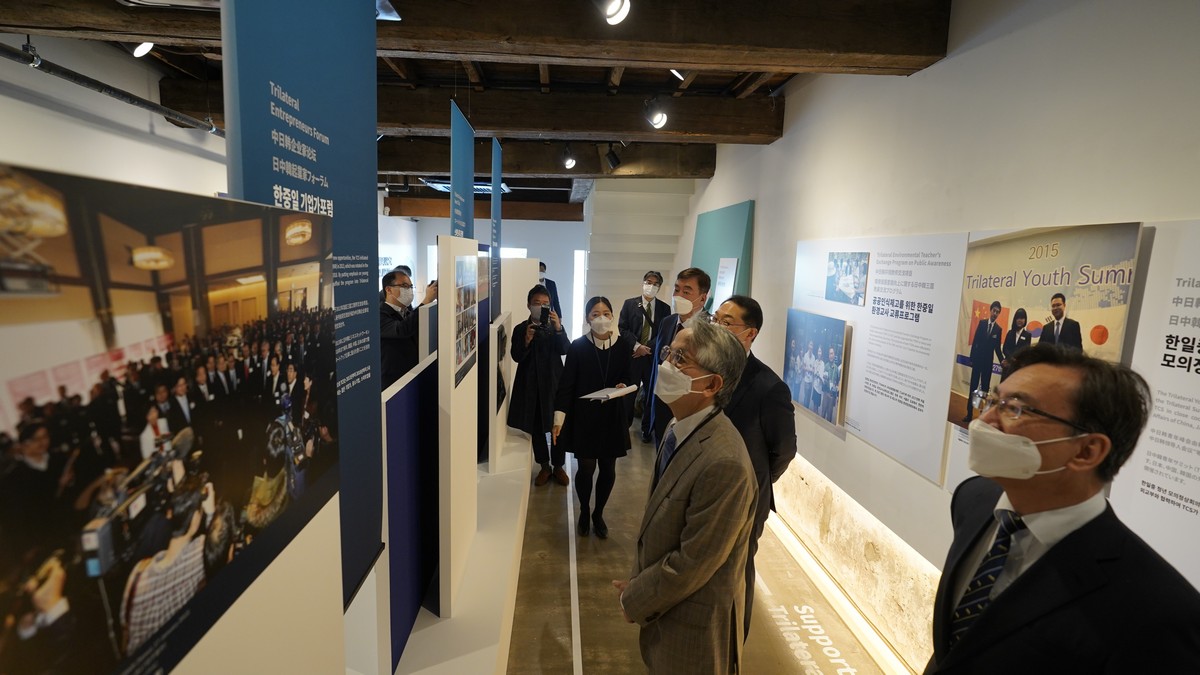 ▲Group Tour