Online Symposium "Urban Regeneration in China, Japan and the ROK: Trends and Cases"

March 23, 2021
On 23 March 2021 (Tue), Trilateral Cooperation Secretariat (TCS, Secretary-General: MICHIGAMI Hisashi) hosted an online symposium "Urban Regeneration in China, Japan and the ROK: Trends and Cases" as part of the TCS 10th Anniversary Symposium Series. The Symposium was supported by the China Academy of Urban Planning & Design, Cabinet Office of Japan, and Korea Research Institute for Human Settlements.
In recent years, urban regeneration is drawing attention in the three countries as a measure for declining cities to adapt to industrial and demographic changes, prevent population outflow, boost local economic growth and strive for resilience. Each country or city has their own challenges and approaches to regeneration. The Symposium shed light on how cities can be more resilient amidst the challenges of COVID-19 by showcasing examples of Chongyong Avenue, Beijing (China), Takamatsu city station area and Marugame-machi shopping arcade (Japan), and Yeongdo, Busan (ROK).
In the session, experts from the three countries introduced the development and characteristics of urban regeneration projects in each country, including Chinese approach that put focus on community engagement, preservation of unique culture, market partnership and sustainability for resilience; three major types of urban regeneration projects in Japan that can be categorized as "large-scale redevelopment", "walkable city", and "compact redevelopment"; and ROK's Urban Regeneration New Deal policy which promotes revitalization of residential areas, community-based regeneration and local economic improvement.
In the case presentation, each city's success factors and challenges were illustrated. Chongyong Avenue, Beijing is an exemplary case of comprehensive, people-centered regeneration of a historical block in Beijing which aimed to retain its cultural heritage while developing business environment and improving the living conditions and traffic circulation. Regeneration of Takamatsu city station area and Marugame-machi shopping arcade combined projects led by the city government and private sector. The private-led scheme consisted of two main concepts, namely the separation of land ownership and exploitation and partnership of landowner and tenants, leading to engagement of wider stakeholders. Yeongdo, Busan implemented projects to promote traditional industrial technologies through a specialized startup platform, to improve the residential environment and to transform declining shipbuilding industrial sites into an innovative base for marine industry.
The symposium attracted interest from various stakeholders and more than 150 people participated. Speakers of the symposium emphasized the need to increase mutual learning opportunities and hoped that information exchange will lead to expansion of network among local cities in the three countries.
Mr. MICHIGAMI Hisashi, Secretary-General of TCS, commented: "This Symposium was significant in that TCS gathered experts and local governments from the three countries to discuss urban regeneration for the first time. I hope learning about different approaches and project schemes provided insights into cities that wish to rebuild in the future"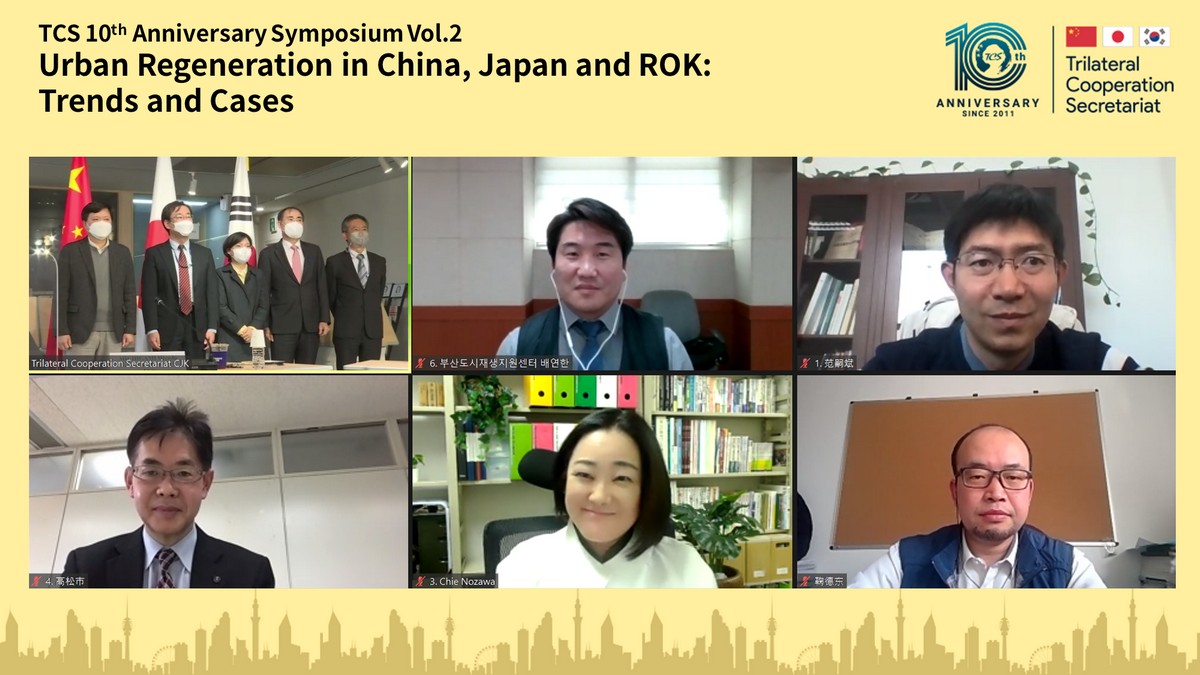 ▲Group photo of online and offline speakers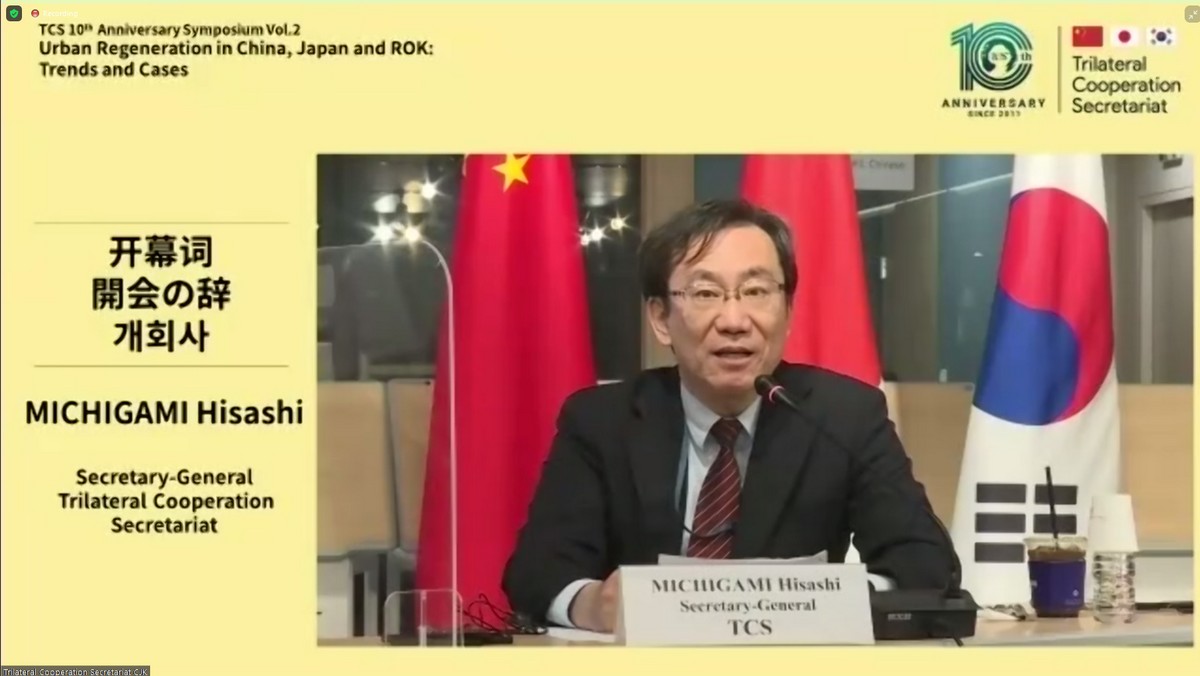 ▲Secretary-General MICHIGAMI Hisashi delivering opening remarks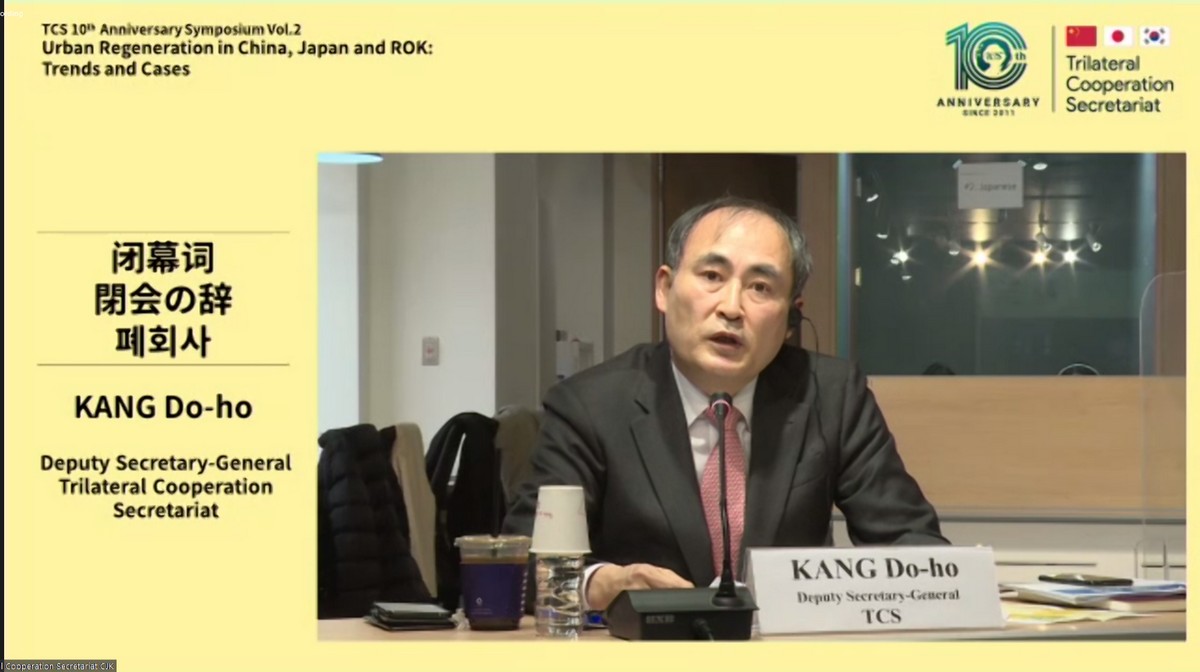 ▲Deputy Secretary-General KANG Do-ho delivering closing remarks