The Public Lecture by HU Zhengyue, Vice President of China Public Diplomacy Association

August 13, 2019 | 16:00 to 18:00
On 13th August 2019, Mr. HU Zhengyue, Vice President of China Public Diplomacy Association delivered a public lecture theming "Regional Cooperation and the Future of Northeast Asia" in Seoul, ROK. Around 80 people including diplomats, researchers, journalists and college students participated in the public lecture.
TCS Secretary-General LEE Jong-heon delivered the opening remarks and noted that although a lot of progress has been achieved during the past 20 years, the changing global and regional situation has brought more and more uncertainties and challenges to future trilateral cooperation, which calls for more joint efforts of the three countries.
Mr. HU Zhengyue analyzed the past process of trilateral cooperation and 10+3 cooperation based on his professional experience when he served as Director-General and Assistant Minister of the Ministry of Foreign Affairs of China. Regarding future regional cooperation in Asia, Mr. HU suggested that the three countries should 1) spare no effort to maintain the peace and stability of Northeast Asia; 2) consolidate bilateral relations to properly manage and control disparities and conflicts; 3) against unilateralism and protectionism; 4) explore more cooperative approaches through "3+X" Modality; and 5) further enhance trilateral people-to-people exchange.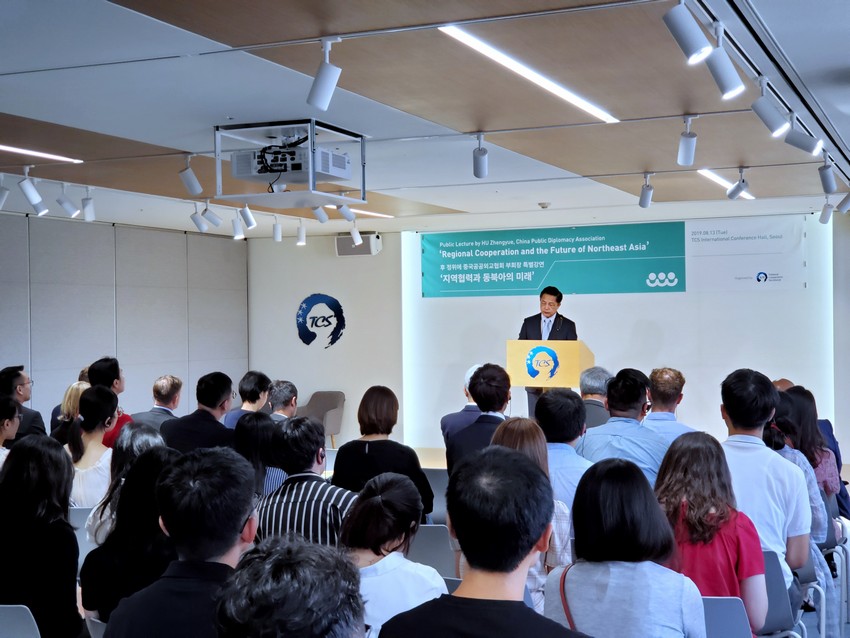 ▲Mr. HU Zhengyue delivered the public lecture