TCS hosted Korea-Japan-China Olympic Road Photo Exhibition and Talk Concert

June 04, 2018
The Trilateral Cooperation Secretariat (TCS) hosted Korea-Japan-China Olympic Road Photo Exhibition and Talk Concert Forum as an unveiling ceremony of its new international conference hall on June 4th. This program is organized as a follow-up of the 7th Trilateral Summit Meeting held on May, 2018 where the leaders of the three countries highlighted on the meaningfulness of consecutive hosting of Olympic and Paralympic Games in Pyeongchang, Tokyo, and Beijing from 2018 to 2022.
The forum gathered high-profile government officials, renowned scholars, journalists and diplomatic community and the public thereby attracting more than 130 participants from the three countries. Especially, H.E. PARK Euna, Public Diplomacy Ambassador of ROK, H.E. NAGAMINE Yasumasa, Japanese Ambassador to ROK, H.E. QIU Guhong, Chinese Ambassador to ROK, Ms. QU Huan, President of Korea-China Association for Cultural Exchange, Mr.KIM Joong-seok, President of Gangwon Domin Ilbo participated the opening session and shared the importance of the trilateral cooperation in the field based upon valuable success and memories of 2018 Pyeongchang Olympic Games which can be cornerstones for the trilateral cooperation.
In the following Talk Concert Session moderated by Mr. HEO Il-hoo, MBC Sports Announcer who casted the 2018 Pyeongchang Olympic Games, Mr. SHIN Eui Hyun, Korean Paralympic Cross-country National Athlete, Mr. LIM Hyojun, Korean Olympic Short-track National Athlete, Ms. OBINATA Kuniko, Japanese Chef de Mission of Paralympics, and China-ROK international couple, Mr. XU Xiaoming, Chinese Curling National Athlete and Ms. KIM Jee-seon, Shanghai Youth Curling Association Coach not only discussed personal experiences overcoming challenges and obstacles but also shared impressive sportsmanship of the C-J-K Olympic & Paralympic athletes. In the Panel Discussion moderated by Ms. PIAO Shanji, Professor Dalian University of Foreign Languages, Mr. KIM Dae-kyun, Pyeongchang OOC Director-general, General Affairs, Mr. JEONG Jinwan, General Director, ROK Paralympic Training Center, Mr. NISHIOKA Tasushi, Director of Information and Culture Center of Japanese Embassy in Seoul, Mr. YANG Jiaming, Beijing OOC Deputy Chief, Sustainability Division, and Ms. ZHANG Xiameng, Beijing OOC, Communication Manager exchanged view on the cooperation in the field of Olympics & Paralympics. Mr. KIM initiated the discussion by presenting overall outcome and lessons from 2018 Pyengchang and trilateral cooperation during the Olympic Games and Mr. JEONG shared the development and potential of cooperation between the three countries on para-sports. Also, Mr. NISHIOKA, Mr. YANG and Ms. ZHANG presented in detail about the preparation status of 2020 Tokyo Olympic and 2022 Beijing Olympic and possible ideas to further strengthen trilateral cooperation and sustainable development.
At the corridor area of international conference hall, total 83 photo frames were exhibited showing the competition and cooperation of C-J-K athletes and cheering squads. Also, the TCS organized congratulatory performance and C-J-K Traditional Tea tasting booth as a side event. Popera duet HUE and acapella team MAYTREE performed arranged Olympic theme songs of 1988 Seoul, 1998 Nagano, and 2008 Beijing together with their original song, Marching for the Dream.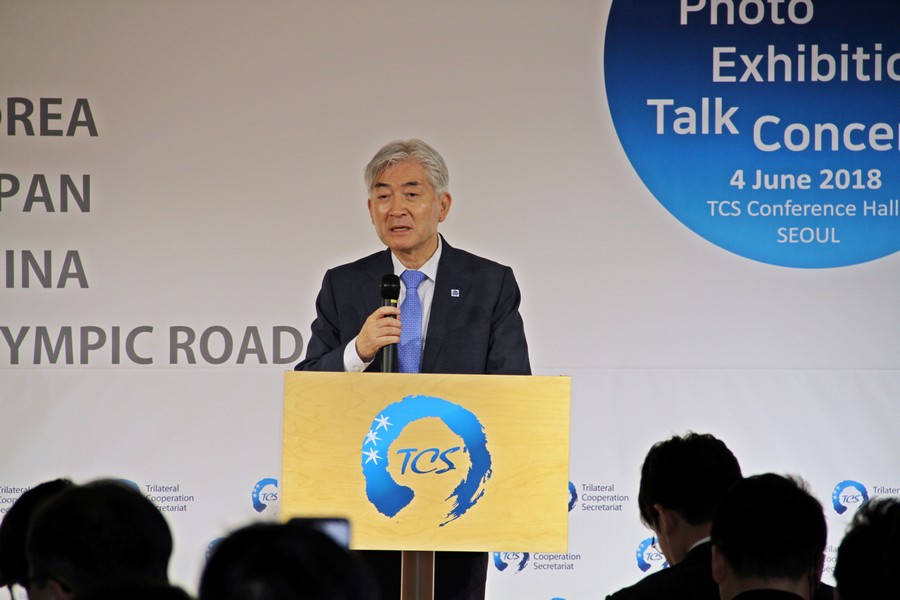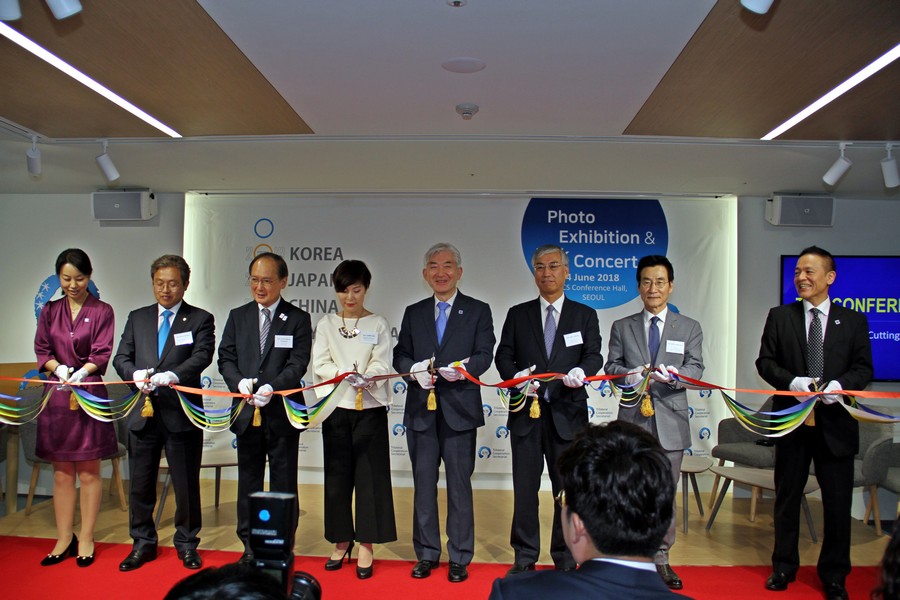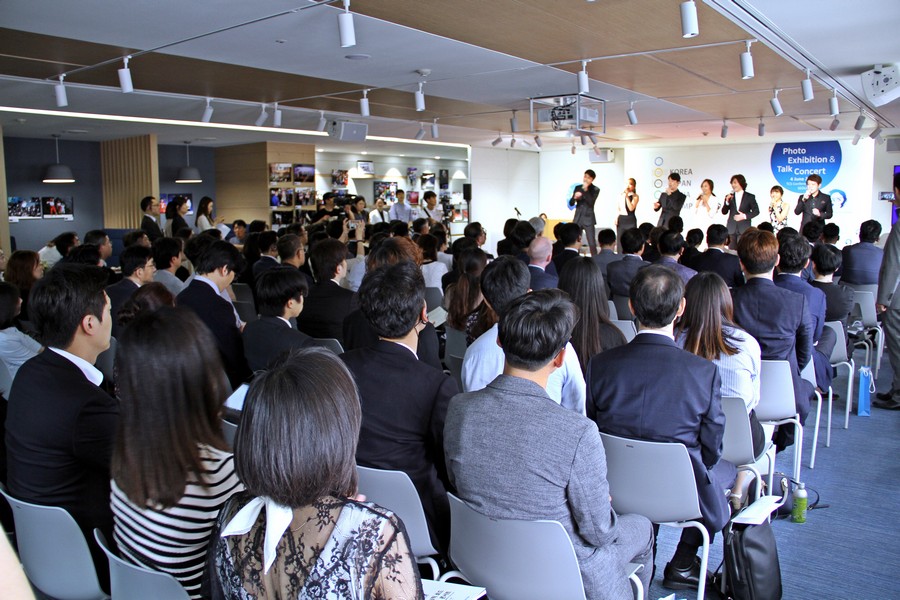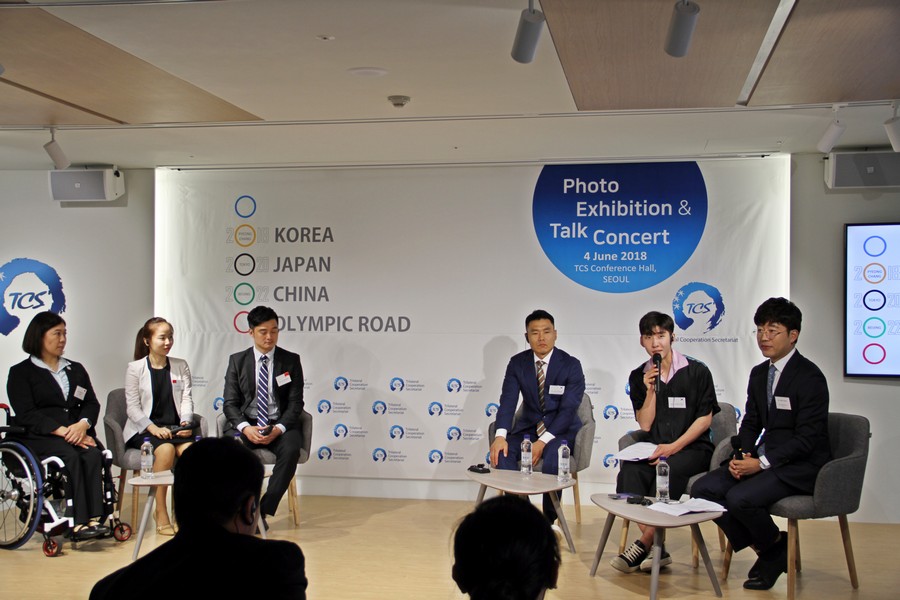 <Concert of C-J-K Athletes>