Others
Chuncheongnam-do Local Government Officials' Workshop
2018.11.26
​TCS Director of Economic Affairs QIAO Wen was invited to deliver a special lecture on the progress of trilateral cooperation at the Chuncheongnam-do Local Government Officials' Workshop on November 26, 2018 in Deoksan, the ROK.
In her lecture, Director QIAO introduced the progress of trilateral cooperation including its history and mechanism structure. Director QIAO briefly provided the current trilateral cooperative activities that the three central governments commonly conduct such as the East Asia Cultural City, and introduced multiple local-level cooperative platforms such as the Yellow Sea Economic and Technological Conference and the Organization of East Asia Economic Development (OEAED). Director QIAO also introduced the TCS and its main activities on supporting the trilateral consultative mechanisms and on exploring cooperative projects in various fields and so on.
In Q&A session, Chuncheongnam-do Officials asked many questions about TCS's role in the trilateral local cooperation mechanisms and expressed their expectation on TCS's support for deepening cooperation with their counterparts of China and Japan. Director QIAO emphasized that the TCS is willing to provide support to local governments for further promoting the trilateral cooperation.
Director-General of the Future Growth Headquarters of Chungcheongnam-do, Mr. LEE Gun-ho expected that the TCS could play a bridging role in developing the local government cooperation in the Yellow Sea Rim region.
The Chungcheongnam-do Local Government Officials' Workshop invited approximately 50 local government officials to share the current progress of regional cooperation in the Yellow Sea Rim region and to discuss the future plan on a yellow sea rim initiative led by Chuncheongnam-do.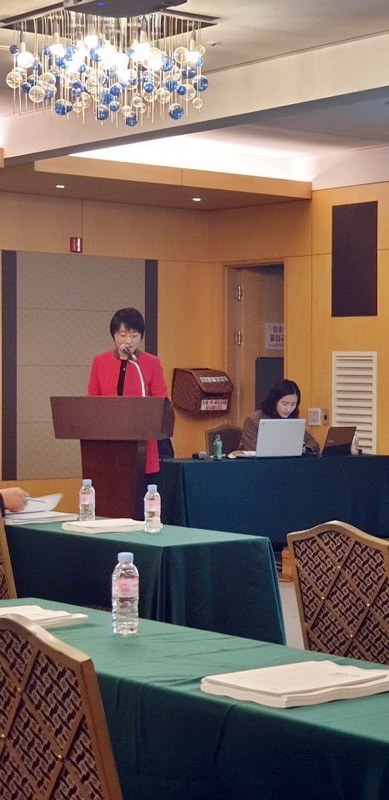 ▲Director QIAO Wen delivers the presentation.