Others
Secretary-General OU Boqian Visited UNESCAP East and North-East Asia Office
2022.07.21
On July 21, 2022, TCS Secretary-General Amb. OU Boqian met with Amb. GANBOLD Baasanjav, Head of UNESCAP East and North-East Asia office (UNESCAP ENEA) in Incheon and exchanged views on the future cooperation in various fields under the 2030 Agenda for Sustainable Development.
Ambassador GANBOLD spoke highly of TCS endeavors to promote Lasting Peace, Common Prosperity and Shared Culture in the region. Highlighting the importance of Trilateral Cooperation experience sharing in the international community to address the acute development issues such as climate change, carbon neutrality and aging society, he introduced the future scheme of UNESCAP ENEA, and invited TCS to join a series of upcoming events related to climate change, carbon neutrality, aging society and other important topics.
Secretary-General OU extended appreciation on frequent exchanges and cooperation between TCS and UNESCAP, and, in this context, thanked UNESCAP for co-hosting Forum on Carbon Neutrality Goals of China, Japan and ROK in last November and inviting TCS to the Subregional Dialogue on 78th UNESCAP Commission Session in this May. She briefed China, Japan and ROK's joint efforts by harnessing Trilateral Cooperation at regional and international level to make progress on the sustainable development goals, including activities to promote youth exchanges, safeguarding supply chain stability, and addressing common challenges such as disaster risks, aging society. She expressed high expectation on closer ties between TCS and UNESCAP.
Both sides expressed satisfaction on the preparation of the 2nd Forum on Carbon Neutrality Goals of China, Japan and ROK to be held by TCS and UNESCAP jointly in late October.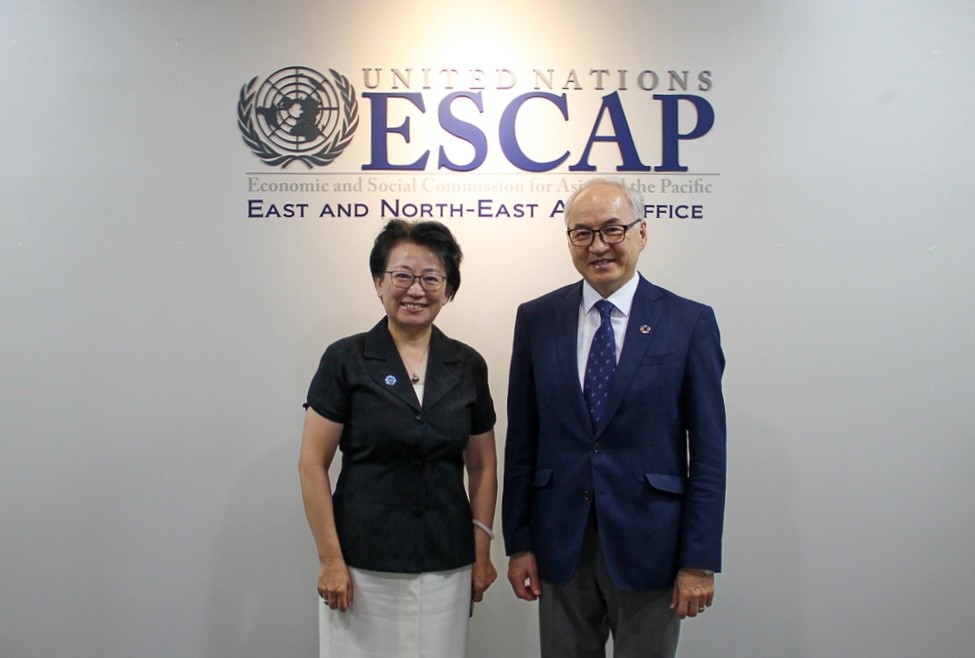 ▲Secretary-General OU Boqian and Ambassador GANBOLD Baasanjav