Others
TCS Board Paid a Courtesy Visit to Former UN Secretary-General Ban Ki-moon
2020.02.07
The TCS board members (SG MICHIGAMI Hisahi, DSG CAO Jing, DSG KANG Do-ho) paid a courtesy call on former U.N. Secretary-General BAN Ki-moon, currently serving as the Chairman of the ROK government's National Council on Climate and Air Quality, and exchanged views on the future direction of trilateral cooperation. Chairman Ban stressed the importance of maintaining close and friendly relations between the three neighboring countries, expecting the TCS to play a role in promoting these ties in an impartial and open manner. He also stressed that the TCS should move forward from a future-oriented perspective, especially on the recently pressing issues of epidemics, fine dust and education cooperation particularly in the environmental sector. These issues, in nature, cannot be solved by the efforts of one country alone, so that the concerned countries should make it a guiding principle to try to understand each other better. In this regard, he asked the TCS for an active role, such as proposing more future-oriented ideas and influencing government policy.
The TCS SG MICHIGAMI stressed that cooperation among the three countries has been brisk recently, with the recent Trilateral Summit successfully held in China, noting with satisfaction that ministerial meetings in six areas took place in just five weeks between late last year and early this year. Among the transboundary issues that Chairman BAN also highlighted earlier, TCS SG underlined that ministers of the three countries have continuously gathered for meetings in such areas as health and environment, adding that the TCS also supports cooperation in relevant areas by carrying out various projects.
The two sides agreed to explore possible areas where they can work together in the future, and continue close communication.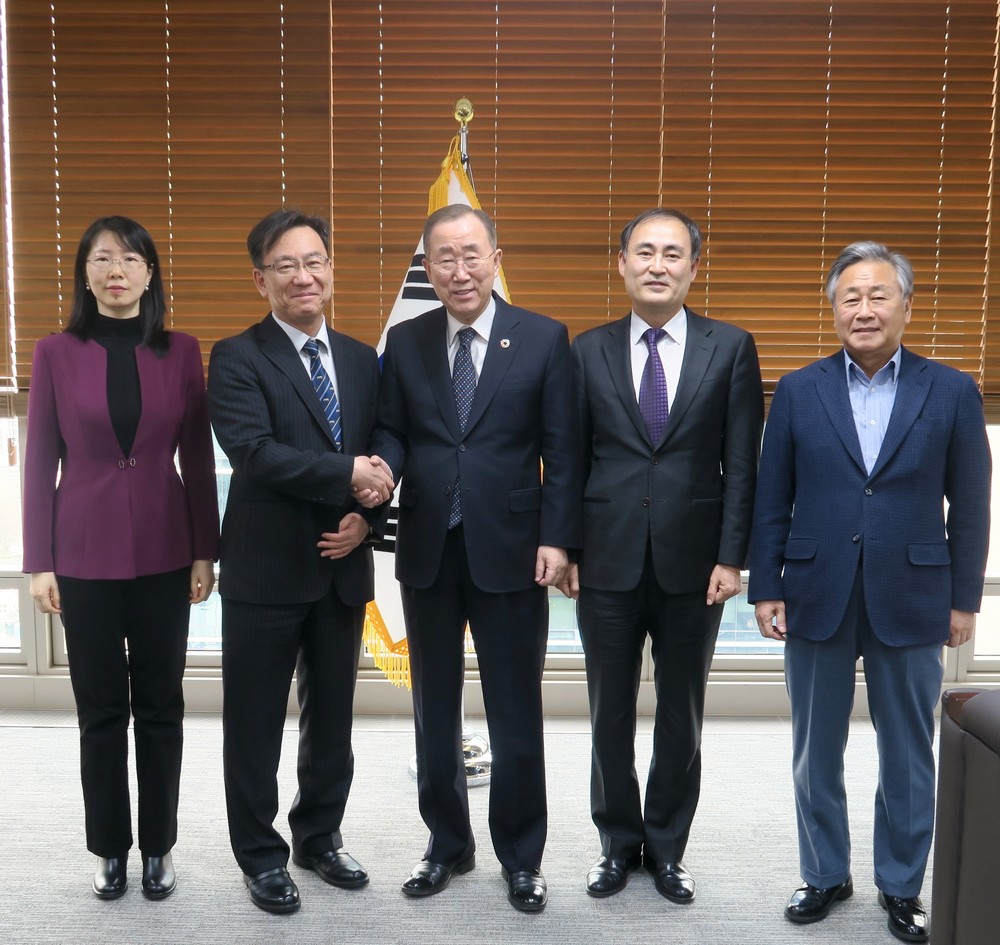 ▲TCS Board and Chairman BAN Ki-moon (From left, DSG CAO Jing, SG MICHIGAMI Hisashi, Chairman BAN Ki-moon, DSG KANG Do-ho, Amb. KIM Sook)