The 11th Northeast Asia Trilateral Forum (NATF) was held from December 4 to 5, 2016, in Shizuoka, Japan, co-sponsored by Nikkei Shimbun, Xinhua News Agency and JoongAng Ilbo. H.E. FUKUDA Yasuo, former Prime Minister of Japan, H.E. ZENG Peiyan, former Vice Premier of China and H.E. LEE Hong-koo, former Prime Minister of the ROK respectively led each country's delegation attended the Forum. The TCS participated as an official observer. 
TCS Secretary-General YANG Houlan delivered congratulatory remarks in the welcoming dinner, and briefed the development of trilateral cooperation throughout 17 years since 1999 as well as its recent progress. In addition,he extended his congratulation to the NATF for ushering into the second decade, and expressed his gratitude for NATF's continued efforts and positive contribution to the advancement of trilateral cooperation. 
At the plenary session, H.E. FUKUDA Yasuo emphasized that the three countries should make the joint contribution to the world peace and stability while maintaining the stable relationship among the three countries. He also encouraged the three countries to enhance cooperation in the fields of environment, energy and local government exchange, and called for "Think globally, Act locally." H.E. ZENG Peiyan called for promoting regional economic integration and highlighted the significance of 1) facilitating institutionalization of trilateral cooperation, 2) enhancing inter-connection and intercommunication, 3) improving industry collaboration in areas such as internet economy and modern service industry. H.E. LEE Hong-koo pointed out that globalization enabled the three countries to achieve rapid development of economy, meanwhile it also widened the economic gap between nations and regions. He acknowledged the necessity of diplomatic efforts by the relevant countries for the stable regional cooperation.
Under the Forum's main theme of "How China, Japan and South Korea shall take action with the increasing tendency of inwardness in the world", 30 former high-ranking officials and prominent figures had intense discussion in the sessions of 1) Finance, economy and trade, 2) environment and energy, and 3) culture, education, society and regional exchange.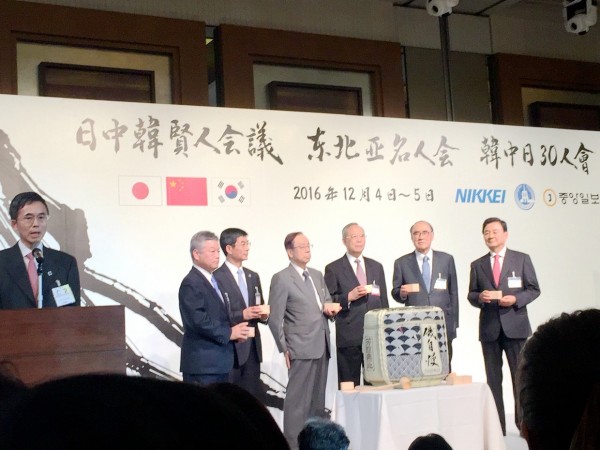 Congratulatory remarks delivered by Secretary-General YANG Houlan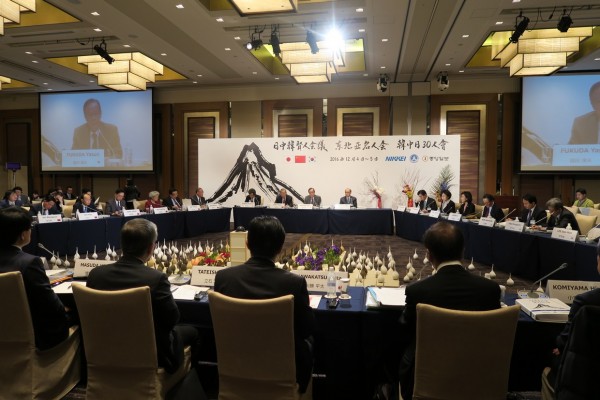 Forum in progress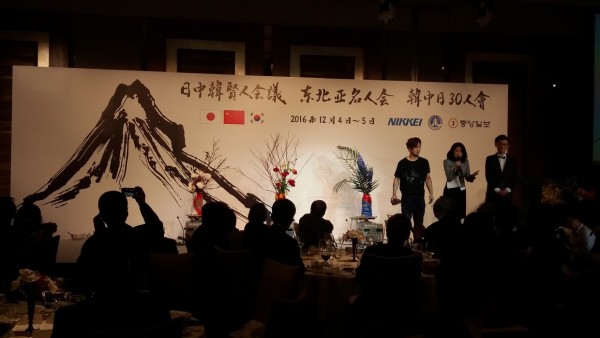 Ceramic Art and Flower Arrangement Performance in the welcoming dinner