The 16th Trilateral Policy Dialogue among the Japan Patent Office (JPO), Korean Intellectual Property Office (KIPO) and State Intellectual Property Office of the People's Republic of China (SIPO) was held on December 8, 2016 in Kanagawa, Japan. The three delegations were headed respectively by Mr. Yoshinori Komiya, Commissioner of JPO; Mr. CHOI Donggyou, Commissioner of KIPO; and Dr. SHEN Changyu, Commissioner of SIPO. The Trilateral Cooperation Secretariat (TCS) also attended the meeting as an observer. 
At the meeting, the three commissioners introduced each country's current status in the field of Intellectual Property (IP) and had in-depth discussions on various topics for trilateral cooperation activities. Considering the fact that the three countries account for 57% of the patent applications from the world, they shared a common view to further strengthen trilateral cooperation among the three offices. The 17th Meeting will be held in ROK in 2017.  
The Japan-Korea-China IP Symposium was also held back-to-back with the Policy Dialogue on the next day featuring presentations and a panel discussion with the participation of judges, knowledgeable experts, and government officials from the three countries to offer an opportunity to discuss the latest trends in IP protection by the administrative and judicial bodies of each country.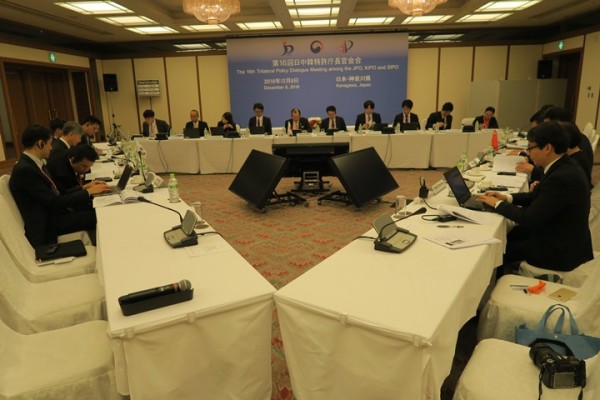 The 16th Trilateral Policy Dialogue among JPO, KIPO and SIPO