The 11th Trilateral Economic and Trade Ministers' Meeting was held on October 29, 2016 in Tokyo, Japan. Mr. SEKO Hiroshige, Minister of Economy, Trade and Industry of Japan, Mr. GAO Hucheng, Minister of Commerce of the People's Republic of China, and Mr. JOO Hyung-hwan, Minister of Trade, Industry and Energy of the Republic of Korea (ROK) participated in the Meeting. TCS attended the Meeting as an observer. 
In the Meeting, the three ministers affirmed to work together to build an open world economy and to promote global trade and investment, shared views on multilateral cooperation (WTO, G20, APEC, and ASEM), and economic partnership (RCEP and CJK FTA). For the specific areas for trilateral cooperation, the three ministers discussed 1) improvement of Supply Chain Connectivity (SCC), 2) production capacity in the fourth-party-market, 3) cooperation on digital single market, 4) cooperation on Olympics and Paralympics, 5) cooperation on local economy, and 6) cooperation on LNG. 
DSG UMEZAWA Akima reported the result of the joint project "Trilateral Cooperation for Improvement of Supply Chain Connectivity (SCC)" on the occasion of the 11th Ministers' Meeting. This project was agreed by the 10th Ministers' Meeting in 2015, and TCS carried out the project for a year by facilitating 4 Working Group meetings and by summarizing the survey results conducted by the research institutes - Chinese Academy of International Trade and Economic Cooperation (CAITEC), Japan External Trade Organization (JETRO), Korea Trade-Investment Promotion Agency (KOTRA), and Korea Institute for International Economic Policy (KIEP) - to be submitted to the three Ministers at the 11th Ministers' Meeting. The three Ministers adopted the outcome of the joint project, and agreed to establish a trilateral dialogue channel between business and academia facilitated by TCS as the next step of the project in order to study concrete measures to improve SCC including practical factors related to logistics such as time and cost as well as harmonization of regulation. The three ministers agreed also to study the possibility of extending such studies with Asian countries under the framework of ASEAN+3. 
In the meeting, TCS was requested to facilitate a joint study on e-commerce by the three Ministers as well. The three Ministers shared the view that the creation of a region-wide digital single market can benefit all three countries in light of the importance of e-commerce in the generation of new economic value, and agreed to launch this joint study on e-commerce.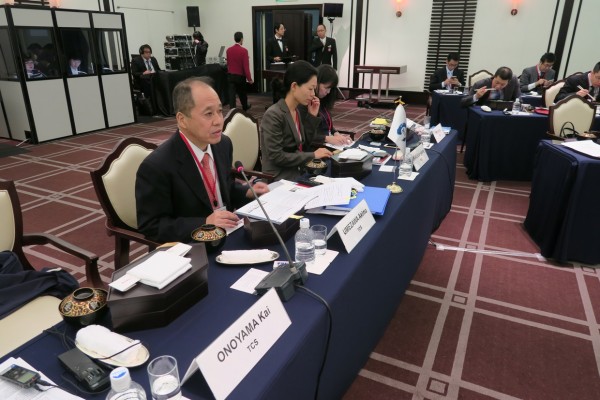 Report on the joint project "Trilateral Cooperation for Improvement of Supply Chain Connectivity (SCC) by DSG UMEZAWA Akima