The 3rd China-Japan-Korea Industries Expo was held on September 23-25, 2017 in Weifang, China. The TCS, as the co-organizer of the Expo with CCOIC, JAPIT and KITA, attended the opening ceremony of the Expo and its signature side events: the China-Japan-Korea Economic and Trade Cooperation Forum& Business Leaders Summit, as well as the China-Japan-Korea Business Associations Roundtable Conference on September 23, 2017.
SG LEE Jong-heon delivered the congratulatory remarks at the opening ceremonies of both the Expo and the Forum. He congratulated the opening of the 3rd Expo; stressed the importance of trilateral cooperation in economics, trade, investment, as well as culture and people-to-people exchange; introduced overall situation of the trilateral cooperation in economics and trade, shared his insights in this area under the Chinese B&R Initiative, and presented TCS' achievements in the trilateral economics and trade cooperation. He also underlined that the trilateral cooperation was not an easy task and we needed to push it forward with great vision and flexibility. The TCS, as an international organization promoting peace and shared prosperity among China, Japan, and Korea, would provide any kind of support or assistance to the success of the Expo and trilateral cooperation overall. The Forum was joined by many other distinguished guests from business, governments, academia of China, Japan, and Korea. 
At the China-Japan-Korea Business Association Roundtable Conference, which was joined by renowned business associations including CCOIC/CCPIT, Keidanren, FKI, JAPIT, and KITA, Director of the Department of the Economic Affairs, TCS, Ms. JANG Eun-young delivered the opening remarks. Through her speech, more business associations of the three countries understood the TCS' history and TCS' main achievements in economics and trade area. They appreciated TCS' efforts and committed to work with TCS closely to promote trilateral cooperation among business associations. 
The TCS was a supporting organization of the Expo in 2015 and co-organized the Expo with in 2016 and 2017. This year, there were about 400 companies joined the Expo with 211 from outside of China. With the fairs (AI, beauty, and food) and side events taking place together, the whole event provided new space, opportunities and modes for pragmatic cooperation among the three countries.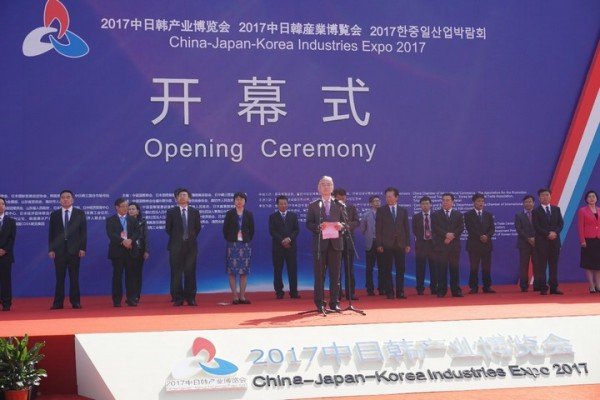 SG Lee Jong-heon delivering the congratulatory remarks at the Opening Ceremony of China-Japan-Korea Industries Expo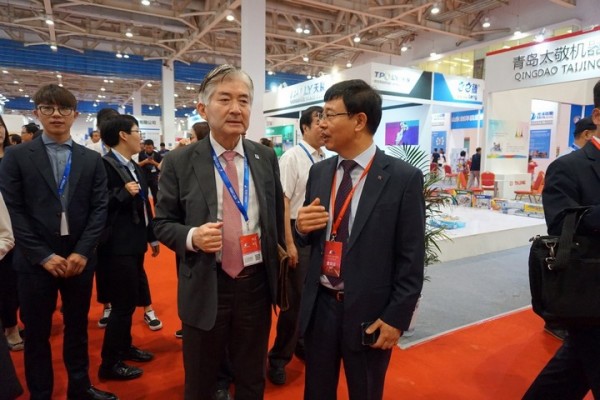 SG LEE Jong-heon touring the Expo venue and exchanging opinions with the Director of the China Department, KITA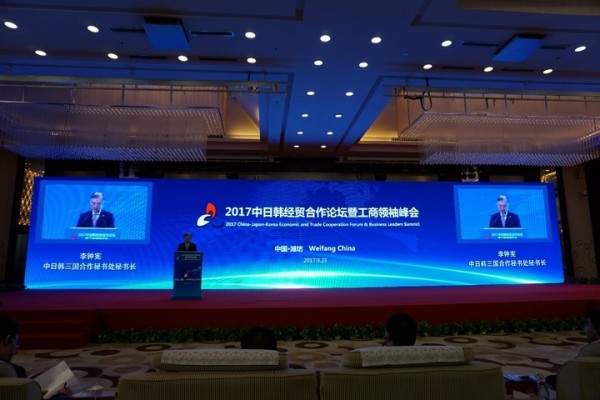 SG LEE delivering the opening remarks at the China-Japan-Korea Economic and Trade Cooperation Forum& Business Leaders Summit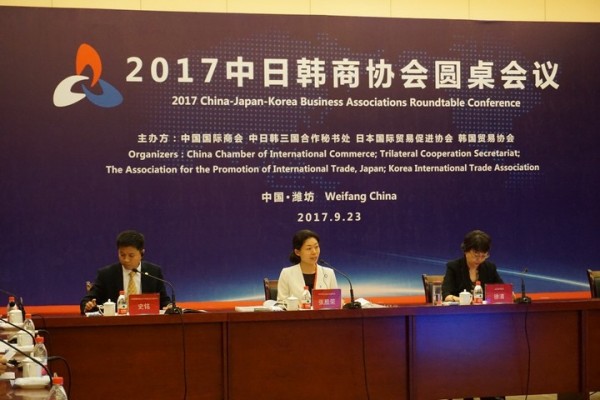 Director of the Department of Economic Affairs, Ms. JANG Eun-young delivering the opening remarks at the China-Japan-Korea Business Associations Roundtable Conference