The Trilateral Cooperation Secretariat (TCS) hosted the Farewell and Welcome Reception at the Four Seasons Hotel in Seoul, ROK, on August 25, 2017.
The Reception was held to bid farewell to outgoing the Consultative Board headed by Secretary-General YANG Houlan as well as to welcome new Consultative Board headed by Secretary-General LEE Jong-heon. In total, nearly 200 prominent figures from CJK Governments, business, academia, media, diplomatic corps, and private associations in relation to the trilateral cooperation participated in this memorable ceremony.
In the Reception, Secretary-General YANG delivered the farewell speech and expressed his sincere gratitude toward participants for the strong support and guidance for the trilateral cooperation and TCS' activities since its establishment. After that, new Secretary-General Mr. LEE Jong-heon made inaugural remarks, expressing his firm determination to make utmost efforts with new members to further institutionalize the trilateral cooperation, and kindly asked participants for their close attention and continued support to the TCS.
During the Reception, ROK Foreign Minister's Plaques of Appreciation were presented to the outgoing Consultative Board members by Mr. LEE Jeong-kyu, Deputy Foreign Minister for Political Affairs of the ROK in order to appreciate the dedication and devotion for promoting trilateral cooperation in the past two years.
The TCS is going to enter the fourth phase of its stage with the new Consultative Board on September 1, 2017.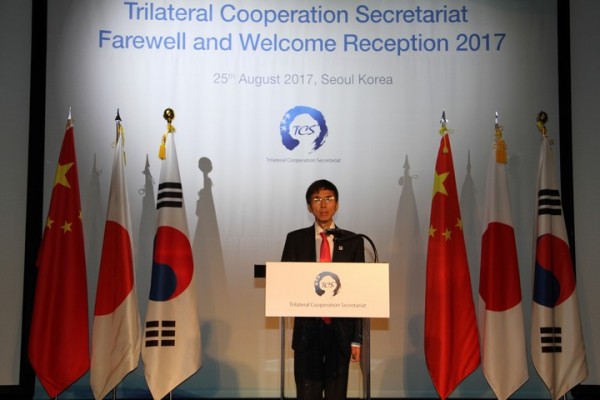 Secretary-General YANG delivered his farewell speech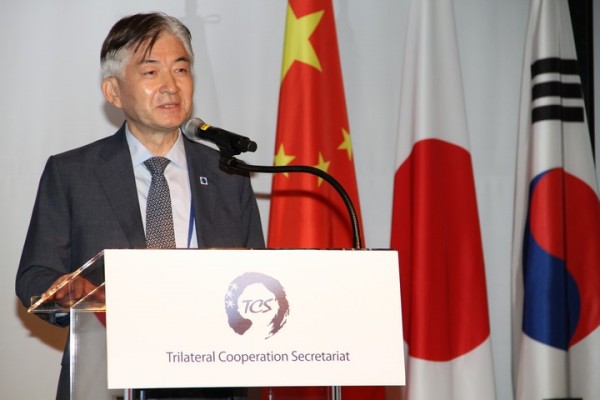 New Secretary-General LEE made inaugural remarks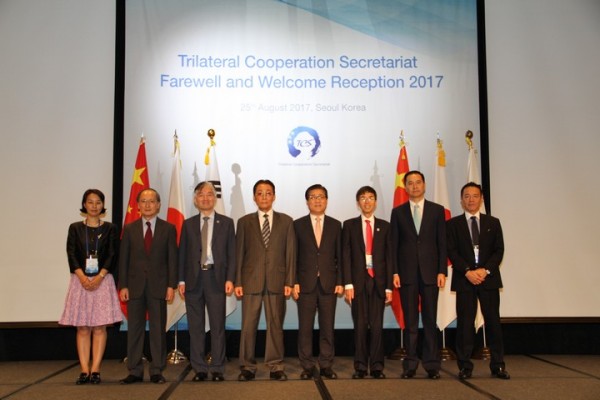 Photo session