The Trilateral Cooperation Secretariat (TCS) organized Trilateral Journalist Exchange Seminar together with the Korea Press Foundation on Friday, June 23, 2017. The theme of the seminar was "The 4th Industrial Revolution and News Media", focusing on the impact of technology advancement such as IoT (internet of things), VR (virtual reality), AR (augmented reality), AI (artificial intelligence) to the contents/production/distribution of news media.
Through his opening remarks, Deputy Secretary-General LEE Jong-heon put emphasis on the high complementarities and great potential existing among the three countries which can transform the difficulties caused by the 4th industrial revolution into opportunities. Also, he shed light on the efforts and achievements of TCS focused on the recovery of momentum for trilateral cooperation and asked for media's close interest on it to advance co-prosperity in East Asia.
On the following session, media experts and journalists from the three countries shared their views on the theme and continued discussion chaired by Mr. KIM Young Uk (Professor, Korea Advanced Institute of Science and Technology). Mr. XIONG Cheng Yu (Professor, Tsinghua University) addressed that new types of media will continuously come into presence, however, the responsibility of media will not change in principle. Furthermore, he recognized the importance of media's role in trilateral relations by comparing media as a window of each country. Mr. FUJITANI Takeshi (Director-General, Asahi Shimbun) pointed out the inevitable transformation toward digital media which affects existing way of production and distribution of news. Based on comparison between C-J-K media's pros and cons, he suggested close benchmarking for improvements. Mr. YU Hong Sik (Professor, Joongang University) illustrated the imbalanced profit-structure of media platforms and necessity of reclassification of portal sites as a news media. Also, he introduced positive utilization of AI for information gatherings and contents managements. Furthermore, representatives of the 4th Trilateral Journalist Exchange Program shared their experiences and perspectives.
This seminar was organized as a part of the 4th Trilateral Journalist Exchange Program inviting over 100 journalists, foreign correspondents, media experts, and general public at the Press Conference Hall, Korea Press Center.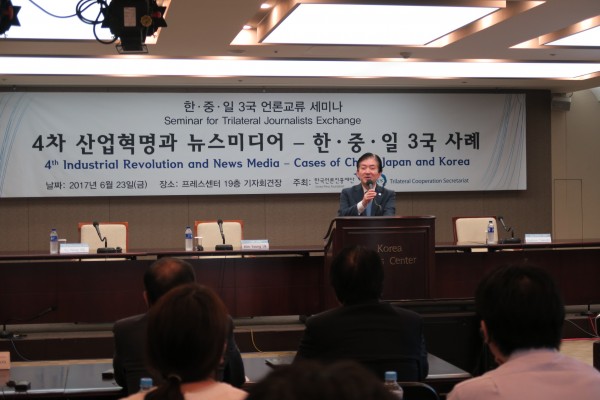 DSG LEE making an opening remarks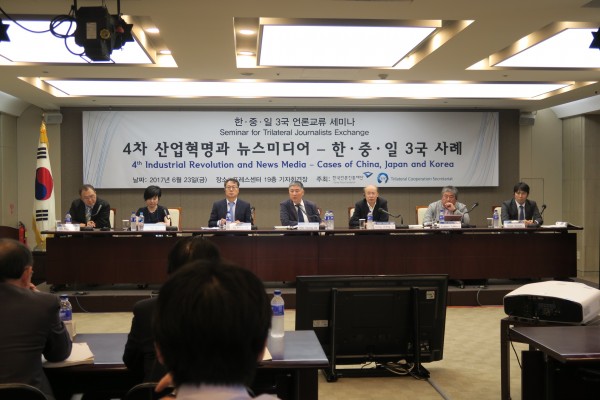 Discussion session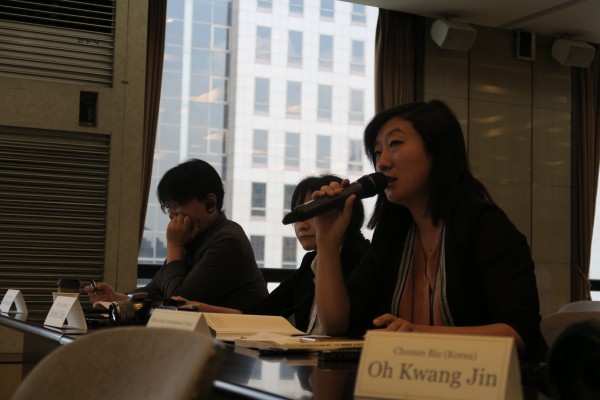 Seminar audience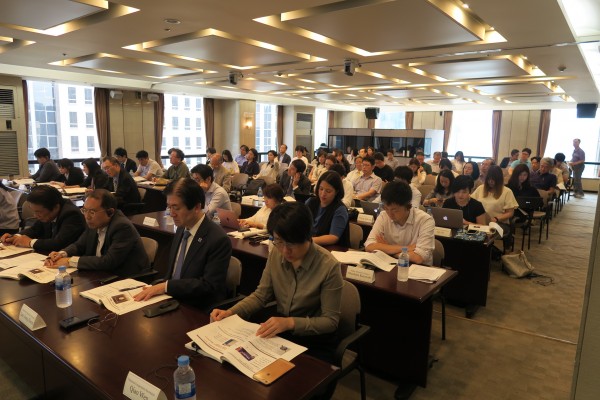 Participant of TJEP making comments on discussion session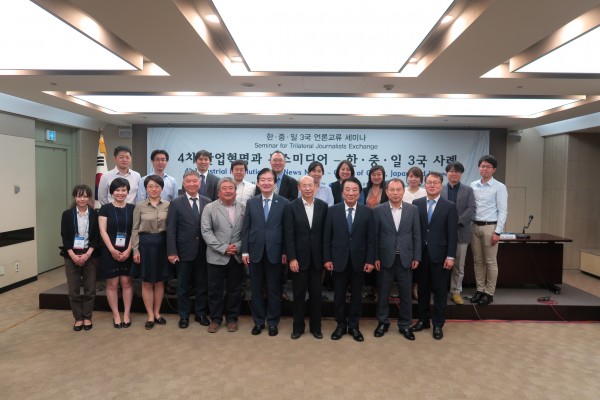 Group photo