On June 16, 2017, Secretary-General YANG Houlan attended Opening Ceremony of Ms. QIN Bailan's Chinese Classical Beauty Painting Exhibition organized by China Cultural Center in Seoul, and delivered congratulatory remarks in the ceremony. Around 50 guests including Mr. SHI Ruilin, Cultural Counselor of Chinese Embassy to the ROK, and Director of China Cultural Center in Seoul, Artist Ms. QIN Bailan, Mr. CHO Byung In, president of Korea-China Association for economic and Trade Promotion, and renowned artists from China and the ROK attended the opening ceremony.
  In the congratulatory remarks, SG Yang traced the long history of Chinese painting and emphasized its remarkable influence to Japanese and Korean paintings. He encouraged the artists of the three countries to actively interact with each other to join the hands for booming vigorous development of East Asian cultural art.
  Mr. SHI Ruilin started his remarks by introducing Ms. QIN Bailan's great experience and highlighted her efforts to enhance the friendship with people through the art exchange, as well as her remarkable achievement of promoting the beauty of Chinese culture toward the outside and the contribution to the peace. He hoped that this exhibition can further promote cultural exchange between China and the ROK, and enhance people's mutual understanding.
  Ms. Qin Bailan is a well-known disabled painter named as one of China's "Ten Major Art Masters" and "Women of China" in 2005. Her "Chinese Classical Beauty Painting Exhibition" will be held from June 16 to 29, 2017 in China Cultural Center in Seoul.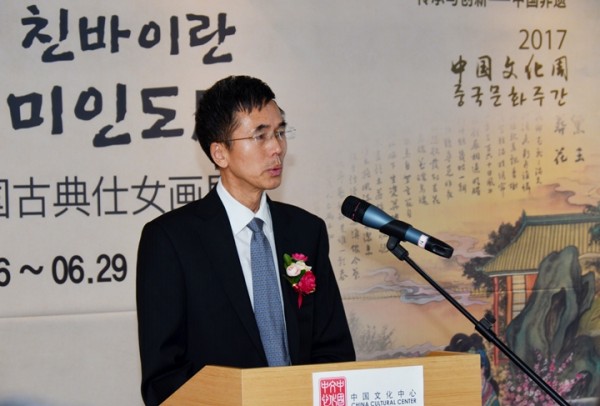 1. Congratulatory Remarks by SG YANG Houlan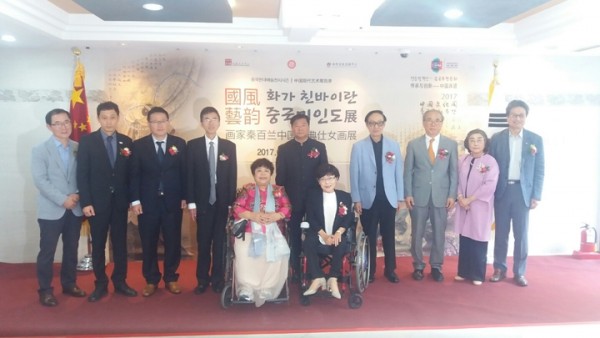 2. Group Photo