On May 17, 2017, the TCS delegation headed by Ms. JANG Eun Young, Director of Economic Affairs, visited the ASEAN Secretariat and had a meeting with Mr. Fajar HIDAYAT, Assistant Director of the External Economic Relations Division. 
Ms. JANG introduced the history of trilateral cooperation among China, Japan and the ROK as well as functions and activities of the TCS. In addition, Ms. JANG gave a detailed introduction of the Joint Project "Trilateral Cooperation for Improvement of Supply Chain Connectivity (SCC)" (hereafter, "the Project") which was carried out by the TCS in 2016. Ms. JANG and Mr. HIDAYAT exchanged views on the future cooperation between the TCS and the ASEAN Secretariat such as exploring possible cooperative programs.
The Project was launched by the 6th Trilateral Summit (Nov 1st, 2015, Seoul) and the 10th Trilateral Economic and Trade Ministers Meeting (Oct 30th, 2015, Seoul). It received an immense assistance and support from the three countries.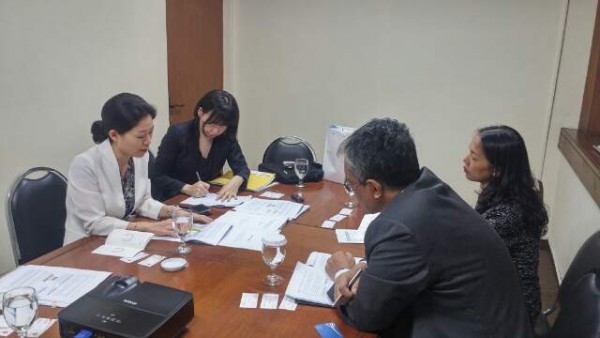 Meeting in progress